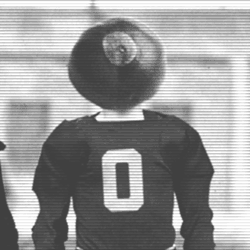 QCBUCK
---
MEMBER SINCE July 06, 2019
Recent Activity
The evidence is in Dunn's tweet..... The fire/explosion emoji = Boom!!! = OSU
Stats would be much better if his WR's could catch a ball.
Jaelen Gill was the #2 all-purpose back coming out of HS. I'd like to see him get a chance back there, if he doesn't end up in the slot/H
From listening to people who know, we were playing a 4-4-3 defense, which puts Werner in a lot of safety coverages. Bad scheme against those WR's and that offense. I couldn't believe how good Shea was throwing in the first half. I knew that couldn't last.
I haven't seen anything written, or heard anything said, about Davon Hamilton. I didn't focus on him, but did notice him getting dominated on a couple plays, and not having any tackles for the game. The middle of the DL looked really soft when the backup qb came in, and was gashing us for long runs.
Just can't win with some people. Kirk Herbstreit gets crushed by OSU fans for not being enough of a homer, and Urban gets crushed for being too much of a homer. LMAO.
They didn't lose to Purdue because of Bosa's absence. That whole defense was a shit show, and whether Bosa was thre, or not, woud've made no difference.
EVERY. GD. YEAR!!! Make it stop!
Have to give huge props to the O-Line and the TE's. They're absolutely mauling people. I love how the OL has gone from being one of the biggest questions of the off season, to being an afterthought..... a given. That's a good thing. With JK and Teague running as hard as they have been, and the blocking they've been getting..... wow! That's a great combination.
Have to mention the blocking schemes, too. It's impressive how they're getting to the second level and pulling along the line, opening up some huge holes for the runners.
If ND was in the SEC it would definitely happen, but being as they are above the Mason - Dixon Line, I wouldn't expect it to happen.
For the love of everything that is holy, please.... I repeat, please..... Buckeyes, do not EVER have anything to do with these types of turnover props.
48-10. Score closer than the game. Buckeyes will put the nation on notice.
Not necessarily a complaint, but Mack had a bad case of the drops last year before his injury, and Victor didn't seem to take that next step in his progression. I'd like to see those two things remedied this season. If that happens, look out.