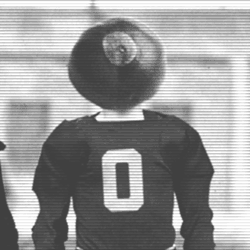 pukindawg
---
Member since 02 February 2012 | Blog
Recent Activity
Rutgers has some scholarships open.
SEC fans are actually proof against evolution. I think Darwin would be puzzled and afraid.
From what I see, none of those teams are ranked PAWWWWL!
This may have been mentioned and if so I apologize, but I have a hard time believing that (with both QB's pretty much equal) J.T. is not the starter. I just can't envision a scenario that Urban doesn't give Barrett the chance to beat the only team he lost to last year. Meyer has come out and said the loss was on the coaches and he's also said that it's his job to put his players in a position to win. I just feel like if it's close he's going to give Barrett the chance to start. I do agree that both will probably play though.
Nike killed the maize
Hoke and Brandon killed the blue
Buckeye till I die
I've thought the same as the OP just because I believe there is no way Herman doesn't get a HC job next year. Looking at the destinations I keep going back to SMU because they are horrible. We know he will recruit Texas strongly and turning around that offense would showcase Brax's skills and talent to the nation for his last audition to play QB in the NFL. Of course, as OSU07ASU10 pointed out, grad programs could be an issue.
I want them both to stay but if we are going to play "what if" SMU makes sense to me.
There are those five dead hookers though....
Pure Urine or Purine if you prefer.
I have Committed to THE Ohio State University #BuckeyeNation

— Austin Grandstaff (@AustinGstaff1) May 4, 2014
Not football but great news!
Hey Birm,
What is the latest on legacy C.J. Sanders? Is the staff recruiting him hard or have they focused on other targets? Just curious because last summer it looked like he was all buckeye but I haven't heard much about that possibility since.
Thanks
Welp that's good enough for me. Vote to Warren G.
Biggy,
It does exist and it works now (just haven't found a link to it on the site). I used this link from an old bookmark...
http://www.elevenwarriors.com/buckeye-twitterverse
Now I can go back to being as unproductive as I was before the fancy new digs.
Thank you 11w!
I'm not sure if it's a bug or was intentional but I can't seem to find the Buckeye Twitterverse link. I don't have twitter but I didn't need one to keep up with "All things Buckeye." Love the new look and thanks for all you do.
I first became jaded towards the student bodies support of the team following the loss to the Toby Gerhart lead Stanford team at the farm in 2009. Everyone I talked to following the big upset over Cal, and the Halloween win over USC, had nothing but praise for where the team was headed.
Edit: Cal was ranked #6 yet tOSU catches slack because they stink now. Ah well, just keep winning!
Ohio HS bball > SEC bball
In my opinion there is no way he can succeed in the NFL. The minute he starts swearing at pro players and turning purple one of them will knock him out.
Diggs will be in the League 3 years from now.