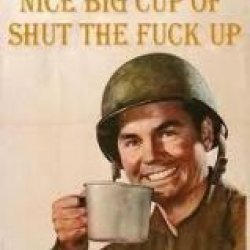 puff daddy
---
Southside (via Paradise Island)
MEMBER SINCE January 17, 2013
I grew up a poor white boy in a small village in Kenya.
Favorites
SPORTS MOMENT: when the bobcat went after brutus
Recent Activity
Just let em smoke weed. It's better than all the steroids. Gordan always plays better "stoned" anyways.
Logan lost in semis due to criteria after a tie score @ trials.
Nice write up Curt.
Marinelli and Hall would have made for a epic haul. Iowa and PSU will get some big points out of those two.
How does Urban crunch the numbers?
Cleveland hosting. I'll be there.
Don't mess with your Brother.
American Ninja Warrior Finale
Sick minds think alike....thinking the same thing when I saw Tutt.
My daughters birthday is on the eve. Bad enough she puts up with me and her brothers all season.
Please don't tell me the games are on the Eve. I'm checking into this. Yep...on the eve. Following year on the 1st......the way it should be.
Should of stayed. Blew his chance on #8 on your list.
That is so wrong when I'm trying to cut weight. I could watch this all day. Perkin's pancake house.
Nice list. Lots of memories.
How close was Oden?
I was treated like crap by coaches too. I'm not walking my story back though. I was treated like pooh. My coach hounded me all the time. Yeah, most of it was to get on me to motivate me in lack luster performance. Maybe this kid just didn't have any "fire" in him at the camp. They just wanted him to be all he can be.
BUCKS = Ratings. We know this. A OSU -BAMA matchup----40m
The Scott is bad. Only been there for wrestling. I'm a smart fan.
87'-----year I graduated---Listened to way to much The Who, Hendrix, and Zeppelin. But, I do remember "Back in the highlife" being played in the car next to me once.
Hope your right. This of course would not bother me as much if it was another school.
Hope your right...Let's get 2018 rolling!
I understand the formula to a degree. The kid we lost out on is the best DT to come out of Ohio in a while. #22 in the class could translate to the best in Ohio's 2018 class, top 3 for sure. I refuse to understand.
The south stands disappeared!
Carew
Gwynn
Suzuki
Boggs
Brett
Is it true Jimmy offered every IMG player in the two deep and offered a job to every coach?
Sure makes you take notice and perhaps re-evaluate.
Weber, Noah Brown, Jamarco, and Mack on Offense. Baker, Hubbard, and Webb on D. All named didn't start last year but outside of Mack think each can gain BIG recognition for the year. Mack catches 25-30 balls.
Wow. That was deep. Accurate too.
Tress could always find a playmaker at a O position to do enough to make a O work.
OL development sucked!
His saving grace was finding good Bakers and DB's and developing the talent and play Tresselball and keeping the score low. Finding a couple of dependable DL guys along the years. Never had depth though.