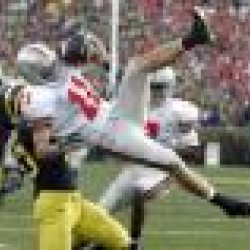 Powers
---
Rochester, NY
Member since 30 August 2010 | Blog
Favorites
SPORTS MOMENT: Winning the NY State title in basketball junior year
2006 #1 vs #2 Game of the Century
First time i witnessed Script OHIO
COLLEGE FOOTBALL PLAYER: Mike Doss
NFL TEAM: Dallas Cowboys
NHL TEAM: Boston Bruins
NBA TEAM: LA Lakers
MLB TEAM: Pittsburgh Pirates
Recent Activity
Wicked and The Book of Mormon
Really wish Brent could have been on the call for Zeke's run
"DAYLIGHT!"
So depressing. Remember when he and Mike Mitchell were going to be the LBs to bring the silver bullets back? Good luck to him as a Grad Assistant!
Phewwwww
My god people we don't suck! Yeah we're not playing well tonight but losing to a rival on the road is going to happen. Settle down and realize the regular season in college basketball just isn't that important anymore. Get better over the rest of the season and play our best in March.
Travel in the NBA? Your posts have been slightly off all night man
I hated getting stuck with the grey PlayStation controller
Can we somehow pay Brad Nessler and Todd Blackledge to call all of our games?
I actually like the fact that it doesn't have the usual suspects of all time great OSU plays
Awesome video!
Anything that has to do with Archer is an automatic up vote in my book
The open thread cover photo is magic!!!
As long as they don't hit thirty-five 3's like Iowa St did I won't lose too much sleep this week
I live 2 hours from Syr so this win was soooo sweet!
I miss that Lenzelle.
FWIW Jason Williams was the most unguardable PG off the dribble that i have seen since 2000
That picture will be my background all week.
Someone needs to make a gif of it.
Burke is losing a lot of his POY credentials today
http://sportsillustrated.cnn.com/vault/cover/featured/12015/index.htm
Proud to say I was part of that small sliver from the chart in 2007. I honestly know i wouldn't be as big of a Buckeye fan if it wasn't for this site. I know every player in the two deep every year strictly because of the amount of coverage you guys and gals cover each day. Never ever leave us Eleven Warriors!!