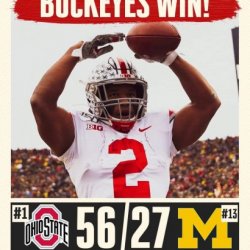 Port Richey Buckeye
---
Clearwater Florida (via Canton, Ohio)
MEMBER SINCE January 24, 2016
Recent Activity
Did my part.
Started drinking more.
1. No Alabama 2. No Alabama 3. No Alabama 4. No Alabama Delicious.
We will be fine.
Looking ahead?
Our defense from last year says hi.
Sec east is garbage.
Pussies.
Wesson won't be playing in NBA.
Oklahoma will get in over Utah.
Next year we can add a receiver at the top for award. Studs here and coming in. Jaxson Smith-Nijiba got his 5* star upgrade yesterday. Boodya
WAT? Whoop everyone's ass.
Please God noooooo don't let Jimmy leave Ttun.
Roll Tears Roll. Delicious
Best meal I've had in awhile. Their delusion is delicious.
Enjoy Wiscy fans.
Comment removed for violating the site's commenting policy.
Go Gators
Go Gators
No Oprah memes?
Happy holidays skunkweasels.
eSECpn is equally delusional to Shitigan fans.
Time for Day to swoop in and get some flips.
I'm calling boleshit on Ttun hoops. Their basketball season will just be a mirage. Eat shit skankweasels.
One thing for sure is no skankweasel shitigan fan amounts to the dog shit on bottom of a shoe. Those pieces of shit get more delusional by the year. The countdown already started to next years curb stomping. Enjoy the holidays MYTHigan douchebags.