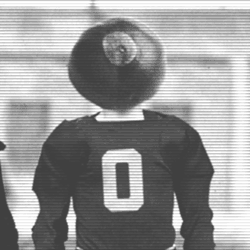 porkchop
---
MEMBER SINCE August 08, 2013
Favorites
SPORTS MOMENT: The Game, 2006.
COLLEGE FOOTBALL PLAYER: AJ Hawk
COLLEGE BASKETBALL PLAYER: Craft
NFL TEAM: Browns
NHL TEAM: ?
NBA TEAM: Cavs
MLB TEAM: Tribe
SOCCER TEAM: ?
Recent Activity
If you're ever up near Kent, about 20 minutes away you'll find a dive called Arnie's Steakhouse near West Branch outside of Ravenna. I can cook a steak and prefer to do so, but one thing i can't do is make Prime Rib like the pros. This place only does Prime Rib on Friday and Saturday, but it's worth the trip and the wait. The Sweet Potato side is pretty killer too if you're into it.
Forgot how much fun it was watching that guy. He trucked some dudes.
That wolf is about to get nailed by a seedless watermelon.
"Storing" implies leftovers, which at my house we rarely experience. My only advice to you is to pour it room temp over ice and get after it. Watershed might set the bar a bit high as starters go, but delicious none-the-less.
Well that escalated quickly! The look of shock on the blue shirt girl's face is priceless.
I had a 4 hour career as a telemarketer in college, calling and asking people if they'd participate in a medical survey, which unbeknownst to them would end up being 120 questions if they were patient enough to sit through it all. Hung up my headset and didn't go back. Stopped at a Big Boy on the way back to the apartment and got a job waiting tables. Ended up being a decent gig.
One time I woke my wife up with just the smell of the fart. No noise, it was just so horrid that it stirred her from her sleep and she woke up asking what the hell had just happened. I pretended to be asleep naturally.
The argument to end them all.
I'm excited. We have the talent and the coaches to get this team where it needs to be to be successful. It'll be a fun ride!
I can't believe he didn't tip his hand as to any off-season coaching changes right before a major bowl game!
Edit: bah. beat me DW
Man, if the Lions draft him the vets on the team are going to give him hell.
As much as I can't stand Notre Dame, and I really can't stand them, I think it makes college football more interesting when they're good. That's about the only positive I've got.
Sure there are other ways, but this is the most impactful to Adolphus Washington, and to future Buckeyes. Some things are bigger than football, and moral character is one of them.
Unfortunate, but the right message to send. Good luck in the NFL big man!
For me this week's trophy goes to Decker for that Zeke Instagram post. Couldn't have captioned that one better in a million tries.
I'd punch Brady (Tom). As much for his pro success and hot but annoying model wife as his *ichigan affiliation. He just seems like a guy who could use a beating.
You hit it on the head. I might be in the minority on this, but this isn't a good thing in my eyes. You have to be able to hire people and then trust them to do their jobs. It's unfortunate that he has to take on the duties of people who are already paid to perform them. And it doesn't bode well for the future of those people because it's not a sustainable arrangement.
Don't watch a Browns game. Good grief.