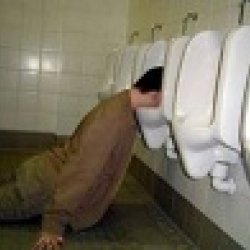 ponder10
---
PHX (via CMH)
MEMBER SINCE June 19, 2014
Favorites
SPORTS MOMENT: 2002 National Championship
COLLEGE FOOTBALL PLAYER: "Steely Eyed" Craig Krenzel
COLLEGE BASKETBALL PLAYER: Jim Jackson
NFL TEAM: Bengals
NHL TEAM: Blue Jackets
NBA TEAM: Cavs (although I really dislike the NBA)
MLB TEAM: Reds
SOCCER TEAM: USA & Colombia, Crew, Arsenal
Recent Activity
I think this place is restricted Wang so don't tell them you're Jewish.
I've never been to France but would highly recommend Spain.
I went several years ago for the Running of the Bulls and started in Madrid>>Pamplona>>San Sebastian>>Barcelona
I would equate Madrid and Barcelona to the NYC and LA of the US. Madrid is a bit more gritty, people are real, and the food is amazing. Barcelona is a beach city where people focus on comparing themselves to everyone else that lives there. For me, I liked Madrid more.
San Sebastian, where I saw Chip Kelly after the Running of the Bulls, has more Michelin star restaurants per capita than any city in the world. The food is absolutely amazing.
I cannot recommend Spain enough to people. I loved every city and town that I visited but Madrid was where I found the most joy.
Even if he is making stuff up it shows incredible arrogance by Birm to go on attacking him tweet after tweet. Everyone knows Birms knows his stuff, he doesn't need to announce it to everyone and belittle other Buckeye guys on Twitter. You're confident in your shit? Good! Let it speak for itself. Allowing your ego to get involved and shit on someone because you can shows low emotional intelligence...but that's commonplace these days.
Yes, Marvin Lewis can teach them how not to win a post season game over a 16-year period.
How about not putting them in a stadium/city that doesn't have a traditional soccer following?
This is probably the most frustrating debate I have seen of recent memory.
The way soccer is set up teams have incentives to score as many goals as possible (goal differential).
Regarding the celebrations, many of these girls have been playing soccer since they were 4 years old with the dream one day of playing in a World Cup and possibly scoring a goal. To suggest they cannot express joy in a GAME is absurd!
Mallory Pugh is now 21. She's been watching Rapinoe play in World Cups since the age of 13. You better bet your ass she's not only going to celebrate her goal but the assist she had to Rapinoe.
This is a game, it is supposed to be fun. Let them celebrate.
What changed with Gray? I thought he was a Buckeye lean.
Julian Nixon is the love child of John Lennon and Pat Nixon. Somehow they hooked up in the anti-war movement. He also follows college football recruiting.
I prefer the dude's face at 5:10
That is the face of a beaten down man right there.
I was going to make that same exact comment. Move on... she's not that in to you. There's no need to follow her on facebook and badmouth that dude who's wearing a big gold chain with a grill that she's now hooking up with.
Move on dude, you're better off without her.
My feelings aren't mixed at all, he's WAY overrated. He's not in the top 30 for any of the statistical areas that matter. He's also a complete letdown in the playoffs.
I'm not a Mormon but know many in Arizona and their not required to take their mission immediately. I believe he can do it at 18 or delay. However, it's most likely he'll do it early in his Buckeye career because the NFL won't wait 2 years for a senior to go.
That boy is LARGE for a punter

With the weather in Ohio this week it would be a perfect time for Day to make an in-home to Enokk. Hell, take the whole coaching staff as a reward.
My biggest concern areas for recruiting are DB and OL.
I'm confident in Mattison and Washington but unfamiliar with Hafley and Barnes. Additionally, Studrawa is a chode on the recruiting trail so who will pick up his slack?
That should say recruiter but for some reason I can't edit.
It's a festivus miracle.
I didn't see this anywhere but Bama just lost their best receiver not named "Bag Man". Tosh Lupoi appears to be joining the Cleveland Browns staff.
I don't have an issue with him coming back. Here's my thought, Day is ruthless about competition and that was evidenced by the defensive staff changes and the Tate/Fields situation. So, if Arnette stays and plays he must be our best option BUT he won't be guaranteed anything because we have an entirely new DB coach and new DC. Basically, he'll force those younger guys like Wade, Okudah, Banks, Johnson, etc to step their game up even more if they want to see the field. Iron sharpens iron.