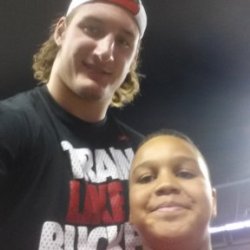 pompano buckeye
---
Member since 31 August 2010 | Blog
My 10 year old grandson's selfie with Joey Bosa at Friday Night Lights in July 2014.
Favorites
COLLEGE FOOTBALL PLAYER: The Buckeye that just scored...or flattened an opponent!
COLLEGE BASKETBALL PLAYER: Changes year by year...All Buckeyes, of course
NFL TEAM: Indianapolis Colts
NHL TEAM: Columbus BlueJackets
NBA TEAM: Indiana Pacers
MLB TEAM: Miami Marlins
SOCCER TEAM: n/a...just cannot get into it...have tried.
Recent Activity
Desmond Howard (There...fixed that for ya.) No explanation required.
I agree! I hate it when I do that, but I do not know how to delete one of them. I rarely comment on anything, and am such a novice when it comes to the intricacies. Where are all my grand kids when I need them? :(
Having been a Buckeye fan since Woody was the coach, I am happy, at some level, that I survived the Cooper years because it helps me to revel in the total angst that the UM fans feel with Hairball! He still has to lose many more to us before I feel vindicated. I hate to hear people say that a better Wolverine team is good for the rivalry. I want them to lose every time! Just sayin'.
Hey, I just solved pi! Here it is:" . "
Hey, I just solved pi! Here it is:" . "
Having lived in New York (Poughkeepsie) for 4 years and traveled with my job in both New York and New Jersey, I have to categorically state that the Diners are fantastic. But the BEST of all has to be Harold's Diner in Edison. Just Google "harold's diner new jersey" and click on images! Try it...you will NOT be disappointed. It is only about 20 minutes from Rutgers.
Herman, who you might not know is a MENSA member,
Hey, ain't MENSA sumthin for really smort peeple? Kule!
SEC!...SEC!....Woohoo!....uhhhh...(reads list again...) UHmmm...Never mind. Sheesh.
Why was I expecting to see a canvas filled with feline paw prints in all the different colors of a rainbow? I was prepared to be like "OMG...Are you KEEEDING ME?!" Glad it was just cats.
No Politics! What does one woman's (county clerk) refusal to do something she believes to be morally wrong, have to do with a football program?
spend her last dollar on the latest Nick Saban bobble-head doll...
As opposed to an infamous Buckeye fan who would spends his last dollar on a doll of himself!
I'll bet Cardale would treat him like some lil kid in Children's Hospital...No Mercy!
Re: 10 grammar myths debunked. It should be changed to 11, the eleventh being "If DJ does the Skull Session, there will be a grammar/spelling error." DEBUNKED! The new rule should instead be. "If DJ does the Skull Session, it is ALL GOOD, and if the result is different than the rule, the rule should be changed!" I love me some Skullies, beauty marks and all!
I did not know this. Thanks so much for posting it! I definitely fit the bill and that has now been added to my bucket list...
Bucket List:
1)Find a cure for Cancer
2)Finish an entire Thurmanator burger in one setting (Sure, anyone can finish one at home later.)
3)Audit OSU classes...for FREE. (cause I'm old!)
Well, that ain't no big ass fan...This is a big ass fan!
btw, these fans are amazing. Here's a link if you wish to read about them. http://www.bigasssolutions.com/
And, avoid alliteration, always!
THE 11W WEEK IN REVIEW. Here is some stuff written this week by people more talented than me:
DJ, I realize the above is your second sentence, so maybe it doesn't matter, but shouldn't that read "...more talented than I."?
Well, you must admit that those Alabama yards were a bit skewed - the Bama players were distracted by the entirely too early release of NFL draft projections!
I lived, and worked in Florida both when we beat the Hurricanes AND lost to the Gators. I ran out of ways to say how much I hated Urban Meyer. And that was just for one game! I would not have words to describe the hatred if we played against him every game in a season. This just seems so wrong, somehow dirty even. I WILLNOT go there. Please redact this part of today's Skully. Please!
I get what you're saying, but at some point(after players graduate) we just need to let it go
And, we can feel bad when any player from any team loses their job regardless of what it is, such as Mark May. ... NOT!
OHIOSTE, Please see my reply to Ytown. Sorry, but you are classic case 1).
YTown, You cannot stop at one because:
1) If your first child is perfect, you think "This is so easy. We are the perfect parents. What is all the fuss about? We should have another!"
2) If your first child is that baby from H***, you think "This cannot be our fault! It is an anomaly. Is this baby even ours? Did they swap it at birth? Let's try again!"
Spoken from experience. We were case 1)
"It seems like some variation of this needs posted every year month week day... love it." - There, fixed it 3 times for you!