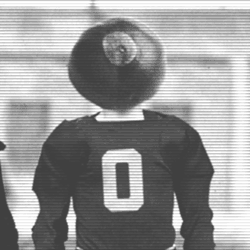 Poco Loco
---
Clearwater, Florida (via Olmsted Falls, Ohio)
MEMBER SINCE March 28, 2015
Have been a fan of TOSU since mid 30's when my father would take me to the spring game on the way to Ironton to see grandparents.
Now retired in Florida.
Favorites
SPORTS MOMENT: 1961-TOSU-50: UM-20 I was there and enjoyed every minute of it.
COLLEGE FOOTBALL PLAYER: Vic Janowicz
COLLEGE BASKETBALL PLAYER: Jerry Lucas
NFL TEAM: ex Browns
NHL TEAM: Lighting
NBA TEAM: Cavs
MLB TEAM: Rays
SOCCER TEAM: Manchester United
Recent Activity
It is a shame that they both can't lose.
Blame it all on the Astros. If they had swept the Yankees like the Nats just did, there would be no Friday night baseball.
Hove-Back in the North Sea pipe laying days it stood for Bottom Manipulating Frame. They were BMFs.
He was one hell of a player. As I remember he may have been and All-American.
There could be three teams at 8-0 in two weeks.
If, as many of us feel, TTUN enters the GAME at 8-3, there only object will be to maim and beat TOSU. This game should never be overlooked as history has a way of repeating itself.
My last manual was a 1963 Corvair Spyder Monza convertible with a turbo blower. Great car but ran hot so plugs were a problem and you always carried a spare belt or you were dead in the water if it broke.
I would hope that the conference will have something to say about the whole mess other than it is just Miami being Miami.
While Mayfield planted a flag, Bosa repeatedly planted Mayfield.
I believe NFL teams are limited to 53 players while college teams have over 85 including walk-ons. Much easier to regulate the smaller number, and the NFL leads everyone and everything in regulating.
Kannell's argument is exactly the same as Joey Galloway has expressed on "Football Today". and is one that was very common pre social media and metrics.
Two questions: 1. Why is he listed as a defensive tackle when he is playing defensive end in the film clips? 2. Why isn''t he a five star?
I was looking for Northwestern news. Our next opponent.
Adversity: noun "1. A state of hardship or affliction; misfortune. 2. A calamitous event." The American Heritage College Dictionary, Fourth Edition.
Navy, after watching it in detail, I agree that it was a block in the back. A penalty was the right call, its definition was wrong.
There is an old saying, "You can marry money but it is cheaper to borrow it."
This is the most reasonable explanation of the polls that I can remember. Thanks Hove.
There is a story about Luke Appling, one of the great shortstops of all time for you younger people, asking Comiskey for some free tickets for his family. Of course the answer was no so that afternoon, Appling fouled over twenty balls into the stands, more than making up for the refused tickets. I'm not sure that there is a player today that could foul off pitches like Appling.
I'm just an old hard rock miner, but I don't understand how ESPN benefits by having more than one SEC team in the playoffs. Their revenue is based on ads whose rates are based on the number of viewers. As the number of SEC teams increases in the playoffs, the number of viewers would decrease and ad rates decrease. For max viewers I would think the ideal match up would be USC/UCLA, TOSU, Texas/FSU, Alabama/Florida. How many people would stay up past 22:00 hours to watch three or four SEC teams play in the playoffs?
Unfortunately Haskins is playing for what is probably the most dis-functional franchise in professional sports. The owner needs to take an extended trip to Mars, get a football person in charge, and get back to the Allen/Gibbs days of being a professional team.
Wilson's footwork on the TD catch was classic. I don't believe few college receivers can do it and have never seen a pro do it.
Lawyers are going to make more money than the players.
It will be interesting to watch the Meyer/ Day coaching tree grow.