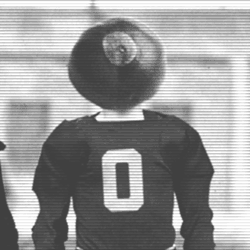 Poco Loco
---
Clearwater, Florida (via Olmsted Falls, Ohio)
MEMBER SINCE March 28, 2015
Have been a fan of TOSU since mid 30's when my father would take me to the spring game on the way to Ironton to see grandparents.
Now retired in Florida.
Favorites
SPORTS MOMENT: 1961-TOSU-50: UM-20 I was there and enjoyed every minute of it.
COLLEGE FOOTBALL PLAYER: Vic Janowicz
COLLEGE BASKETBALL PLAYER: Jerry Lucas
NFL TEAM: ex Browns
NHL TEAM: Lighting
NBA TEAM: Cavs
MLB TEAM: Rays
SOCCER TEAM: Manchester United
Recent Activity
If Ohio State loses to Cincinnati this site will crash.
The only thing I ask of officials is consistency. Like baseball, the hitters can live with an umpire that has a consistent strike zone, wide, high, low. It is the ones that jump around so that you don't know what is going on.
As for getting on officials, I learned my lesson in my first high school basketball game. I sassed off and got a T. My father, a football coach and a basketball official met me in the locker room and told me that I had my first T. He said the second and you don't play again this season. Only had one T in three years.
Kyle Kalis (sp) must have had a case of Michigan foot in mouth disease which seems to be contagious and not limited to teen-agers.
Apparently crime does pay 15.1 Million.
Read just up article on Cade Stover.
Please do not ever use the excuse that the Zebras cost Ohio State a game. I believe that that excuse has been copyrighted by TTUN.
Since the signing should be in San Francisco, I would take those involved and buy a round of drinks at the Top of the Mark.
Next. since most pro athletes are like politicians and think that tipping is a city in China, I would not have to pay for food, lodging, or transportation so I would buy an unassuming Lincoln pick-up truck.
Now that all my earthly needs have been taken care of the next expenditure would be investments.
Chicago has the Museum of Science and Industry, The Shedd Aquarium, The Field Museum of Natural History, The Art Institute , and the Cubs.
My memory is not as good as it once was. I have been trying to recall college head coaches who were successful in the NFL. Only Paul Brown and Pete Carroll come to mind Assistant college coaches have had more success I believe.
Would some math genius please figure out the odds of Ohio State, LSU (Burrow), and Miami (Martell) being in the next college championship playoff.
You note that all transfers are not allowed; however, I believe graduate transfers have been allowed for some time. Another consideration is recruiting. Does the recruiting of the 2020 and 2021 class of QBs change with each option? My pick is Option 1 which is what it is and we have to live with it. Hopefully all will be well..
The 1950 snow bowl loss to Michigan.
With 15 5th year seniors nest year's recruiting class should be maxed out.
Go back to leather helmets.
I think that the Mannings are in charge of the Giant's QB room.
Desmond is still trying to figure out how they take the cotton out of cotton candy, A Ramsey classic.
Quasimodo will have to find a temporary new home.
I could not agree with you more. I believe that the coaching staff saw what they wanted to see and where the work needs to be done. The spring (game) practice is not for fault finding which should be saved for game day. I think that the lack of contact is something we will see more of as to avoid injuries. We need to look at this practice in today's climate and try not to compare it to yesteryear. Enjoy it while you can. As you get older you realize you don't have that many games left.
Mr. Pancake, Orlando Pace.
I'll be 101 years old in2032, so I really cannot get too excited about this schedule.
Over the past several years JH has shown that he could fuck up a wet dream.
My uncle was an assistant coach on the 39 team. He was an assistant jFB and BB coach until he joined the Navy in 42. One story that was told in the family was that Paul Brown said that only he and the swimming coach earned their money. This tended to piss of Olsen and Larry Snyder the track coach. PB was not know as a people person.
Rocket Man, right on. Unfortunately the kid who made the last foul will ;have to live with it the rest of his fife.
As has always been the case, only time will tell.
Back in the days of St. John, before TV, Ohio State's home and home series were with teams with a stadium of comparable size to the Shoe. This method will get you a major opponent. Today with the ACC and SEC only playing 8 conference games, you can only afford one of these games. USC was on the schedule for several years.