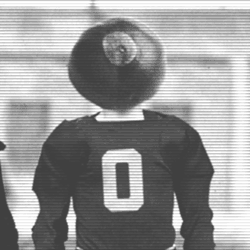 Poco Loco
---
Clearwater, Florida (via Olmsted Falls, Ohio)
MEMBER SINCE March 28, 2015
Have been a fan of TOSU since mid 30's when my father would take me to the spring game on the way to Ironton to see grandparents.
Now retired in Florida.
Favorites
SPORTS MOMENT: 1961-TOSU-50: UM-20 I was there and enjoyed every minute of it.
COLLEGE FOOTBALL PLAYER: Vic Janowicz
COLLEGE BASKETBALL PLAYER: Jerry Lucas
NFL TEAM: ex Browns
NHL TEAM: Lighting
NBA TEAM: Cavs
MLB TEAM: Rays
SOCCER TEAM: Manchester United
Recent Activity
A truly great ballplayer and even greater person.
The rich get richer and the poor get poorer. Man its bed time for us geezers.
Stay well all and get a good night's sleep.
Mercy-I grew up with the Saint and for me it is a toss up between the Saint and Gene Smith.
Stay well all.
Since I am an old fart, any QB comparison that doesn't go back to the start of the T formation is not valid. You omit Baugh, Graham, Unitas, Starr, Favre, Montana, Young, Luckman, etal.
Stay well and beat bama.
Matt-great work. We tend to forget that JH's best teams were with Brady Hoke players. Oh well, Harbaugh is certainly a gift that keeps on giving.
Stay well all and beat bama.
As an University of Arizona Alum my first reaction was oh SHIT!!
I don't either and I was 4 years old.
My 89 year old memory may be failing me, but didn't the BIG spurn Notre Dame for lack of graduate programs equal to the other BIG schools?
Merry Christmas to all and to all be safe out there.
If game reps are teaching aids, and we use 60 per game to keep it simple, then we lost 180 on both offense and defense with the missed games and are 300 behind Clemson. I think short season is a disadbantage.
Stay well and happy holidays to all.
My aged memory is bad. How many times did the Northwestern offense cross the fifty yard line in the second half?
My thoughts are that A & M jumps OSU because they don't want another Bama vs. A & M game, so it is Bama vs. OSU and Clemson vs. A & M. I have come to believe that we need eight teams in the playoff.
Stay well all and Merry Xmas or whatever.
This would certainly open Pandora's box. Both the ncaa and congress would screw up a wet dream.
Stay well and bury Northwestern.
I think that if Notre Dame, Clemson, or Ohio State loses, Texas A&M will be the fourth team in with the loser out.
Stay well all and kick NW ass.
The answer to McNamara's "What if we win out"? is hell would freeze over.
Stay well all.
Team looks great. Thank God for the mute button.
Profound. I was just over a month old when OSU bet Illinois in 1931.
Stay well all and kick ass today.
Matt, thank you for the warning. I will definitely use one of man's greatest inventions, the mute button, while watching THE GAME Saturday.
Stay well all.
Too many penalties skewed the stats.
Stay well all.
Masterful work of art.
Stay well.
It is not impossible that ttun could be 3-5 this year. They are one of the few bright spots in 2020.
Stay well all.
One would think that TTUN should change mascots from wolverines to ostriches since they mostly have their heads buried in the sand.
Who ever you are voting for, take a page out of Cook County, Illinois book and Vote early and Vote often.
Stay well all.
Do you think that JH will be wearing Depends?
The Day of the Dead is aptly named as the TTUN coaching staff seemed brain dead yesterday.
Stay safe.
Does TTUN give a doctorate degree in excuses?
Since this is Halloween it certainly was a treat.
Stay well all and kick ass in State College.