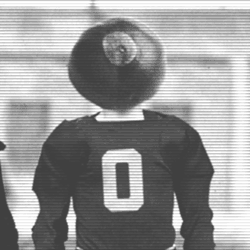 Poco Loco
---
Clearwater, Florida (via Olmsted Falls, Ohio)
MEMBER SINCE March 28, 2015
Have been a fan of TOSU since mid 30's when my father would take me to the spring game on the way to Ironton to see grandparents.
Now retired in Florida.
Favorites
SPORTS MOMENT: 1961-TOSU-50: UM-20 I was there and enjoyed every minute of it.
COLLEGE FOOTBALL PLAYER: Vic Janowicz
COLLEGE BASKETBALL PLAYER: Jerry Lucas
NFL TEAM: ex Browns
NHL TEAM: Lighting
NBA TEAM: Cavs
MLB TEAM: Rays
SOCCER TEAM: Manchester United
Recent Activity
Quasimodo will have to find a temporary new home.
I could not agree with you more. I believe that the coaching staff saw what they wanted to see and where the work needs to be done. The spring (game) practice is not for fault finding which should be saved for game day. I think that the lack of contact is something we will see more of as to avoid injuries. We need to look at this practice in today's climate and try not to compare it to yesteryear. Enjoy it while you can. As you get older you realize you don't have that many games left.
Mr. Pancake, Orlando Pace.
I'll be 101 years old in2032, so I really cannot get too excited about this schedule.
Over the past several years JH has shown that he could fuck up a wet dream.
My uncle was an assistant coach on the 39 team. He was an assistant jFB and BB coach until he joined the Navy in 42. One story that was told in the family was that Paul Brown said that only he and the swimming coach earned their money. This tended to piss of Olsen and Larry Snyder the track coach. PB was not know as a people person.
Rocket Man, right on. Unfortunately the kid who made the last foul will ;have to live with it the rest of his fife.
As has always been the case, only time will tell.
Back in the days of St. John, before TV, Ohio State's home and home series were with teams with a stadium of comparable size to the Shoe. This method will get you a major opponent. Today with the ACC and SEC only playing 8 conference games, you can only afford one of these games. USC was on the schedule for several years.
The reason(s) they lost: 1) A three hour different time zone; 2) The Zebras-always; 3) Distracted having to play on baseball opening day, Japan doesn't count; 4) Too close to Disney Land.
I didn't watch the TT vs TTUN game but the Zebras must have been really pro TT for TTUN to lose.
Semperfi, Desmond can't even figure out how they took the cotton out of cotton candy.
With the aptly named KISS principle in use only good things can happen. Keep It Simple Stupid.
And to think we could have had Glenn Mason instead of Urban Meyer as head coach.
Iowa, back before they changed from wood to cardboard, every mining engineer had Dupont dynamite box furniture.
I think that sped is a driving factor in selecting out of state players. This is not bad as we saw the Ohio State receivers run away from the vaunted Michigan defensive backs last November. J T Barrett out running Peppers in previous years was a thing of beauty. I leave the selection of high school football talent to those paid to do the job until the prove that they are unable to do it. 9 losses in 7 years leads me to believe that Ohio State talent hunting has been very good, regardless of the sources.
Agree with no Michigan State.
I will account for the last 70 years and state that Ohio State fans have not changed one bit. They are perfect Sunday morning quarterbacks, want to fire the coach at the least provocation, blame the players for any miscues, and generally find fault. The one admiring trait they have is that they, unlike the fans of the maize and blue, do not blame the officials. As a passing note, one raises pigs and windows and rears children.
Rather than Brady Quinn they should have his brother-in-law. The Hawk, who incidentally kept knocking BQ on his ass when they last met in college.
There are those on this site that think winning 13 games makes you bad at football.
Semi-Tough The greatest pro football book of all time. Actually based on existing players. A really great writer. RIP Dan Jenkins.
I would like to see more of TBDBITL.
He was an assistant football and basketball coach. I have tried to find him in the archives but failed. He and Larry Snyder joined the Navy together, and he was coaching the Iowa Bee Hawks, the team that played the smaller V-7 and V-12 unit schools such as Case School of Applied Science at the time. Bernie Berman of Minnesota coached the Sea Hawks.
GTH, thank you for the link. In the photo of Schmidt there is also one of my uncle who was later killed in a car wreck while coaching at Iowa Pre-flight. I agree will all that has been said about Schmidt and have long been an admirer. If Day can duplicate Schmidt's first tour games against Michigan, Day will be the hero of all heros. 1934-34-0; 1935-38-0; 1936-21-0 1937-21-0. This has to be the best four year run against UM in the history of the rivalry.