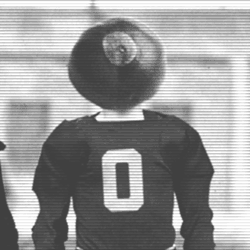 Poco Loco
---
Clearwater, Florida (via Olmsted Falls, Ohio)
MEMBER SINCE March 28, 2015
Have been a fan of TOSU since mid 30's when my father would take me to the spring game on the way to Ironton to see grandparents.
Now retired in Florida.
Favorites
SPORTS MOMENT: 1961-TOSU-50: UM-20 I was there and enjoyed every minute of it.
COLLEGE FOOTBALL PLAYER: Vic Janowicz
COLLEGE BASKETBALL PLAYER: Jerry Lucas
NFL TEAM: ex Browns
NHL TEAM: Lighting
NBA TEAM: Cavs
MLB TEAM: Rays
SOCCER TEAM: Manchester United
Recent Activity
The ACC and the SEC play eight conference games, the BIG10 nine. This one game difference can, and usually does affect the won-loss records that favors the ACC and the SEC. There is no indication that this will change in the future.
More tomorrow, but shared with Indiana.
The most realistic poll yet.
He notes that the new defensive system is based on the KISS principle. Keep it simple stupid. Bound to be an improvement over last year.
The NCAA is FUBAR. SNAFU. For those of you too young to translate, ask your father.
ESPN will have a blurb on Ohio State's opening day on College Football at 4:30 pm EDT on either ESPN 2 or ESPN news.
I was 13 at the time. My father coached at West Tech and then at West High school. My first game at the Shoe was 10-11-47 when USC shut out OSU 32-0. We were staying at the Deshler and by the time we got back to the hotel the Dispatch articles were calling for Fesler's head and other body parts. Some things never change. These were the pre=Interstate days. All furniture was remove from the lobbies on each floor so that it did not end up on High Street.
Since my father was a high school football coach the first OSU game I attended was Nov. 18, 1944 in the cold cold Cleveland Stadium, Ohio State 26, Illinois led by Buddy Young 12.
Why would the NFL want the loser?
BrutusB-In my day there was neither the red hat guy nor replays; however, during slow times people would talk to each other, possisbly a dying art. Also during the sot so good years people would visit the restroom and food stands during the first half of the game so as to be in their seats during the halftime to see The Best Damn Band in the Land. It would be interesting to see 100,000 plus with their faces in their pones during a replay.
Why is 11W devoting so much space to Harbaugh? Is it the off season? When does fall practice begin? Hopefully that will be the end of the constant Harbaugh photos and articles.
Strange as it may seem, I can see the reason behind most of these rules, ticky tacky as they may seem.
It was either 1948 or 49 at the Cleveland Arena when Kentucky with Groza, Beard, Line, Barnstable, and Jones (the only one not on the take) played Bowling Green who had Otten and Share, both about seven feet. Kentucky won by a point or two. Groza fouled out early in the second half. Jones kept Kentucky in the game shooting what now would be 3's. Hell of a game.
Could we have a moratorium on any photos of Harbaugh except on the sideline during a game? Having his photo appear on 11W is like defacing the Mona Lisa.
Buckeye06 this site would crash.
In his day, Frank Howard.
Twitter reminds me of the old adage 'Fools names and fools faces are often seen in public places" Burma Shave.
Shiloh, as I recall from my childhood-30's and teen age years-40's, there was not today's emphasis on pets and veterinary doctors general dealt with livestock which would be essential to feeding the nation and the military.
Miami replaces TCU which opted out after last year. Why am I up so early, I'm going back to bed.
I at first thought of Independence in Cuyahoga County that sent Walt Klevay to Ohio State in the early 50's. Are these the only two schools in the state with the same name? Enjoy this series..
At least since 1938 when my uncle was an assistant football and basketball coach at Ohio State.
If Ohio State loses to Cincinnati this site will crash.
The only thing I ask of officials is consistency. Like baseball, the hitters can live with an umpire that has a consistent strike zone, wide, high, low. It is the ones that jump around so that you don't know what is going on.
As for getting on officials, I learned my lesson in my first high school basketball game. I sassed off and got a T. My father, a football coach and a basketball official met me in the locker room and told me that I had my first T. He said the second and you don't play again this season. Only had one T in three years.