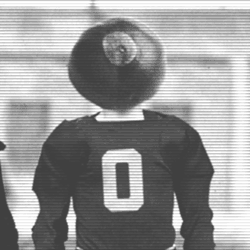 PNWBuckeye
---
MEMBER SINCE October 20, 2015
Recent Activity
Thoughts? No. Nerves? Yes. Dinner? Beef stew
Absolutely. Oregon has a solid defense.
Most deserving yes but they aren't the 4th best team. Either way I'm not sure it matters. The top 3 teams this year are heads and shoulders above everyone else. LSU is going to be tough to beat.
They should let Oklahoma play with 13 guys on defense. It would make this game more entertaining.
But don't forget...their defense is much improved because of Grinch
Interesting take. I never considered Coan NFL level talent, but I haven't followed him closely either. My mind equates Coan with Chase Young strip sacks.
I hope you're right and Lawrence is just Coan level talent disguised as the Payton Manning level talent everyone thinks he is. Personally I think he's Manning level talent, but that doesn't mean we won't win. This could be the most complete Buckeyes team of our generation. We're about to find out!
Unfortunately, like Lawrence, those receivers are still on team. Higgens and Ross had 234 combined receiving yards against Bama. This is why the media is all picking Clemson.
A lot of their talent from last year is still on the team, except they lost a lot on D-line. This is why I think we need to score 40 to win. Go Bucks.
At first I laughed, but now I think you're asking a serious question. Lawrence won the natty and put up forty something on Alabama's highly touted D last year. Coan...not so much.
Thanks for the info and for saving me from watching Clemson replays!
Yeah but how boring would that be to watch. Even the games against the likes Cincinnati, Nebraska and Michigan State were entertaining because we didn't yet know what kind of team we had.
What makes college football so great is the regular season. Playing Clemson's schedule would be like watching regular season NBA...nothing but a forgone conclusion.
I'm no Borland hater, but Browning needs to play a lot of snaps. We need to blitz a lot and he's excellent at getting to the QB. And he's got the speed to chase down Etienne.
I like the comparison. We need to put up 40 points to win. I think it's decided by who can win the line of scrimmage in the running game, and who can create more pressure on the QB. I think we have an advantage in the run game. But I'm nervous as heck that Lawrence is going to get the ball out of his hands before we can pressure him.
We need to start the game strong, finish strong, and play well in between, and then we should be in good shape. Go Bucks!
I think Chase Young, Okudah and Dobbins should stay one more year and improve their draft stock.
Am I the only one who thinks bringing in 6 new recruits on the OL is excessive?
Harris I could understand, but why Gill? He seems like the top candidate to take over for KJ next season. And he might get carries out of the backfield also. He'd be a great 3rd down back.
Don't get your hopes up. Oklahoma is a 13 point underdog for a reason.
I agree on #1. I think I would have swapped #1 and #2 prior to the season, but they have such a good team this year that it's hard for a fan not to be eyeing the Natty. Certainly better to try to keep expectations low because it's a long, hard road ahead, and priority #1, 2, and 3 is beating our rival Saturday.
In my opinion these are top measures of success when judging an Ohio State season (in order):
1. Winning national championship
2. Beating Michigan
3. Making it to national championship game
4. Winning Rose Bowl
5. Winning Big Ten
6. Beating Penn State
7. Making playoff
8. Winning marquee non-conference game
9. W-L record
Damn! For us on the west coast this really sucks.
Pure gold Barf!
Only 2 penalties. What a difference from last year.
The question of whether we'll be able to sustain the high level of recruiting will depend on wins and losses on the field. New coaches have to win games in their first couple of years to get momentum going on the recruiting trail. The good news is Day is inheriting a very stacked roster, so he's starting from a good position. But he needs to win games. No pressure!
Yeah that 2012 defense was flying around hitting people! Want to see some of that passion Saturday!