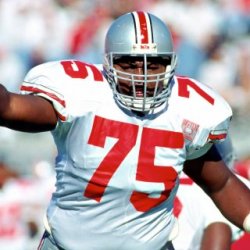 PKPXV_Buckeye
---
Columbus, OH (via Perrysburg, OH)
Member since 12 August 2014 | Blog
Favorites
COLLEGE FOOTBALL PLAYER: Orlando Pace
NFL TEAM: Browns
NHL TEAM: Red Wings
NBA TEAM: Cavaliers
MLB TEAM: Tigers
SOCCER TEAM: Crew
Recent Activity
About to graduate this may from Fisher. Graduated HS in 2011 with a 3.65 and a 30 on my ACT with no extracurriculars to speak of besides football/basketball. I was able to get in and received a trustees scholarship which equates to 600 per semester. I would bet that if I applied today I would have to get waitlisted before I got in, its crazy how much smarter this student body gets every year.
24 when i was younger because that was my dads number. Once I got to high school it was 45 for basketball (partly because of archie) and 75 in football because it was one of the last numbers left, luckily it was also the number of one of my favorite buckeyes, Orlando Pace.
Do 16-17 year old kids even know who letterman is?
I still rock my Troy Smith jersey with the old style sleeves for every game no matter where I'm at. The front numbers have become pretty tattered but I like to think it gives it a little character. The only jersey I could imagine trading it for is an orlando pace jersey, just cant ever seem to find a good one at the right price.
Is there something wrong with franklin thinking Oregon will win this game? Just because youre a big ten coach doesnt mean you have to think differently. They asked who they thought would win not who they are rooting for.
I'm guessing it won't have much of an effect. Urban has already stated he's being very cautious about wear and tear so I don't think we will go much over 20 hours anyway. Both Oregon and Ohio state players will be watching film on their own time. Also, nothing much happens on syllabus week anyway so I doubt it will cause much of a distraction to Oregon players.
This season more than ever I'm glad that I stick to my classic Troy Smith jersey
A lot of people won tickets for the sugar bowl and didnt go simply because they had no one to go with. Such a small percentage that entered actually won that many people were left without any friends to go with them. The taco bell publicity thing of giving away tickets for free ended up screwing us students because there were so many people that entered that might not have if they were more expensive. After the lottery you couldnt sell your ticket because you had to show two forms of ID at the superdome the day of the game.
For the final they are giving 1000 tickets to students for free BUT they will take your credit card info and if you are a no show to the stadium the day of the game then you will be charged $200. I think this will help encourage only students who are for sure going to dallas to enter the lottery.
at first i thought the excitement of beating alabama and winning the sugar bowl might cause us to overlook oregon, but now I think its fine to celebrate as much as you want for the couple days after the semi because there is almost two weeks of time to bring the players back to reality and enough time to properly prepare for the final and get the players enough rest.
http://www.dailymotion.com/video/x10450i_safety-dance-literal-video-of-an-80s-band-on-lsd_fun
My buckeye memory dates from that magical 2002 season onward.
My favorite players are:
Offense: Troy Smith, still refuse to buy a different jersey no matter how tattered the numbers get
Defense: AJ Hawk, the leader of one of the best linebacking corps of the 2000's
Special Teams: Mike Nugent, for obvious reasons
Coach: Jim Tressel, I will never get over his firing. Love UFM but would rather have JT.
Honorable Mention: Orlando Pace, you gotta give love to the big fellas, its a shame his number isn't displayed at the shoe yet
In the end its up to each parent to evaluate if the risk of injury is worth the rewards that come with participating in football and other sports. Personally, I received invaluable life lessons and memories I will carry with me for the rest of my life from my time playing football through the high school level. I will allow my children to play in whatever sport they desire because of my experience playing sports. I guess it depends on your perspective. I'm guessing looking back on it Lebron realizes the risk of injury playing football was too much to potentially sacrifice his future career in basketball. To each his own as they say.
but ohio state is a coca cola school
Definitely a very plausible scenario and Ill be rooting like heck for it to happen. However, I think even a 2 loss SEC team goes. Theres no way the talking heads would allow the SEC out of the playoff