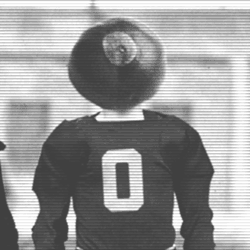 Pineconn
---
Grove City, OH (via Cortland, OH)
MEMBER SINCE July 28, 2019
Recent Activity
Always feels good to steal one from an area like Texas. Welcome to Columbus, Donovan.
Yep, we're still the Big Ten's Super Bowl.
Let me emphasize that Michigan did not perform the true "follow the leader" version of Script Ohio that we all know today. They just literally formed "Ohio" in cursive.
Go Bucks.
My goodness is this article thorough. It's the kind of analysis I'd expect to be behind a paywall. Thank you for this.
I like seeing Master Teague as the RB2 -- he runs with ferocity that should complement JK nicely. I remember him showing the same energy in last year's spring game.
Can't wait to see this team against stout competition.
Early morning BOOM! Welcome aboard, Reid!
Program-changing opportunity…. Beating us last year sure didn't help Purdue take care of Nevada this year, heh.
Winning the penalty battle against Cincy was so refreshing. While penalties didn't ultimately cost us a game last year, it was damn frustrating to see so many yellow hankies.
Yeah, I'll be rewatching that Malik interception a few dozen more times. Absolute thing of beauty. Too bad the Colts didn't get the W in the end.
Beyond X's and O's, they seem to have their swagger back. Playing with confidence is such a boost. I can't help but think that the new philosophy of "don't overthink, just play" has been a huge catalyst for improving the D.
Just more bulletin board material. Keep grinding.
I always appreciate it when a man doesn't mince his words. Will be rooting for Fick to have success in the future.