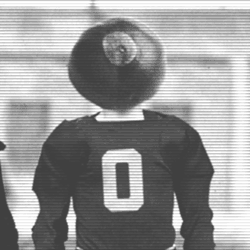 PierogyJim
---
Member since 06 August 2012 | Blog
Recent Activity
Get a subscription to 247
You left out one bit Ra_zy... The Game is also for the ENTIRE great state of Ohio, all of her sons and daughters. Beating Them at Their home is a triumph for those who love OSU and never attended, for the many hundreds of thousands of us transplanted sons and daughters who were born in Ohio and our best and greatest link to our birth state is the team that represents all of us.
My family moved to Florida when i was 5, and yet through our yearly trips back to visit family I was educated about The Game... My grandmother mailed me Buckeye seeds every year so I would never forget where I was from. Holding those buckeyes in my hands is such a wonderful memory for me because it was something real, something more important than just a handful of giant seeds.
The sons and daughters of Rust Belt Ohio who left because they had to hold on to the Buckeye football team much like I held onto those seeds, because nothing else could be so real and important as feeling like you belong to your home state in spite of the fact you no longer live there.
Being in my 30s now, I watched from many miles away, was raised and agonized over the Cooper years so far away from my home.... But my heart is always in Ohio, even to this day.
Tomorrow is the day that binds us all, from students, to student athletes, to those who root for OSU and never attended, to those who go/went to OSU and aren't from Ohio, and to those of us who left so long ago and never forgot who we are or where we were from. We all get it. Tomorrow is what binds us all. Urban understands this, he mentioned it when he was hired that OSU is Ohio'a team and that his goal is to make our entire state proud.
I still have those old Buckeyes my grandma sent me and I always will. I cherish them as I cherish every victory over our hated rivals.
Whataburger is totally the best fast food burger, the only problem is that their fries really aren't that good. I'd rather go to 5 Guys just to get the fries, then head over to Whataburger for the meatz
Simply Orange is the best OJ, though
Lydell will always be a National Champion and no one can take that away from him
After last week's performance...
52-42 OSU
I suppose you didn't get the memo then about the new commenting system then. I would go back and read the Skull Session from Monday if I were you. Don't think you want to get hammered for spamming the board for Buckeye stickers.
It will make more sense once you read the skull session from Monday.
C'mon bro, no need to copy and paste your reply 3 times for everyone just to get Buckeye stickers...
Alex needs his own 11w television show, Between Two Ferns with Alex the Warrior. Now the only question is who commits first, Mitchell or Bell.
Great interview! This is one of my favorite series on this site
O
H
I
O
!!!!!!
Love this idea! I also like how much thought the little wigs up in 11W Corporate put into this whole scheme. We all now need to put on our little boy pants and start commenting like the little dogs over at Black Heart Gold Pants. They had over 1500 comments to a post after their amazing loss to the Central Michigan Chippewas. 11W is going to get MAJOR site traffic increases after this.