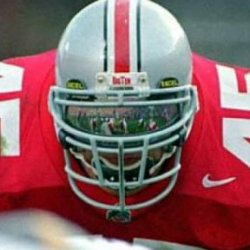 PhxBuckeye
---
Phoenix (via Dublin)
MEMBER SINCE August 09, 2018
Favorites
SPORTS MOMENT: Cie Grant and the look on Ken Dorsey's face that entire game
COLLEGE FOOTBALL PLAYER: Joe Germaine
COLLEGE BASKETBALL PLAYER: Jon Diebler
Recent Activity
The "or" designation has also been removed from the Buckeyes' kickoff returners, with McCall now set to be Ohio State's primary return specialist for both kickoffs and punts.
The depth chart says KJ is primary on punts. Not McCall.
Edit: someone posted the same thing as I was typing this.
Might be the best yet. "Show them Ohio's here!"
"Elite company" is right. Even after George H.W. Bush's death last week, there are still more living United States presidents than there are living non-interim Ohio State football coaches.
Which job is more stressful?
Couldn't agree more. The reason I enjoy college football so much is that every game really does matter. It's the only sport where the regular season matters. It keeps me interested. Turn it into the NFL and I'm not turning on the Oklahoma Ok. State game because who cares who wins. Don't expand. If we want in its very simple. Don't have a 30 point loss each season.
You're right I did not pose a question. Why are we stuck playing them every year when they are not in our division? The crossover games are supposed to rotate.
I just hate the "Neutral Site" argument for a game that is only ever played at a neutral site. Texas-Oklahoma, Georgia-Florida are the two big ones I can think of. I heard Oklahoma lost to Texas at a neutral site so many times this week. WHO CARES if its a neutral site when the game is ALWAYS played there.
This is only true if you go undefeated. If you don't have a loss they don't care who you played or how you played it if you are in a power 5 conference. Add a lose though and that changes. We got in the playoff in '16 pretty much only because we beat Oklahoma at Oklahoma. We couldn't help this year that TCU was garbage. If TCU went on to win the Big 12 like Oklahoma did when we beat them we would be in this year. Need to keep the big games scheduled, and man do we have some good ones coming up, because if we keep losing to inferior teams it's the only way for us to get in.
ND's blow outs are against 6-6 Wake, 5-6 VT, Navy and 5-7 FSU. Stanford and Syracuse are the only decent team they beat by more than 10 and Syracuse's QB didn't play most of the game. Oklahoma didn't beat any team with a winning record by more than 10 points( just looked this up and it's shocking to me. We should be in). They both beat subpar teams by more than 10 points and won close games against better teams.
I was just pointing out the flaw in the concept of this post. Consistent and playing close games are not a direct correlation. If it were me I'd give OSU the benefit because on any given day they have proved they can beat top tier teams and play at least average defense. OSU is 1 spot behind OU in total offense and what, 45 spots ahead in total defense. Different conferences and style of play sure but 45 spots is 45 spots. Either way they dropped NW just enough that when we beat them they will not be a top 25 win. Need UT to win to get in.
Inconsistent and playing close games are two different things that you are trying to make the same. If anything you are making the argument that both of those teams are much more consistent then the Buckeyes. When you look at those teams, I truly believe those close games are who they are. ND isn't going to be blowing people out weekly but are going to be playing very much like the 2002 Buckeyes. Oklahoma doesn't have a defense so they have to outscore teams and the teams that can control the clock keep the game close. How can the same team lose by 29 to Purdue, who had to win their last game to be bowl eligible, and crush ttun by 23 within 5 weeks of each other. That's the definition of inconsistent.
I'm not sure any of it matters if OU (University of Oklahoma, why do they do it backwards?) wins. I've never been a big conspiracy theorist but that fact that Iowa state magically appeared in the top 25 the last two weeks and Northwestern dropped last week has me believing. Northwestern dropped just enough that when we beat them they will no longer be a top 25 team. Same thing happened last year when Fresno State magically appeared in the final rankings to give bama a top 25 win. OU loses and we win we are in. outside of that I'm not even sure a 59-0 win can get us in. It sure would be fun though.
Anyone know if coaches can vote for their own players?
I cannot stop reading about his game. Also having a hard time kicking the urge to watch all the espn people eat crow in youtube clips. GO BUCKS
He does have possibly the greatest quote of all time in that movie. Clearly we agree on that.
When No. 4 Michigan rolls into Ohio Stadium Saturday, they'll take the field as favorites – something they haven't been for "The Game" since 2004.
There is no way we were favored in 2011.
How about if his players said so?
https://www.toledoblade.com/sports/college/2002/11/20/Yes-it-s-a-big-game/stories/200211200023
Also, the part about doing everything but painting the dummies blue. the scout team is wearing winged helmets these days.
ttun is 2nd to last in the FBS for defense red zone scoring? That's shocking and bodes well for the Buckeyes!
Can't take anything away from Dobbins because he had a great game. But... I've been saying for weeks that he is dancing and then missing the whole. Seems like he gets tunnel vision. Weber on the other had has been running with power and still finding the holes and actually running over defenders for the last few weeks. Here's hoping Weber is healthy and Dobbins runs like last week.