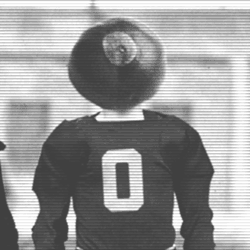 PhillyNut
---
from Lorain, Ohio
MEMBER SINCE January 17, 2018
Born and raised in Lorain, Buckeye fan since I can first recall watching a game on TV and that was 1965. Favorite Buckeye moment - getting Woody Hayes' autograph as a kid. Suffering in the hell hole known as PSU country but love sticking it to the fans here. Have made attending the Spring Game a tradition with my two grown sons.
Favorites
SPORTS MOMENT: Watching all of my children compete in whatever they chose to do.
COLLEGE FOOTBALL PLAYER: Archie Griffin, not even close
COLLEGE BASKETBALL PLAYER: Pete Maravich
NFL TEAM: Cleveland Browns
NHL TEAM: Pittsburgh Penguins (sorry, wife from Pittsburgh)
NBA TEAM: Cleveland Cavaliers
MLB TEAM: Cleveland Indians
SOCCER TEAM: None
Recent Activity
But what do you think if you are not being honest?
When "Disco Lady" was the number 3 song for the year and Bohemian Rhapsody was 18th you know it was a bad year for music. Confluence of bubble gum, disco, and light pop never gave real music a chance that year. Hey, it gave us Disco Duck!
I agree with this take. Two things to me make Hartline a major upgrade though. Actually three. One, he played in the NFL. That goes a long ways with players at skill positions. Two, he does not seem to have any of the off filed baggage that Smith has. Better for the players, better for the fans, better for the head coach and admin. Three, he is a Buckeye and knows what it takes to be successful at Ohio State.
Funny thing about stats. Buckeyes were 57th overall last year against the run which was not great but not a dumpster fire. What I liked better is looking at ttun and Bama. Ttun ranked second overall in yards allowed per game at 275. But their last 3 games they allowed 460. Bama ranked 15th at 325 but in their last 3 allowed 469. Buckeyes only allowed 17 more yards per game (421) in their last 3 against much better competition (at least in theory) than earlier in the year. That shows improvement to me and mirages on the seasonal stats for ttun and Bama.
Day actually has the best shot going in at being named B1G COY since Earle (maybe if Fickell had a better season he would have gotten it). First full year as a head coach, following a legend, unknowns at qb, bunch of assistant coaching changes. Team is not expected to win its division let alone the conference or make the playoffs. If Day and Company end up winning the Big Ten the only explanation that could be given for him not winning the COY is that it is rigged against the Buckeyes.
They can't (or shouldn't) half ass their rankings of 5-12 because (1) 1 through 4 might lose so you have to have some level of support for moving up whichever team you chose into the top 4 and (2) there is a lot of money at stake still for conferences and individual teams for the New Year's Day 6 games and we all know money ultimately drives the bus.
Barrett lacked the confidence and ability to throw to receivers where they were going to be, he always needed to see that they were open before he threw the pass. But by then the defense had time to close.
Funny thing is if we were talking about Alabama and maybe a few other elite schools who have rarely stumbled in their hirings and kept their teams pretty elite (like Oklahoma) their choice to replace a legend coach would automatically get the new hire ranked at least in the top 15. These guys doing the rankings should have considered that other than a handful of current coaches Ohio State had their pick of who they wanted to be head coach and they ended up picking Day.
Agree. I could see where he has some attributes to be like Charles Barkley but he does not show the ability to manage his needed aggression to where he does not commit silly fouls. The feet do not move very well on defense. And he definitely has not shown any leaping ability. It may be that because of his conditioning that he is not able to jump as he needs to but I suspect it simply is not there.
Best part of this deal, if Ball stays in NO, is that his dad is removed from being around a large market team where the media fawn over getting quotes from him.
Why are we getting a certain university's ad for alumni travel on this site?
Will never get old.
I sat through that miserable weather MSU game where they only lost by 3 when most pundits expected them to be blown out. Frankly, if Luke just had a couple more years experience at that point as a HC think they would have gone 8-5 that year and we would not have gotten Meyer. No knock on Luke but timing is everything.
I am ok with responding just not a fan of starting it.
No, the writer is not taking it out of context. Half the article is about consistency in the portal but half of it is about staying and fighting which is what he takes Fields to task for. Interesting that he did not say anything about Eason who also transferred after realizing he was not going to get his starting job back and was not a grad transfer.
So I think this puts the Buckeyes at 12 offers to tight ends and supposedly the first 10 the Buckeyes are not in a good position to get. Guessing until it is proven that the tight end will be used as more than a blocker this is what will happen. Which makes it all the more surprising that they landed Ruckert. Hope he gets the chance this year to make some catches.
Actually a pretty pathetic list. He should have been able to remember Derek Jeter. They want to claim Michael Phelps but he was there for one year and it was strictly because his coach from Baltimore was coaching the UM team at the time.
My concern, although minor, is whether or not this stocking up on tackles in this class is a little bit about uncertainty of Johnson staying true to his commit.
What are they doing, playing in high heels? Since when do tennis shoes add 2 inches in height? Heck, it hasn't been since Elton John that men's dress shoes added two inches.
I am hoping Corbett and others make Kalis expendable.
Kaleb has got to lose some weight and get in better shape. Many of the fouls he committed were because he was tired and did not move his feet well.
I am with you. Hope we are not reading too much into this and he is just projecting some Urban psychology but throughout the spring there has not been one time we heard any glowing reviews of what Fields was doing. Everything has been caveated.
But if I recall correctly they put up a defensive scheme that they had not shown on film before. Thought there was a lot of discussion after the game by the players about that. And there will be the similar scenario of the Buckeye qb not being experienced.
The plus for them, if they take advantage of it, are the tutors and additional study times that are made available through the athletic department. My guess is he is one who will need that less than others but it is still there.