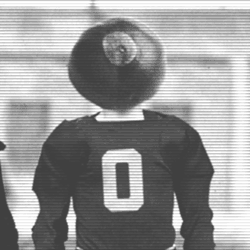 PhillyNut
---
from Lorain, Ohio
MEMBER SINCE January 17, 2018
Born and raised in Lorain, Buckeye fan since I can first recall watching a game on TV and that was 1965. Favorite Buckeye moment - getting Woody Hayes' autograph as a kid. Suffering in the hell hole known as PSU country but love sticking it to the fans here. Have made attending the Spring Game a tradition with my two grown sons.
Favorites
SPORTS MOMENT: Watching all of my children compete in whatever they chose to do.
COLLEGE FOOTBALL PLAYER: Archie Griffin, not even close
COLLEGE BASKETBALL PLAYER: Pete Maravich
NFL TEAM: Cleveland Browns
NHL TEAM: Pittsburgh Penguins (sorry, wife from Pittsburgh)
NBA TEAM: Cleveland Cavaliers
MLB TEAM: Cleveland Indians
SOCCER TEAM: None
Recent Activity
Looks like it might be Boise State and Cincinnati joining the party.
Not a problem, leave the SEC champ out. Left the Big Ten champ out in favor of taking Ohio State a few years back instead of taking both and the Buckeyes did not even play in the conference championship game.
Florida beat Auburn who beat Oregon. Transitive property says Florida over Oregon.
Yeah, unfortunately no. Luke Wilson made those catches
I am still trying to figure out how Wisconsin has managed to not play a road game since August 30th. I think that actually plays in our favor. They do go to Illinois this weekend but betting there will be more Wisky fans in the stands than Illini fans. Coming to Ohio State is going to be a very different experience for them, especially their freshman qb. Last time Wisconsin played at Ohio State was 2013.
Wisconsin has not beaten a ranked team in a true road game since 2016 when they beat a then #8 Michigan State but that turned out to be a paper lion game as MSU went 3-9 that season. Last time they beat a ranked team in a true road game (non neutral site) and that team stayed rank was 2012 when they beat Nebraska twice and Nebraska managed to stay in the final rankings at #25.

Him or Chyrst. Heck, Franklin might be in a better position to win it over Day even if they lose to the Buckeyes. Whoever votes is going to say Urban delivered this on a silver platter for Day.
Best part of a manual in the US - kids don't want to drive your car. First new car I owned was a 1979 Mazda RX-7. Paid $7,000 for it. Only came with a manual. Even though I had experience with stick shifts there was some tough learning stopped on hills in traffic with that car but loved every minute driving it. I am 6'3" and I easily fit in that car. Drove it 22 straight hours from Florida to Ohio one Christmas Eve, never felt cramped in it. Was going to buy another one several years later but Mazda went and wrecked it by trying to have it compete with the 300Z.
So was South Carolina and they lost their starting qb for most of the second half.
Just remind the players Georgia was a 3 td favorite at home this past weekend.
They waited until Seattle came back to take the lead to start the b.s. calls. I think the league was caught off guard by the Browns scoring so quickly in the first half. No way they were ever meant to win this game. Would wreck the narrative they are building about the NFC North.
Has zero to do with the topic.
25 point losses, never in the game versus a double overtime loss. There are good and bad losses. What gets me is the lack of a bad win consideration which is what Clemson's win at Carolina was.
LSU might. Certainly not Florida
Paris Johnson's team is proof that even at the high school level you need more than one stud to win. Even more so when your first stud is on the oline.
Not happening if the Buckeyes are undefeated unless there is an underlying plan to blow up the CFP. Just, no.
There is so much development that happens in live game situations. I think Haskins, Fields, and Burrows have all shown that.
If I knew how to put in gifs this is where I would insert Marisa Tomei on the witness stand in My Cousin Vinny being asked "This is your opinion?" and her responding "It's a fact"
The Nebraska that entered the Big Ten was the same one we saw in the first 5 years. It was when they fired Pelini that the wheels fell off. Actually that could happen. Past 30 years ND has made some bad hires (Faust, Davie, Willingham, Weis) so they could easily screw it up again.
I would. Not about him coming back but going to that program. In terms of sleaze factor it is right behind Miami. It is on the opposite coast from his family. Assuming his physical ailment is no longer an issue it remains that a big reason for him leaving Ohio State was to spend more time with his family, especially the grandkids. If he goes west coast, unless the entire family goes with him, then his reason rings hollow. Not how I want to remember him.
Then what is your take on Nick Bosa keeping in mind that, despite his injury, he had the option to finish out the school semester and be around the team.
This is also what we need to remember about Fields - he is in year 1. Assuming Oklahoma, Clemson, and Ohio State win out the committee is going to have some real challenges if the Bama-LSU game ends up being close. Then imagine the chaos for them if the SEC East team wins their championship. The last situation is very unlikely but still could happen. This is why we watch college football!
Yeah, Hartline has proven he is a poor coach. Fire him!
I know there have been some struggles at times for the ttun D but Don Brown proved his chops long before he got there. I would almost consider that Harbaugh has held him back. I do not think we would be complaining if we had him on the Buckeye staff.
I am just not on the Taylor bandwagon like everyone else. Against NW he averaged 4.6 ypc on 26 carries. Against CMU who they crushed 61-0 he was still asked to carry the ball 19 times and only averaged 5.4 ypc. Maybe those teams (and the others they played) just sold out to stop him. The lowest ypc that Dobbins has had is 6.5 and that was against Miami of OH when he was asked to carry the ball a whopping 8 times. The Wisconsin qb is only averaging 25 ypg less than Fields so it isn't like Taylor or Dobbins is playing with Haskins.
Take out the Miami of OH game and Taylor and Dobbins have roughly the same number of carries per game. Dobbins is getting equal numbers more consistently and I think against better competition. If Taylor is in the conversation then Dobbins should be as well.
I do not think that is a problem. Reality is Mattison never would have approached Day, especially coming over as a current coach at ttun. Doubt they knew each other before this. Day had the option of listening or not to Urban. Day showed that he was making the decisions with the hiring of Hafley. Guessing from his NFL experiences he had other coaches he could have approached for linebackers and the co-DC position.