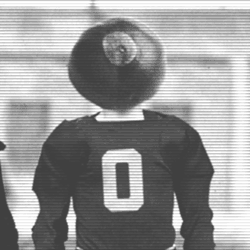 PhillyNut
---
from Lorain, Ohio
MEMBER SINCE January 17, 2018
Born and raised in Lorain, Buckeye fan since I can first recall watching a game on TV and that was 1965. Favorite Buckeye moment - getting Woody Hayes' autograph as a kid. Suffering in the hell hole known as PSU country but love sticking it to the fans here. Have made attending the Spring Game a tradition with my two grown sons.
Favorites
SPORTS MOMENT: Watching all of my children compete in whatever they chose to do.
COLLEGE FOOTBALL PLAYER: Archie Griffin, not even close
COLLEGE BASKETBALL PLAYER: Pete Maravich
NFL TEAM: Cleveland Browns
NHL TEAM: Pittsburgh Penguins (sorry, wife from Pittsburgh)
NBA TEAM: Cleveland Cavaliers
MLB TEAM: Cleveland Indians
SOCCER TEAM: None
Recent Activity
Hey, its Vegas. The money is there if they want to spend it.
All you have to know about this list is that they have Spurrier and Beamer among the coaches ahead of Meyer.
And here is hoping they think they can neutralize Young with just 1 on 1 blocking.
Also reminds me of a certain team and fan base in 2006 that thought they were going to roll through the BCS and many thought should have been having a rematch with a certain team from up north.
Now, while I understand that the competition has been far less than what the Buckeyes have faced on D here is a telling stat. Sacks on Lawrence this year - 12. Sacks on Fields - 27.
However, the few decent teams they played this year provided the bulk of the sacks. Wake Forest had 3, Virginia had 2, A&M had 2. The better teams also did not allow Trevor to run successfully (not that he is much of a runner to begin with). Cannot find stats on how many hurries each qb has had.
Dobbins 5'10", Elliott 6'0" and 10 pounds heavier. Coaches need to help Dobbins on blocking technique with his size deficit.
The prison piece is interesting. However, that comparison of the percent of those who commit crimes after going through such a program versus not is very misleading. The reality is that you are already starting with a motivated group as well likely prisoners pre-selected with attributes that are already likely leading to a lower percentage chance of committing a future crime. Still a good program and opportunity.
It's weird because my impression of him during games is that he is whiny ass. Appreciate being able to see him post game. Ultimately they are all human. Uh, except Dabo. He is the devil incarnate.
Beat Clemson
All you have to know is she teaches journalism at tsun. Another example of the Michigan Man.
Fields needs to rest that knee anyhow. Young is such a physical freak of nature and Mickey that it doesn't matter for him.
Beat Clemson.
Sorry but I am thinking about 1968 when we had no chance against OJ Simpson and USC. Or 2002 when we were playing the best team in the history of college football. Or 2014 when we were up against the 800 pound gorilla with a third string qb.
As of earlier to today one projection still gave us the best chance to win it all. Another placed our odds at third best. That is the one to post at the WHAC.
I am fully there. Ignore the clippings and social media, take care of it on the field.
Hopefully that is more tongue in cheek and reference to the academic fraud on a small list of classes. It is truly is a high quality school overall. Ranks right there with other public schools like UVa, Cal, UCLA. Would pick it in heartbeat over ttun.
Then why are you on here commenting about it instead of working at it as your job?
Georgia is way overrated, don't be fooled by that game. The games LSU played against Florida, Auburn, and Bama is more indicative of them playing against good teams.
Right now we are slightly favored. Need it reverse
History does repeat itself.
Funny how it isn't Dabo that has to back up his talk. Just waiting for bulletin board material from his players. Its coming because he is going to get them too riled up.
I wanted them to be the top seed only because I think they deserved it. Could care less who they would have faced. Now it's time to go and kick that whiney, slimy, PED cheating scumbag Dabo to the curb so hard he goes crying all the way back to Clemson, SC.
I also like that Dabo's arrogance now is going to be that they do not need to change anything to beat the Buckeyes.
Don't buy the smokescreen comment one bit. Have to win twice regardless of who they play. Just like in 2014 the opportunity in the semi-final to exorcise a demon is now there. Hell, could have made us 3. Does not change the fact that their reasoning is flawed. Georgia had no business being #4 prior to this weekend and if you were paying attention to the game Saturday and have any amount of objectivity in your brain you would not still be thinking that they should be in the conversation for #4 now. Or #5. Or #6. They are not a really good team like the Buckeyes were last year and happened to have a bad game. They barely handled the ranked teams they beat and got curb stomped in the one game they lost against a ranked team.
Watch Utah and Wisky get punished