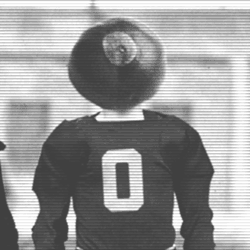 PhillyNut
---
from Lorain, Ohio
MEMBER SINCE January 17, 2018
Born and raised in Lorain, Buckeye fan since I can first recall watching a game on TV and that was 1965. Favorite Buckeye moment - getting Woody Hayes' autograph as a kid. Suffering in the hell hole known as PSU country but love sticking it to the fans here. Have made attending the Spring Game a tradition with my two grown sons.
Favorites
SPORTS MOMENT: Watching all of my children compete in whatever they chose to do.
COLLEGE FOOTBALL PLAYER: Archie Griffin, not even close
COLLEGE BASKETBALL PLAYER: Pete Maravich
NFL TEAM: Cleveland Browns
NHL TEAM: Pittsburgh Penguins (sorry, wife from Pittsburgh)
NBA TEAM: Cleveland Cavaliers
MLB TEAM: Cleveland Indians
SOCCER TEAM: None
Recent Activity
Gaffney stayed in Columbus with a knee injury
Need to put that away, no one running the university is allowing Pitino on campus unless he is coaching a visiting team or is in the stands watching his son's team play.
With college bball I don't buy this "young" crap. Most good teams are like this.
I can live with Young just being a rebound guy a la Rodman if the others are doing what is expected of them which is to put the ball in the basket and not turn the ball over.
Sorry, but Pitino has screwed up more than once. I would not trust him at all with the program from a rules and ethics angle.
Just watched a running back from Illinois State outrun everyone but Victor for about a 60 yard rushing td. Victor looked like Wesley Snipes in Major League at spring training starting 10 yards back and blowing past everyone.
I'll bet you are a lot of fun at parties and family gatherings.
Victor making the most of his chance. 2 receptions, 50 yards, long for 36, td. Most yards of any receiver.
For them to really screw up would be to bypass both Burrow and Young.
Today #s 4, 5, 12, and 20 in addition to the Buckeyes lost big on the road to unranked teams and #8 is down 12 at the half to an unranked team. Add in #16 down 8 at home in the first half.
My bad, meant Nebraska, not Rutgers
He seems to struggle to get them to transition to Big Ten play. You never know what is going to get called but that cannot mean you stay passive in your play. This is not an aggressive team and that seems to be the way Holtmann coaches. Has worked OOC but gotta change coming into conference.
I guess the one positive is that almost no one is winning on the road in the Big Ten but that sure was ugly. 4 of 5 losses on the road in conference. Only games that look winnable on the road are Rutgers and NW. 10-10 in conference looks to be the ceiling.
I noticed that the personal fouls are way down this game. I guess that is because we have been so far away from them on defense the officials cannot even call phantom fouls.
How is that Young, Carton, and Walker have 2 points between them? What has happened to Carton? This is more than a freshman wall.
I need to step away from this shit show for a few minutes.
We will have to see Cotton.
Ok, when that happens you know you have no chance but nobody is paying attention
Thank goodness other than Stevens PSU is not very good today.
Short arm free throws
Wesson falling away on his shot instead of going into the guy. Wimped out
How do you airball a free throw?
At least the women's team has competed in every game they played. These guys completely disappear in the Big Ten games.
Smart move
Stevens is embarrassing them