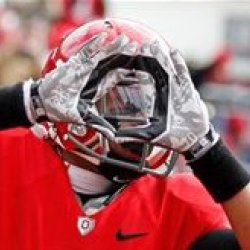 Phillips.449
from Cincinnati, OH
Member since 01 March 2012 | Blog
Favorites
SPORTS MOMENT: "Holy Buckeye"
NFL TEAM: Bengals
NHL TEAM: Blue Jackets, Capitals (2nd)
NBA TEAM: N/A
MLB TEAM: Reds
Recent Activity
They do play a Team Up North at home their last game too....
Took long enough! Just imagine what he can do if he plays for 2 years!
Side note: I paid an exterminator $50 to kill them. They sent obviously the youngest guy in the shop to do the sh!t work. A year later i had them do a routine spray at the house and talked to the gentleman that was doing that work and he said the guy that came to spray the nest got stung 40 or so times.
Short story: I hate those F*CKERS
Long story:
Unfortunately I am allergic to these bastards. The last time I was stung, I was pounding some fertalizer steaks into the ground around a tree. I found out the hard way that I was banging one into the ground about 3 feet away from their entrance. The assholes attacked. Got stung on the head several times and pretty much all over. I remember the head the most for obvious reasons. Luckily my wife was home and was outside with me. I walked up to her and said, "you need to watch me because I got stung and I need to find out what it was", knowing I am allergic to ground hornets. I took the walk down to the nest and confirmed what I knew was likely. Right then the tunnel vision started to set in starting in my peripheral vision and closing. I walked back up to my wife (who was holding our 2 week old baby BTW, another great add on to the situation) and told her to call 911. I walked into the house and laid down on the family room floor. By then everything was entirely dark.
The rest of the account is hers, because I was out cold. She tells me that the Paramedics came in just after my mouth started foaming, ripped off all of my sweaty clothes, administered epinephrin and carted me out on a stretcher. That is the point in which my 5 year old daughter (at the time) asked my wife if I was going to die. I start "coming to" in the ambulance and have very little memory of the drive to the hospital. My dad met me at the ER because my wife's hands were obviously full with the new born. I spent about 3 hours in the hospital while all of my vitals went back to normal and they gave me all kinds of fluids (I am sure it didn't help that i was dehydrated from doing a bunch of yard work that day, which was in July ).
Fortunately for me the fire house is about 1/4 mile down the road and a minute away. I learned my lesson about having an Epi pen handy. I don't do yard work alone anymore, and TRY to keep an eye out for nests, but that is almost impossible to prevent.

Just so you know, even with all of this in mind, i still hate M!chigan more than Ground Hornets.
DON'T TEXT POTENTIAL RECRUITS! </s>
How often do you think Bauserman has to look at that "damn" graphic on this site. I often visualize him seeing the words "passing chart" and saying to himself. "Oh no not that again".
Tressel's last official game was the Sugar Bowl against Arky.
I thought that game never happened.
+1 West sider here too. :)
I am not a fan of Elder by any means, but this is a cool gesture indeed. I am sure this isn't his last place to do this either. Fick knows what he is doing. If he can manage prevent a few kids from leaving the Greater Cincinnati Metropolitan area for another school every year, he will do just fine.
The only thing missing is a "beaten whore bonus". He should get at least 20k for making it possible for all Ohio State fans to brag for 365 days about winning The Game!
This is huge! It felt like the last few years every major opponent has had a bye week leading into the game against us. I still don't like having MSU right before the whores. It seems like that has become an unofficial tradition.
And made the '16 CFP. Damn we have it rough!
Not that this poll matters much to me, but if I was asked back in August how I would react to us finishing ranked #6 in the AP poll, I would have been fine with it. Take away the feeling of getting trounced in the last game (I know impossible), and I'd say we have it pretty damn good, knowing the circumstances.
Definitely a bittersweet situation! I was most definitely a happy camper that night though.
As long as he doesn't go to M!chigan, causing us to have another 10 year war scenario, I am cool.
#pukedinmymouthalittle
I do not agree that baseball post-season is exciting.
-Reds Fan
Prime,
i figured I would clear the air and give a status on our friendship. On Saturday January 10, 2015 I got a call drone this friend. My wife and I were offered a ticket to a certain game in Arlington, Texas. Two days later our friendship was 100% repaired! GO BUCKS!
I know it goes without saying but I am going to say it anyway, I hate seeing these guys work so hard and having it taken away like this. Get better Meech!
If he is, I hope he drives it into the Raritan River!
I hate the off season bye weeks.