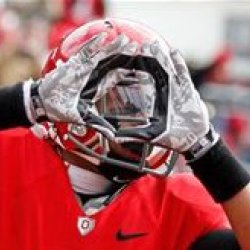 Phillips.449
from Cincinnati, OH
MEMBER SINCE March 01, 2012
Favorites
SPORTS MOMENT: "Holy Buckeye"
NFL TEAM: Bengals
NHL TEAM: Blue Jackets, Capitals (2nd)
NBA TEAM: N/A
MLB TEAM: Reds
Recent Activity
Sorry Indy, we have an extra week to practice!
My family is going to be so annoyed with me. I am currently brewing some coffee and plan to crank up the stereo and wake them all up with TBDBITL in about 20 minutes! IT'S GAMEDAY BITCHES!
You worked too hard on this one Walt. You could have drawn a stick figure with a Brutus head on nothing but white background and I would have been pumped to see the poster this week! Seriously though great work as usual, thank you for what you do!
I didn't think about this leveling the playing field for the mid-tier B1G teams. Our starters won't benefit as much from the extra eligibility so we will likely be reloading while other teams a few years from now could have quite a bit of experience.
If you asked me when he was hired, I would have never imagined he'd be a better surfer than Commissioner!
The problem with this for me is that we are losing valuable depth. I know we have great players that can take these guys places, but we need all the depth we can get because when we get to big games the SEC refs call BS targeting penalties on our starters so we need a few "throw away" players for those games.
You just don't want to change your name. :)
I've never seen the "thong song" video. My favorite part is when they put mustard on the hot dog at 2:15 into the video. HA!
I heard they are going to go back to calling the divisions Leaders and Legends as well. /S
OSU should do the same in the fall. They could have a couple of "scrimmage games" or call them whatever they want. Maybe give the MAC teams their game that was previously canceled. Then they can do their stupid winter/spring season with the rest of the Big Ten whenever that starts. Nobody will lose eligibility so why the hell not?
This makes the situation even worse!
I actually think they are more likely to go a full season now without the B1G playing. I believe they will lose more now cutting the plug on the season, than if the B1G had waited.
Warren punted on 2nd down.
Best analogy yet.
I don't normally sign these things but this time my entire family did. I feel devastated for these players, especially the ones that need this year to get some more film out there for the purposes of their draft status. The country needs football for their mental health! #letthemplay
Don't give up parents, and players! You have a right to this info at the least, and I believe you should have a seat at the table when deciding if/when to play if decisions aren't made by the NCAA. I don't understand why this wasn't left to be a freaking NCAA decision as a whole so we didn't end up self imposing the death penalty.
PLEASE don't play with me like this!
I didn't think about the fact that this really sucks for people that scheduled their wedding on the bye week.
When will this be available in Dry Goods?
Or just say screw ND because they aren't in a conference.
PS—was there anytime it just seemed like, holy cow!, this place feels like an earthquake from all the stomping and shaking going on.
If you ever sat in the "temp" south stands prior to the year 2000, it felt like an earthquake no matter who the Bucks were playing. :)
The second the B1G announced canceling the out of conference schedule, I pulled up ND's schedule. Since then I personally have been hoping for any conference on Notre Dame's schedule to do what the B1G has done and end the impact there. In my mind that would be the ideal situation. We keep the same schedule and ND loses as much of their season as possible. :)
Mine is my Ironman Louisville finish in 2018. It took me years to work up to that from when I started running in 2011. I hope to do another one in a couple of years but have to wait long enough; until the wife forgets how much my training schedule sucked for her.
Of course UM wants no season. It's the only way they will go a year without losing to OSU.
I believe you are supposed to seek medical help after 4 hours.