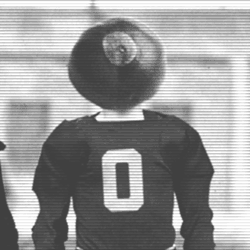 Phickell
---
Member since 31 December 2012 | Blog
Favorites
SPORTS MOMENT: 2002 Championship or maybe the 11/18/2006 win over TTUN (#1 vs #2).
COLLEGE FOOTBALL PLAYER: Ted Ginn Jr., Shaun Springs, Chris Gamble
COLLEGE BASKETBALL PLAYER: Lawrence Funderburke, Jimmy Jackson, Aaron Craft
NFL TEAM: Cleveland Browns
Recent Activity
Guernsey Country represent! I grew up there but moved away almost twenty years ago.
And it mostly likely gets McDermott some sort of raise. Works out for everyone.
Didn't want him any.... wait so there's still a chance? Can't believe he's not a 5*, kid's gonna be an All-American freshman year no doubt.
Not sure, but I heard he is Ron Gant's dog sitter.
I've been to the Anthony's in Anacortes and can confirm that they do indeed cook delicious food. Would eat again.
Nice! Thanks for the link. That's a heck of an effort there. Mods can delete this thread if they want since it appears that Mullens is not an option for Ohio State.
Thanks for the info. I didn't have access to any of the VIP articles on his decommittment.
Yes, he whined about pretty much everything for the whole second half of the season and gave little to no effort. We need the depth for sure, but his attitude was pretty awful. If he does end up in Cbus I'll just hope that was due to the culture of Jones at TN.
I'd love to but I am slammed with work for the next month and my evenings are packed. I'll know for sure by the weekend what my schedule looks like next week. Right now it's hard to tell.
I was gonna say others - like Linga - have been in this region much longer than me and probably have better options.
FYI- Holy Mountain and Urban Family are known for their Belgium sour beers and they do an incredible job with them. Fremont brews great IPAs and stouts and everything else is solid. Cloudburst and Reuban's are also good breweries. As for Fremont - Paseo is close by as is the Brouwer's Cafe. I'd say Paseo and Fremont would be a solid evening. Holy Mountain and Urban Family are both in odd locations -- worth it for the beer, but not surrounded by restaurants within walking distance.
Another option might be the Beer Junction. It's a beer bar/bottle shop with a massive tap list that is south towards the airport. You could try beers from all the Seattle breweries and across the west coast, but I don't know the food options in that part of the city - http://www.thebeerjunction.com/tap-list
Also, if you're looking for a place with a big beer selection and pub food there's Brouwer's Cafe, Toronado, The Pine Box, The Noble Fir, etc
The traffic should be clear heading to the city from Bellingham at 6pm. I live in NE Seattle and could offer some recommendations for places to grab food and a drink. What do you like? If want to try out the best breweries in town swing by Fremont, Holy Mountain, or Urban Family. If you want seafood, I'd recommend Chinook's, Ray's Boathouse, or The Walrus and the Carpenter (probably my favorite place though it's usually packed with a long wait).
Some other food recs: Un Bien or Paseo for incredible Caribbean sandwiches, 45th Stop and Shop Poke Bar for the best Hawaiian Poke in town (highly recommend), Yoroshiku Ramen for Japanese noodles, Delancy's or Dino's (get the Sicilian) for the best pizza in town, Chuck's Hop Shop if you want to grab some west coast beers to take home (1000+ beers), Little Uncle for Thai, Rainier Restaurant and BBQ for incredible Vietnamese.
These are my Seattle foodie highlights and you can google them for menu and directions, but there is good food and drink all over this city. Enjoy!
I hope Urban has an open competition and I hope that JT wins it. Well I hope the best qb wins regardless. But I know no one will work harder and keep more focused than JT. He's a true competitor and Buckeye. He goes hard until the end -- look at all the games over the past few years he got this team through in the 4th and OT by willing it (eg. PSU overtime in HV and The Game this year). I have no doubt he can get it fixed, especially with the new coaches on board to help. It's also about the Oline and WR corps improving. If he doesn't get it together then I hope Urban goes with the next man up. I have no doubt JT will support his decision and be a leader regardless. He's the man.
I miss those days. With a wife/kids, a career, etc my New Years weekends are much more calm to say the least. But damn the mid-late 90s were a good time - part of my mind is still somewhere in the enchanted forest at big cypress. :) Glad to see kids can still have fun. I'd bet he's just now falling asleep...
Wow. That was awesome. I hear fireworks outside my door! Yeah, we live in the Ravenna, Wedgwood, Bryant area in the NE. How about you?
Hell of a game by Frei. Go Sounders! I'm a recent addition to the bandwagon. We just moved to Seattle back in August and went to a game in October with my son's U7 soccer team. Now for penalty kicks.
I'd hate to see any of these guys leave, but they do deserve promotions for the damn good job they've done in Columbus. I'll definitely miss Fickell and Coombs if they head to UC. Hopefully Schiano sticks around for another year or two.
I think Vance Bedford would be a solid hire for the DBs if Coombs leaves. It'd be a step back for him but he is currently out of a job. Maybe he'd also have to get that co-DC tag. He has strong crootin connections in Texas and Florida, and he coached for Urban at UF.
I knew we were in trouble when he said he was 110% committed to 11W a few months back.
Can't believe this is the first I've seen of the reddit Evan Turner quote page. Amazing
It's difficult to tell because of the yellow pants, but I think it might be Green bay.