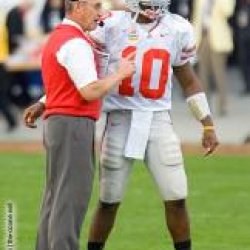 PHATBUCK13
---
OH-IO (via Lancaster)
MEMBER SINCE July 08, 2013
Recent Activity
Extremely-poor man's Deshaun Thomas?
Comment removed for violating the site's commenting policy.
I predict that the season kicks off 7 weeks from today, not 8...
I see what you did there...
Sounds right. Kam got 3 games last year too
And match OSU with Wisconsin
How about lock those matchups in every year as a home&home and they could play each other every season as the first conference game and then the last conference game. That would be unique and would over time strengthen the rivalries between the programs. I'm not sure many people outside of the B1G would care much but within the conference I think it would be a hit.
How about taking a shot at projecting the stats for the rotation players next season....
Leading scorer? Rebounder? All B1G?
A. Wesson (sr.)- 28 mins
L. Muhammad (so.)- 27 mins
K. Wesson (jr.)- 25 mins
DJ Carton (fr.)-24 mins
K. Young (jr.)- 20 mins
D. Washington (so.)-20 mins
CJ Walker (jr.)- 12 mins
LeDee (so.)- 12 mins
A.Gaffney (fr.)- 12 mins
J. Ahrens (so.)- 10 mins
EJ Liddell (fr.)- 10 mins
Don't SHAW forget about Bryson
Kevin Love is the 6'8" version of Kevin Love....almost
From the combine...
Kevin Love measured out reasonably well—6-9 ½ in shoes (6-7 ¾ without),
Marino must've been the holder for that jacket pick. Laces out!
I want to say [Tuesday]," Meyer said. "I think we had 43 calls made in this office to the top nine [high school] teams in America for next year.
Urban said "the top '19's (2019) not "top nine teams"
They definitely came out flat on the offensive end at the beginning. But the defense was there from the tip.
Buckeyes now up to 16th in Ken-Pom rankings after tonight's road win...
Will likely be ranked 18th-20th in the new AP Poll when it's released tomorrow...
Impeach Trump....Holtmann for Prez!
I love the way Cardale scrambles...
Is that Byron's brother??
You know it's a solid class when a player of Mitchell's caliber is the lowest rated player in the class by a fairly wide margin...
Matta needs to land 2 players capable of running the point in the 2016 class...
The roster is in very good shape moving forward...
Love this class....it really compliments the '14 class well IMO...
I love to see 3 or 4 man classes...it helps avoid the situation like this season where we basically only have Sr's and Frosh and nothing in between but 1 Soph...
I'd prefer to have a nice balance of 3 or 4 players every year instead of 6 players in one class and then 1 or none in the next like we've seen Matta do in the past..
The '14 and '15 classes are a perfect combo of players IMO (we could use another PG though) when you count Trevor Thompson too...
PG - 5'10" AJ Harris
SG - 6'5" D'Angelo Russell
SG - 6'5" Austin Grandstaff
SF - 6'5" Jae'Sean Tate
SF - 6'7" Mickey Mitchell
PF - 6'7" Keita Bates-Diop
PF - 6'10" David Bell
C - 6'10" Daniel Giddens
C - 7'0" Trevor Thompson
+ Sian Cotton, Lawrence Wilson, and LeBron's a Buckeye too right...?
100% agree as well...
Hall could start at a few B1G schools, but with this stable of OSU RBs, he's no better than 5th when they are all healthy and not suspended...
When the other RBs return, Get Hall out in space as Dontre's backup...