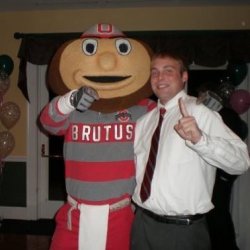 PG_BUCK
---
Nashville, TN (via Cincinnati, OH)
Member since 06 February 2013 | Blog
Favorites
SPORTS MOMENT: OSU vs. Wisconsin in the Shoe 2011.
COLLEGE FOOTBALL PLAYER: Troy Smith
COLLEGE BASKETBALL PLAYER: Greg Oden
NFL TEAM: Bengals
NHL TEAM: Predators
NBA TEAM: Cavs
MLB TEAM: Reds
SOCCER TEAM: Columbus Crew
Recent Activity
Wish they would've gone this route with Brady Hoke.
Its basically just where all of the HVAC units are....nothing too special but still interesting to see.
The NCAA is joke. The only person who believes they care about the "student athlete" and not $$$ (and tweets their support of this decision) is Roger Goodell's wife.
Lived on the 7th floor my freshmen year, some of the best memories and friends I have from college. Made it all the way to the 24th floor one night (yes it does exist). It was only far when having to run back from jumping in mirror lake when it was a brisk 23degrees out...but we Beat TTUN so it was definitely worth freezing my butt off.
Grew up in Cincinnati, Graduated from Both, this is a great decision for both programs.
Dang, my flight doesn't get in until 11 otherwise I would definitely be attending.
Equanimeous, Osiris, and Amon-Ra, we need this kid just so we can get the story behind the names on College Game Day....that and he seems pretty good at football too.
Hey when Waters are $4-5 bucks a pop you might as well drink Miller or Coors Light for $8 in order to hydrate during the game.
Make sure you check out Madtree from Cincinnati, one of the best in the business right now.
I'm not sure why you would jump to this opinion based on the facts/details available. From all I've read she was last seen leaving work, there has been nothing reported as to how she ultimately ended up in the park. While I believe everyone has a right to their opinion, perhaps in some cases (such as this one when there has been a tragic loss of a young life) it may best to keep it to ones self or at least keep it consistent with the facts/details available at the time.
Terrible news. My thoughts and prayers go out to the family.
I live in Nashville, land of Hot Chicken, I've heard Columbus got a Hot Chicken joint...I'm going to have to make sure I check it out the next time I'm up.
It would be great if they had to follow the NCAA rules on contact with a recruit. Imagine:
"Sorry son, can't talk to you until the dead period ends".
"Sorry son, you've got to move out. I can only have so many in-home visits with you".
"Son I can't give you a ride to school as it would be an impermissible benefit, get to walking".
I half expected him to hold up a sign on the end that read "Kill Me"
Thanks Seattle Linga, it was a blast. I've been living in Nashville for 2 years now and love going to the Preds game. While I've become a Preds fan its been great to see the Blue Jackets making progress.
I was at the game tonight, Preds won 4-3 but it was a great game to watch all around.
I remember hanging out with Greg multiple times during his playing days at OSU, he was soft spoken and nice even in the midst of all the hoopla surrounding him. And though he may have been gifted on the basketball he certainly wasn't gifted on the sand volleyball court though it certainly was a sight to see.
Isn't it being held in Nashville, TN and not Charlotte, NC?
You left off Stephen Collier. It will be interesting whether or not he decides to stick around.
Having to listen to the commentary on the ESPN selection show was one of the most painful things I've ever had to endure....but I did it so I could hear the sweet sound of the Buckeyes making into the Playoffs!! Go Bucks, Beat Clemson.
I was out grabbing a drink with friends in Nashville last night when someone who worked there learned that I was an OSU fan, he was an FSU grad, he proceed to tell me about this and place the blame for it on Urban. I held my tongue rather than laying into him about how absolutely stupid that argument was. From now on any trouble that I get in I'm just going to blame on my High School Track Coach's lack of control over the program and failure to monitor my actions after being removed from the program for over 10 years and see how far that gets me in a court of law.
PS: If I knew how to photoshop I would definitely put a Happy Jamarco in place of her face.
You know who else used a float tank...
And her name was Eleven...coincidence 11 Warriors?
I feel like they definitely could've added a Waterboy to this depth chart...