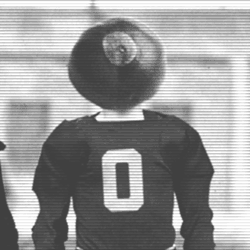 peteypez
---
from cleveland
MEMBER SINCE July 04, 2018
Favorites
SPORTS MOMENT: 64 NFLchampionship game
COLLEGE FOOTBALL PLAYER: archie griffin
COLLEGE BASKETBALL PLAYER: pete marovich
NFL TEAM: browns
NHL TEAM: blackhawks
NBA TEAM: cavaliers
MLB TEAM: indians
Recent Activity
Urban will wait for the N.D job that's the only one he wants
it will be a disaster for team sports if some players are making money and others are not I know if my Qb is making the bucks from my line play and I`m not getting crap I don't think I`d be blocking to hard for him
I liked Tracy my grandson played against him when he was at Elyria Catholic he was big and developed for his age but he was playable at Ohio State but below average as a pro
he waited until Meyer was gone to slam him where I come from we call that having shit in your blood
Justin Fields is what about me guy.he is bailing on his school for himself I like Martell.
they do not pass goal and they do not gat 200 dollars
i'm sorry but I think there will be a lot of disappointment the next few years.Day will not be able to recruit like Urban
I'm not sure about Day.Haskins and the receivers made him look good and their gone after this year i'm taking a wait and see attitude
screw the critics we are going to miss him Ryan DAY couldn't make a pimple on Meyers ass.
Ryan Day,Ryan Day,Ryan Day.I would rather have Meyer .He might make a good coach somewhere else but not experienced enough right now for OSU if you want to compete for national championships.
I quit following the NBA when the players started controlling what guys will play together after free agency I see corruption in the officiating and I know I was a bookmaker for twenty years before online betting what the first and last five minutes of the game and it says it all
with urban meyer gone in the pre season and beginning I think he just let ryan day do his thing being one dimensional plus the defensive talent isn't as good as believed you can't have a 6'7' center and expect to run the ball.
who is the starting back seven I don't know they've been non existent.our players do not have the same talent level we've had in the past so we have to have a scheme for our talent level.GO BUCKS
all the rules are geared towards scoring just like the NFL.They should just cut the nuts off defensive players because they are taking the aggression away from the defense and with that goes the instinct but other than that the coaching is sub par.
run blocking and pass blocking are two different animals we are so pass heavy that run blocking is getting a little over looked this will definite hurt us down the road.
wow what this defense would look like with some great linebackers
on my phone I have the text messages deleted after 30 days old why keep them?