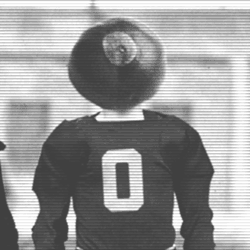 petebuc52
---
Member since 05 April 2012 | Blog
Favorites
SPORTS MOMENT: Winning Cleveland Muny league Football Title in 1981 with the Pal 5 Raiders...Close second Watching O-State win the national title
COLLEGE FOOTBALL PLAYER: Now- V'angelo Bentley (nephew) Illinois cb/kr..Past-Jack Tatum
COLLEGE BASKETBALL PLAYER: Arron Craft
NFL TEAM: Browns/Ravens..2nd Raiders
NHL TEAM: Philly Flyers
NBA TEAM: Cavs..2nd Lakers
MLB TEAM: Indians..2nd Mets
SOCCER TEAM: Barsil..team USA
Recent Activity
Perfect comment nothing to add..
On a straight football view, Ill hold out opinon til I see what happens when both are the focus of other teams gameplanning against them..ie st. Iggy's, and glenville, teams also loaded with d1 pospects
My thought's exactly..Ted Jr. speed is Olympics type..
@Sharks you are right..but note Shaw has open enrollment, however doesn't have the same track record of getting a lot of kids to school..G-Ville/Ginn Academy draws kids from the area because of the success with kids getting to school D-1 and others...Ed's also pulls a decent number of players from the Eastside of town
+10 up votes button...Classic Post
Agreed @Knarcisi... I know it's always hard to win at Wisky but that was downright horrible...
spot on Buckeye Chuck spot on...
DT could/should go higher, it's all a crapshoot and only one squad has to really like you..The kid produces just about every night even when teams know he's the Bucks only consistant scorer and maybe im a lil bias but id take him over 3 of the UK kids (not noel) who have really been avg. to me...
Im from Cleveland, so I take wins from the teams I support when they come with pleasure and thats not often besides O-State, so miss me with the how i should be rejocing in a win..What I said must have touched a nerve or applied to you because you felt the need to fly they flag for the folks I was commenting about.. Whatever, No medal needed, not looking for credit, just making a point about the painfully obivious need for secondary scorer and voicing my views. Also giving it back to those whom give it to me.. Oh and thanks for the internet lessons you expert you lol, Im so old i cant overstand the concept of it Lol..
No Buckeye Chad because I had the nerve to question thad's decision making i didnt know what the hell was talking about..It's cool i've been playing/watching/coaching sports since 1975 so I got tough skin..It's just funny when you see progress and folks who thought you were crazy are nowhere to be found *shurgs* anyway..Go Bucks!
Funny I got on here after the MSU game and said Ross should play more and got down voted by flag waving no-it-alls who rather be right than see the team they are supporting win smmfh...anyway good win against wisky (deal with it bo)...Go Bucks!
Right, i commented on his lack of 2nd half minutes in the MSU game...Some on this site couldn't understand why i felt he needs more minutes...
fair take on where the Buckeyes stand in the best basketball conference in the country...
DSK good post..Btw Syracuse plays zone and as good as DT is he's not Melo, UConn a few years back K. Walker(star/clutch) with solid play from J. Lamb (we have nobody on lamb's level as a 2nd option)and mutiple bigs..But i agree with the point you were making..
This team lacks mental toughness(some physical toughness) imo, struggles in half court(should play at a faster pace), no low post offense of note, and pretty much is what it is at this point in the season; a good defensive squad with serious problems outside of DT on the offense side..smh Anything can happen, i just dont forsee a long run in the NCAA's.. But what do I know Im just a fan whom wants his team to win but doesnt watch games with blinders on..Go Bucks
@Jaxbuckeye wait, Sam is on ESPN top plays for his dunks so he must be good lmao!!! Some rather be right with their point than real with what they'er watching; Because talking about this game, the kid (ross) needed more minutes in the 2nd half flat out..
If you have dvr, go back and watch the first half to show yourself how off base your "cost the team four points" statement is in this game.. If you think Ross stunk up the joint in the 1st half and played revolving door defense then cool you were watching something I wasn't
Funny Ross was in for the final play when points were needed I dont even know how he was in since he was playing so horrible lol..and since were going back to our games against ranked teams this year (1 win 4 losses) when is it ok to question some of thad's moves (note: he's under 500 against ranked teams since he's been here, check it) not saying he's a bad coach but i notice any questioning of his recuriting, gameday coaching, or program in general is met with complete butt-hurt by some of you. It's not personal it's basketball smh..
Easy jaxbuckeye that kind reasonable post could get downvoted to hell for being too real lol.
Truth be told Thad always gives the "Q is defensive liablity on the court" coachspeak, when asked about Q. So on a day when he seemed active on DEFENSE & O. why didn get any minutes in the second half until the final seconds? Doubt if any of the dispatch guys ask that smh... But hey thad's a great coach and i just watch basketball what do i know *shurgs*....Anyway Go Bucks!
Good stuff statutoryglory. Q was actually working hard on defense and looked to be active/into the game in the 1st half...then stuck to the bench in the 2nd EXCEPT with seconds left and another scoring option is needed on the court..Laughable... And some people wondered why his AAU buddy R. Hood didn't buy in to the program...If your Q getting jerked around are you gonna advise your friend to come here? Thad is a good coach but that doesnt mean he cant be questioned on questionable things...But what do I know it's just basketball smh...
Thanx somebody was watching what i saw..Ross played good D when he was in (because we all know if he's on the court his man scores 20..whatever), was agressive, made buckets, then the 2nd half comes and you dont see him until seconds left, a basket is needed, and shooters/scorers are needed on the court smmfh....I tend to not comment on O-state basketball because the mindset of the typical homer fan is different than the homer football fan. Say one thing thad did wrong or you didnt agree with and here comes the final four/championship game/big 10 championship talk... I totally OVERSTAND and support that when it happend, however after a winable game with questionable coaching decsions I want to talk about what just happened not what happened last year etc..just my thoughts and as always Go Bucks...
F'n great post...well stated bro...
My reaction exactly! A little fact check please...But hey Coach Kelly played a large part in a student dying and "sports journalists" along with espn chose to soft play it..Now tatoos well you know the rest...
Love being wrong, but we sure made it interesting with the non agressive/protect the lead/ prevent offense in the second half...Go Bucks
Not feeling too good about this one...Need Smith Jr./Sam/Ross to be on today as a second option to take pressure off of Craft as being that guy..I want (already know) Craft to be on Trey like a second jersey..cant get that 0-3 against real comp. record out of my head dammit..Anyway Let's Go Bucks!
Last I checked I was speaking on the Dude from Akron that was the subject of the article/dicussion..I wasnt speaking on jerome lane, nate thurmond, Bowden, Goodyear tires or none of that; just one dude, sorry if it made you feel some type of way, I'm from cleveland my pro sports frustration has no end in sight.. GO BUCKS