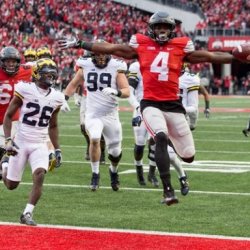 pennysaver92
---
MEMBER SINCE February 03, 2015
Favorites
NFL TEAM: Toronto Argonauts ;)
NHL TEAM: Toronto Maple Leafs
NBA TEAM: Toronto Raptors
MLB TEAM: Toronto Blue Jays
SOCCER TEAM: Toronto Fc
Recent Activity
Don't forget Jared Abbredaris!
Black Hawk Down and Miracle
American war movie and American hockey movie... very Canadian of me eh?!
How come there is such a long break until their next game?
It's gotta be Siakam! But won't be at all upset if D-Lo gets it.
go buckeyes, go raptors
They need to sign with my Toronto Argonauts!
I read on one of Birm's articles that Urban was recruiting very hard. If he was going to step down at the end of the season I can't see him working so hard on recruiting. Might just be wishful thinking tho.
*Canadian
the other spelling is for that terrible hockey team from Montreal haha
I think that would be a big mistake for USC. Having watched some Cuse games over the last 2 years, he makes terrible coaching decisions that costs his team the game.
Clemson did everything they could to lose the game to the orange this year.
Any idea why all these guys are decommitting from Georgia?
Any idea why Daequan Cook, Deshaun Thomas or Laquinton Ross aren't playing?
I'm in Niagara Falls area (Canada) and we don't get the big ten network here. Only options are bell and cogeco. Neither carry it. But like you said it's 1 maybe 2 games tops, so I'll just stream those.
Lays ketchup! You Americans don't know what you're missing lol
doritos cool ranch, and spicy are great too!
1st concert USS (Ubiquituous Synergy Seeker), a Canadian alternative band
most recent Social Distortion at the tabernacle in Atlanta
my favourite would be The Struts at the rapids theatre in Niagara Falls NY
What actually would happen to a team if they didn't get down to 85 scholarships?
Honestly there wasn't a consistent story line. It was all over the place and then the movie just ends.
It was a neat idea that wasn't executed
They better hope they don't have to go up against my Raps in the playoffs!
Do not waste your money on downsizing, it was awful. People actually left the theatres mid movie!
Merry Christmas Andrew!
Thanks for all the outstanding coverage!
Love getting to see a former buckeye starring for my Argos!
What a great game that was! Came right down to the wire.
Where can I get one of the hats?!
Couldn't agree more. All the political happenings in Canada and the USA pushed me to just get rid of Facebook!
Calls white stripes shitty then suggests fall out boy lol