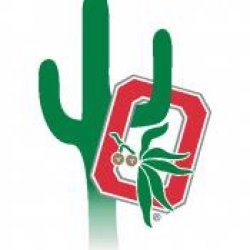 pcg396
---
Scottsdale, AZ (via West Liberty, Ohio)
Member since 02 April 2013 | Blog
Neil Legacy member and Buckeye alumnus (B.A., Ph.D.) soaking up the sunshine in [usually] beautiful Arizona.
Favorites
SPORTS MOMENT: Anything John Havlicek did (e.g., "Havlicek stole the ball!")
COLLEGE FOOTBALL PLAYER: Raekwon McMillan/Curtis Samuel
COLLEGE BASKETBALL PLAYER: Hondo Havlicek
NFL TEAM: Cleveland Browns
NHL TEAM: Blue Jackets
NBA TEAM: Cavaliers
MLB TEAM: Zero interest
SOCCER TEAM: Liverpool, Barcelona, Stuttgart, Columbus Crew
Recent Activity
Excellent summary of a wild week. Most appreciated.
Same here, BAS. OSU had one team to beat this season and they blew it . The talent was clearly there; unfortunately, the coaching didn't show up.
Any Buckeye fan realizes that expectations are sky-high every season: Beat Michigan, Win the B1G, Compete for a NC. One out of three is ok, but hardly a successful season for a storied program like Ohio State.
Let's hope the brain trust figures it out by this fall. Or raids the Endowment Fund to put Tom Herman on retainer.
Thanks, Jason, for the link and the context. Schiano will likely be a great add for Urban and the Buckeyes. And, hey, he's already hip to social media and modern technology ("This whole PDF thing? Amazing!").
Reasoned, balanced post, Buckeye06. Definitely a year that got away, given the talent level and weak schedule. Not all games are created equal and going 1-1 against ranked opponents was disappointing, especially given the UM performance.
JT beat out CJ for the job. It's as simple as that. He is, in UFM's words, 'an elite leader.' That's who you want calling the shots going forward. Hopefully, CJ will learn from this and find a way to contribute down the road. But, regardless . . . Go Bucks!
Thanks for the Tom Wolfe link, DJ. Excellent piece on a American literary legend.
Glad to see UFM figured out that he needed a Red Zone closer and gave the job to his mature leader, JTB. The ripple effects of the move were obvious and just in time for the tougher part of the schedule
Nice gesture by OSU to honor Mr. Tressel. Best of luck to him. His greatest legacy is Urban Meyer and, for that, we should all be most grateful.
Excellent piece and perspective, Ramzy. There's always going to be tweaks and seeing the resulting improvement is half the fun. And it doesn't hurt that we have the Master Tweaker at the helm.
Among the current Top 15, OSU is ranked #5 academically. Excellence on the field - and in the classroom.
Excellent points, BUN. Your 'emperor-has-no-clothes' characterization is, in fact, right on the money, albeit, predictably unpopular. It's a matter of public record, that Tressel lied to both his employer and the NCAA. As a fellow alumnus (x2), I share your misgivings about the upcoming 'celebration.'
Did forecasting for JPM for a few years. Obviously not for everyone, but a great company nonetheless. Smart, competitive people. A great experience for those Buckeyes who want a taste of the real, albeit, imperfect, world of modern finance.
The prose in Staples' SI NC piece was 'strained', at best. Clearly, not the story he expected or wanted to run.
You got it, DWC. Get past the third best team in the B1G and we'll talk.
Big deal. A lousy dumpster fire. No arrests. No injuries. Cops on High Street (per usual). Move along. No story here.
I've always been leary of MENSA haters. They typically 1) fear high expectations - but not envy, 2) fail to grasp that group membership and 'results' are both rewarded by life, and 3) aren't aware that mental illness and intelligence are not significantly correlated.
Got your ring and some great memories. Your Rose Bowl catch was the difference-maker. Best of luck, Jake.
Kyle - Thanks for helping make 11W the best Buckeye site on the internet. Big shoes to fill. Best of luck in FW.
Agree completely, Citrus. On both points.
Messi will be too busy filling out tax forms to attend.
Great 'real world' advice, DJ. Well done.
Every morning I spend more time reading Eleven Warriors web columns than my daily stock charts. I'm poorer - but much happier.
Funny how seeing the end of an dismal NFL career can elicit fond memories of college. OSU has moved on from the Tressel/Pryor debacle and so should TP. On the other hand, Lord Jim might consider bringing TP to YSU as his consigliere. Now there's a match.
Love it! Always be closing, UFM.
Please. Nevins is a lawyer; he dances to the tune his employer is p[l]aying. Nothing new here, DJB, except off-season empty space. Get back to us when you can confirm Tressel's second miracle.