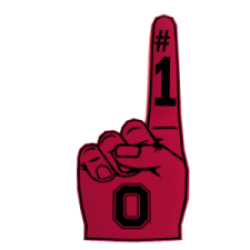 Patriot4098
---
Alamogordo/Las Cruces, NM (via Columbus, OH)
Member since 12 November 2012 | Blog
I grew up a Buckeye in the heart of Lion country, PA. My Brother-in-Law is an OSU graduate, so I visited his graduation in the 'Shoe when I was very young. Even then, I loved what I saw. That was the beginnings of what became my adulthood man-crush on anything Ohio State. Fortunately, I can actually call Columbus my home, as I moved there with my kids in my early 20's! And now, I'm retired military, currently living in the sunny Southwest.
Favorites
SPORTS MOMENT: Watching OSU upend Miami's world in the 2002 National Championship game.
COLLEGE FOOTBALL PLAYER: Buckeye flavor of the year.
COLLEGE BASKETBALL PLAYER: Basket-Buck flavor of the year.
NFL TEAM: Steelers
NHL TEAM: Meh
NBA TEAM: Meh
MLB TEAM: Meh
SOCCER TEAM: Meh
Recent Activity
He's a good man, and I'm proud he was our coach!
That's gotta peak Grant Gunnel's interest in a big way.
I'm sure he could line up at RB, but with a name like that, he's gotta be a linebacker.
Well they had to do something with all that B1G money they've been stockpiling.
I wouldn't rule out your Tom Brady and Peyton Mannings of the world having some input. But input is as far as that would get. And I would bet my house neither of those guys got to do even that at the college level. So, no, I'd say Dwayne Haskins doesn't have a say in what WRs see the field.
Part of me certainly agrees with you, but he definitely has potential. He's agressive and athletic.
If only my recruiter talked to me about the Reserves or Guard...
I'm a sci-fi fan, so my nod to the best show on cable is Legion on FX.
Haskins was also a different player that Michigan had not prepared for. I don't disagree that he acquitted himself well in the remainder of the game, but I also wouldn't call him better than Barrett for it. He could have come out the next game against a prepared defense and fell flat. My point is merely that we don't really know. Not REALLY. And the sample size for comparison is extremely small.
Haha, I just repositioned my mattress and found a bunch of those on the bedframe. A little bit of nostalgia.
And outside of one guy (Haskins), we never saw any of them play a meaningful minute. How can we deem one as better than the other without having observed them in the same situations? We can't. It's merely a guess. As educated as anyone might believe that guess may be, it's still only a guess. Urban Meyer—someone far better qualified and more informed—happens to disagree. Think about it a little before you get too hot.
Penn State shouldn't have lost 13 games this season. Pat Chambers generally does more with less, but not this time around—I think he did less with more.
With Tate and KBD both on their way out, I can't help but think we lack some versatility on defense. We need to find an athletic wing as well. Kyle Young is the future at that position, but unless he makes strides on the offense side of the floor, he's a liability. Micah Potter is the upperclassmen but lacks physicality and agressive play. Finding another PG is great, but if we don't get some wings, we're going to have some serious liabilities for any line-up we put on the court.
"Hot takes" lol
You don't sound like you're old enough to know what a 'sign o' the times' might look like.
I thought he made a fine point. Maybe just don't come across like a fool next time and ya wont get called out.
Agree to disagree, right?
Kinda took me a sec to figure out what he was mouthing... looks like "Who the f*** is Dareus?"
So I queried google. This is, apparently, the 2010 meeting between Bama and the Vols. 'Dareus' was only the 3rd overall player taken in the following draft. THAT Marcell Dareus. And this guy looks like he has noooo clue. Completely blindsided. lol
Vols fans are a gift that keep on giving.
It's interesting that Goins is as athletic as he is, but he never made it past special teams duty. I honestly don't know what to make of that. Or maybe I'm just over-thinking it.
What about Wagner at DE? A year to bulk up 25 to 30 pounds and learn an easier position than WR or TE. With that kind of athleticism, you'd think that would go over pretty well.
Seriously?! Argue for arguement's sake? Potential was wasted. Period. With the right decisions and some effort the kid could have been a millionaire. That's all he was saying.
Sometimes I think you just argue to argue. It's cool to disagree, but you do it so insistently. Truth is, many have read all the same tea leaves that you have and probably agree more with the original statement.
Hah! I picked all of these.
Though it was a bit snarky, I don't think there's enough traffic here to be an issue for ya.
I'll take it that's the extent of your opinion on this...