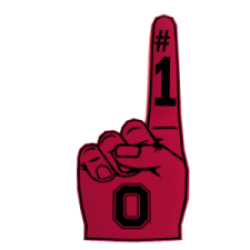 Patriot4098
---
Alamogordo/Las Cruces, NM (via Columbus, OH)
MEMBER SINCE November 12, 2012
I grew up a Buckeye in the heart of Lion country, PA. My Brother-in-Law is an OSU graduate, so I visited his graduation in the 'Shoe when I was very young. Even then, I loved what I saw. That was the beginnings of what became my adulthood man-crush on anything Ohio State. Fortunately, I can actually call Columbus my home, as I moved there with my kids in my early 20's! And now, I'm retired military, currently living in the sunny Southwest.
Favorites
SPORTS MOMENT: Watching OSU upend Miami's world in the 2002 National Championship game.
COLLEGE FOOTBALL PLAYER: Buckeye flavor of the year.
COLLEGE BASKETBALL PLAYER: Basket-Buck flavor of the year.
NFL TEAM: Steelers
NHL TEAM: Meh
NBA TEAM: Meh
MLB TEAM: Meh
SOCCER TEAM: Meh
Recent Activity
And if Northwestern or Pitt won their conferences?
Among the finalists, he's second in overall yardage. Second in completion percentage. Third in yards/attempt. Third in QB rating. He IS tied with Kyler Murray for first in TDs tho.
Yea, I wouldn't disagree with this.
UGA looked like the best team in the country for 99% of the game last night. Against Alabama. They've BEEN playing well for a large part of the season—especially the last half. If you choose to ignore that, that's on you.
It's never been hard hard to pick and choose a few things to support what you want. Try admitting we got what we deserved.
Rose colored glasses everywhere. Wow.
Georgia was awesome last night, save for one bad play call at the end of the game.
Oklahoma held serve.
And we showed inconsistencies when we had to prove we were past that.
It also has us winning every game until early January against Iowa.
Pretty sure they're using Purdue as metrics.
I think part of the reason we had a middling projection was that the B1G, overall, will be improved this year. Teams like Nebraska, Iowa and Indiana should be much more formidable than last years versions. That's not to say they didn't sleep on us—they did. Jackson puts up point;, K Wesson holds the post well; the new starters fill their roles nicely. It's early, but even the freshman have been impressive. This team has fantastic potential this year and beyond.
Borland is slower, but they got him in the middle, where they prioritize leadership, and run-stopping. Harrison is not a slow linebacker.
I'm still in shock to see a Kentucky team in the top ten. And higher than us?!
In other news, I'm hearing Hell may have frozen over... sooo, maybe we can thank Purdue for that, or Iowa, or whatever Stoops brother that apparently sold his soul.
Is it too much to ask for Nick Saban or Dabo Swinney instead? Preferably Dabo; he's got more time left. <insertwhateverisyourfavemojihere>
Honestly, he's too big for guard too. His pad level is much higher than tackle. His height is better suited at end, but I don't know if his feet are quick enough to move him to the end. The question is do we have a better option at center? I think the answer to that is no. Especially with Brady Taylor injured most of the season.
That was the whole point. If the players don't just forget how to block, then why are there no holes for the running backs? I don't think Stud forgot either. He knows how to coach an o-line to block for the run game. So why can't they block in the run game? The pieces to the puzzle are there and Stud isn't able to put it together.
To be honest, reading this just annoys me with offensive line and linebackers even more. I think Coach Stud and Davis need replaced. The offensive line can run block like crazy one year, but struggle in pass pro. Then the next year it is the complete opposite. They didn't forget overnight. Since he got here, It's been one of the other for Strudrawa's lines. We need to have both, at least competent. And I don't blame Schiano for the back seven's issues. The entire back seven has new coaching, with the exception of the linebackers. There's nothing wrong with the linebackers playing on the heels of the defensive line. There really isn't. We have the athletes for it, and then some. The problem is reading the alignments and adjusting. That's all on Coach Davis and teaching it. And if ya wanna diagnose the safeties, look no further than the interaction with the linebackers and their adjustments in coverage. To me, it all points to the linebackers. They're the link between the line of scrimmage and the defensive backs.
On a more intentionally positive note, Mr Brightside is one of my favorite songs! Maybe I shoulda' posted my soapbox rant elsewhere lol
Michael Jordan was just listed as mid-season All-American at center. He may not be quite as good as our past two Rimington trophy winners, but he's almost certainly not the problem that needs fixed.
With that said, I can't help but wonder how it's a legitimate competition when the coaching staff is publicly stating there's no jobs to be won. I find it hard to reconcile the two.
It's hard to fault Nick Bosa for his decision. He doesn't have the experiences of a lifetime to help him. And truthfully, that's what it would have taken.
If it were me, I would have stayed. Only because I've realized that certain moments in life are priceless. I imagine a shot at the College Football Playoff and possible National Championship would have been one of those moments. But what do I know? I've never stared down the possibility being the number one draft pick either.
I just hope he doesn't regret it. That's all that matters, in the end.
Well I think the playing Oklahoma thing mighta' worked itself out already lol
Baker has a quick release and is slippery in the backfield. My guess is they intend to coach up Nick Chubb on the blocking. He has the request size and strength to block, while having a higher ceiling as a playmaker. He's an every down type of back, and they need to use him as such. Just my two cents.
On the bright side, Clemson, Georgia and Alabama are not fielding mobile QBs as their starters. Really hoping we don't face Oklahoma right now...
I just watched us get wrecked for an entire half. That's the game I just watched. Can we play better? Sure... But absolutely nothing during the first 30 mins of play would tell me that anything different is 'coming'.
With that said, I hope you're right. Lol
Paula Cole, huh? Even though you can't see it, my left eyebrow is raised right now.
I've been waiting a year to see McCollough wearing McCollough wearing McCollough wearing McCollough!
I'll take the impasse. Happy posting, Buck68.
There was a point when I used to enjoy your posts, but in recent memory they have been very snarky and rude. I'm not even gonna broach your mind-boggling sentence structure right now. Bottom line—don't be a jerk. That is all.