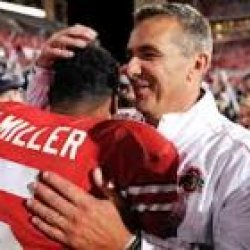 papakrom
College Station, TX (via Cleveland, Ohio)
MEMBER SINCE December 03, 2013
Parents both tOSU grads, lived in Cleveland area for 9 years. Ohioan misplaced in Texas. Texas A&M student.
Favorites
SPORTS MOMENT: 2015 College Football Playoffs
COLLEGE FOOTBALL PLAYER: Braxton Miller
COLLEGE BASKETBALL PLAYER: Aaron Craft
NFL TEAM: Seahawks
NHL TEAM: New Jersey Devils
NBA TEAM: Cavaliers
MLB TEAM: Indians
SOCCER TEAM: what's that?
Recent Activity
Pretty sure this is Tyler Marz.
Yup, I don't get it, our defense has fallen apart with injuries and our quarterback is done. You won't have to worry about us being overrated for long though, we'll probably lose to Ole Miss and LSU to close out.
Logan Stieber onesie jerseys?
This breaks my heart. I've played against him on the court and he's an insane player. Hopefully he gets better soon.
1. Bosa
2. Lee
3. Bennett
4. Bell
5. Apple
6. Perry
7. D. Grant
8. Powell
9. C. Grant
10. Washington
11. Miller
You got me. I didn't like it, but you got me.
Trollolololol. Good stuff.
The joke went right over your head bud
You're right, but Miller also ran for an average 131 yards, 2 TD and 8 ypc in those 5 games. That's an average of 286 total yards, 4.2 total TDs in those 5 games.
I made a comment on that post and it just got out of hand so I wanted to make a forum post to see why people think Barrett is better
I feel like that's an unfair stereotype put on both Quarterbacks. I agree they're both great, but I think Barrett was just given the consistency tag because everyone knows he isn't explosive like Braxton was. He was pretty bad in the Va Tech game and second half of the Penn State, even threw some bad balls in the Illinois game. That's not very consistent. I feel like Miller was just as consistent as Barrett but could also throw the ball deep and was a threat to take it to the endzone himself every play. The Wisconsin game last year is what I think of when it comes to Miller's throwing ability, and all I can think of with Barrett is Va Tech and Penn State so far. Hopefully he shines this Saturday.
That's like saying Kenny Guiton was better than Braxton last year. JT has done very well in games vs bad teams, but is in no way better than Braxton was last year at throwing the ball right now.
He'll get his piece. Connor Cook isn't throwing for 300 this year. Our front seven will gladly help the secondary with that.
I agree with most of what you're saying man, and I'm glad you admitted you didn't know much on the case. I encourage you to look up the details, including the picture of AP's kid with lashes all down his leg.
I just don't see how he could come anywhere close to beating his child when he had another child die from child abuse. Granted he wasn't involved in that kids life what so ever, I still think he would think twice before abusing a kid.