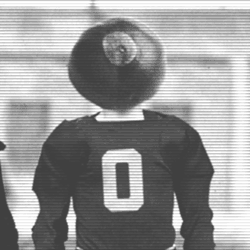 PapaBucks
---
MEMBER SINCE May 19, 2014
Recent Activity
And championship rings. Don't forget those.
He claimed he was showing Richard LeCounte around, which was hilariious considering it was one of his first times on campus while it seemed like LeCounte visited Raekwon McMillan every other weekend.
How much of a springboard is that win in 2016 when you turn around and drop the next two in the series? It kinda feels like Cooper's 1994 win vs. TTUN - fool's gold.
Let's face it, it's not like the Buckeyes open up with murderer's row. If our inexperienced OL hasn't started to come into shape before game 5, there's issues. It may not be deep but the OL room certainly isn't lacking in talent.
The playoff committee is pretty much under a microscope after leaving the Big Ten out 2 years in a row. The only way it happens a 3rd time (with including 2 SEC teams, no less) is if the Big Ten champ has multiple losses.
We beat Alabama with a Tressel recruit at QB, a good portion of the OL and DL were too. Mike Thomas, Devin Smith and Evan Spencer? Those are guys Tressel signed.
The video on the Elite 11 competition Is on youtube. They talked about how he was impeccable in his prep, including note taking in class sessions.
The year away is as lax as the leaving school allows it to be. What's really ratcheting it up Is the fact that, for the most part, schools can't block transfers anymore.
Who says he had the inside track over Baldwin?
That's the exact opposite take on Fields from the Elite Eleven coaches.
Number of losses never entered the equation of the CFP until 2016/2017. The 2015 Buckeyes finished the season with the same record as Oklahoma (11-1) but were left out because they were not conference champs. In fact, they finished #7 with a two loss Stanford team slotted ahead of them because the Cardinal were conference champs. That's pretty telling because it says the committee valued championships over win percentage. Suddenly losses seemed to matter in 2016 when the Buckeyes got in without a conference championship. It was clear Ohio State's schedule was the differentiator that got the Buckeyes in - beating 3 teams ranked in the final top 8 will do that. Nothing about 2017 Alabama dictated preferential treatment, other than being 11-1 vs. 11-2.
Fickell was literally saddled with a dude who should have been selling insurance as a qb coach. And a qb who should have been selling insurance too.
What's your excuse for 2015? Whatever it is, it didn't apply to Bama in 2017.
So because I can't point out an 8th team worthy of playing for a championship, a 7th team doesn't get the chance?
Fields only verballed to 2 schools - PSU (decommitted) and Georgia (signed).
Ohio State announced Urban's retirement the Monday after the B1G championship game. If they were going to play shenanigans, they would have waited to announce his retirement until after signing day. But they would lie to Mathis about Fields? Yeah, that doesn't add up.
Whether you want to justify the "polarizing" opinions of JT Barrett or not is beside the point. There was a very lwrge, very vocal contingent of the fanbase that did not support him.
There is a reason why Ryan Day was willing to bring in Justin Fields. That says a lot.
I've never seen an Ohio State player so disliked by this fan base.
JT Barrett?
Not like Urban ever had bad coordinator hires *cough cough* Everett Whithers * cough cough* Tim Beck.
Except Dwayne Haskins knows Justin Fields and has already come out and said he's "a good guy."
We've lost more than our fair share of redshirt sophomores over the years, including (potentially) our starting QB this season. So those redshirts didn't really benefit the team anyway.
Can we not recognize a screen?
Am I the only one who misses Larry Culpepper?