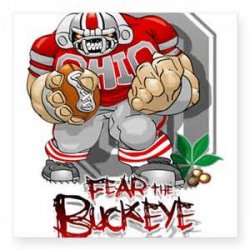 PancakeWarrior
New London WI (via Newark Ohio)
Member since 08 August 2014 | Blog
Life Long Buckeye Fan, I was fortunate to be born in the Woody Hayes Era, seen the Good and the Bad, I bleed Scarlet and Gray, my sons were born here in WI, but they Bleed scarlet and gray, they are ages 9 and 10 and they know the O-H I-O and they know our rival, by TTUN only their Grandma hates it but father loves it, I was born and raised in Ohio, I have my Buckeye rituals every game day, I have a Buckeye that I hold onto every game and it is pretty shiny, I wear the same OSU shirt to bed every friday, the same OSU shorts, drink from an OSU cup that I have had for years, game day, I play Le'regiment, followed by Buckeye Battle and Hand on Sloopy, I have 2 Jerseys Home and away and they Don't get washed until the end of the season if we are winning. I have a Bean Bag Brutus that I hold with my Buckeye , ya I am a True BUCKEYE fan and proud of it.
Favorites
COLLEGE FOOTBALL PLAYER: AJ Hawk
COLLEGE BASKETBALL PLAYER: Aaron Craft
NFL TEAM: Washington Redskins
NHL TEAM: Columbus Blue Jackets
MLB TEAM: Cincinnati
Recent Activity
Brady Choke, is going to lose whatever respect he had left, which isn't much, for keeping this player on the team, at least Urban removes players when it is just, but not Brady, this sissy is still on the team, will this be a hate crime? The other people were clearly blocking the way, we don't know what was said, but it's still no reason to take one of the cheapest shots you can, and why even punch him? I bet he will say he was called a name, without audio we only have their statements, Choke needs to step up and be a man and a human being and kick him off the team and that University needs to toss him out on his rear.
21 more days, I get so pumped seeing pics of our Buckeyes working hard