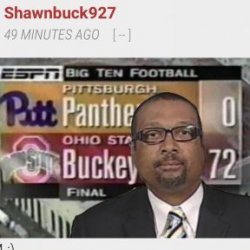 Palm beach Ohio
---
Palm Beach Florida (via Wickliffe Ohio)
MEMBER SINCE November 20, 2018
Favorites
SPORTS MOMENT: Scoring against Lake Catholic
NFL TEAM: Browns Palm
NBA TEAM: Cavs
MLB TEAM: Indians
Recent Activity
I saw this live and couldn't believe what I was seeing, DVRd rewind, wow!
Great effort on both sides of the ball. Have a question for those much more in tune on the program than I. Dobbins is gone after this year and the Master is next man up. Chambers is getting rave reviews from coaches and team mates alike. I know we have at least two more RB that are in the pipeline that havnt seen much playing time. Regarding recruiting, is embarrassment of riches hurting our failure to sign 2020 and 2021 at this position. WR and Dbs do not seem a problem as we are currently signing lights out with the assumption it's a clear path to Sunday's. The other issue is portal, I didn't like this from day one. Now throw in players getting paid while technically still amateurs. I think the NCAA didn't think this out well nor the collateral impacts. While I do think this brings some parity, much like the NFL has been legislating for years, I think the overall impact will hurt the sport. Now the possibility of players not seeing the field and their egos are a recipie for chaos. Back to original point, all above points considered, with recruits facing possibility of years behind starters, how do you convince top talent? Do you take riding bench for two years and have a chance to win championships. Or go to lower tier team, start right away and take the money from endorsements and hope it leads to Sunday's? I know as an 18 year old I didn't possess the long term decision making mentally. I lived for the moment and can't help but think I'm not alone.
Nice pick 6! Ah he was down, dammit! Just throwing it out there, is it possible Day is holding back some cards to play next week? Mostly on defense? Nice wide open Ruckart td. I wonder why we havnt used two or three tight end sets? We are deep there and Day said in offseason there would be more TE sets. I suspect there are a whole lot of looks we have not seen yet that will come during UW and PSU.
I love what Coach Day is doing, we are lucky to have him. Hope he stays.
Saban, I love it here at Kent State
I love it here at Syracuse
I love it here at West Virginia
I love it here at Ohio State
i love it here at Navy
I love it here at MSU
I love it here in Houston
I love it here in Toledo
I love it here in Cleveland
I love it here at MSU x 2
I love it here at LSU
I love it here in Miami and I'm committed to being here, those are just rumors.
Sorry guys couldn't help it, I don't like that man and everything he stands for!
I watched game again tonight. The refs missed SO many game changing calls it's not funny. In particular personal fouls. I wrote on another thread about Sparty playing dirty and being unsportsmanlike at least four times. I'm not sure why this hasn't been mentioned? Ripping helmets off, standing over players talking crap, helmet to helmet happened three times by my count. Coach Day is classy and won't mention these, but for some reason the lack of of the calls went unmentioned. Anyway, A win is a win and I'll take it.
I'll take! Very nice win against a quality team. I'll rewatch this game again tonight, but the refs in this game Should be fired first thing Monday morning.
MSU had some chances, mostly dropped passes and failing to hit wide open receivers downfield. Early mistakes by them resulted in three points. I almost needed a new tv right before halftime drive. I don't know what was going on because that was bad play calling and even worse clock management, um, we had three timeouts! I'll rewatch tonight to see what I missed. Was it me or did I see some very dirty play by Sparty? Again where were the flags, I'll wait to see if you guys saw it to, I saw some pretty shitty shenanigans by them on several occasions.
Great win guys, lick your wounds and get ready for NW.
Great win, things looked good but have a few things to nit pick if we want to qualify for CFP.
Fields still looks confused when d changes their look pre snap.
Defense looked outstanding especially rush package.
Secondary looked lock down, way way ahead of last years look.
Linebackers played with speed and didn't wait for plays to develop.
Just a minor bitch, no tight end play. May be waiting to use that look later and not show hand.
Dobbins is the real deal, I didn't count how many tackles he ran over or dragged along.
Had to laugh at Leinhart saying to Coach Meyer, it's not we anymore, fn hilarious!
Slobs looked outstanding, minus two holds which in a close game would be disastrous.
Chase Young is an animal,despite double and triple teams.
Borland is not getting enough credit, he blocked open holes and dropped back in coverage, those things don't show up on stat sheets, well done.
Harrison is coming along nicely, lights out game today.
Penalties, well compared to last year I'll take it.
Im not sure who's calling offensive plays, but I think it was a good mix. However somewhere down the road we will have to run on left side of line. Don't want to point fingers, but that side needs improvement.
Overall we looked good, I'll take it. But it may just be me, but I think there's a whole lot coaches are holding back for the big boys. Great Job!
MSU, WTF?
Wow
I try to keep up with things up there. I'm strutting around here in the Deep South saying how deep we are on D Line and I read this.
Dont I feel stupid!
First time in years I've been home instead of drinking at 8 am for our opener in Vegas MGM sports book, dammit! That's where I was when Appy State pulled one, sure wish I had my phone out to capture the moment when tsun went down.
From South Florida, please pray Dorian goes the other way!
Wow
I try to keep up with things up there. I'm strutting around here in the Deep South saying how deep we are on D Line and I read this.
Dont I feel stupid!
First time in years I've been home instead of drinking at 8 am for our opener in Vegas MGM sports book, dammit!
From South Florida, please pray Dorian goes the other way!
NCAA is at it again. I said last spring this transfer portal as it stood,was,a cluster puck from day one. When I, or one my my managers has an idea that affects the while apple cart, we draw a line on the conference table and list what can go right and everything that could possibly go wrong. Some times,we stay for two or three days, but nobody goes home until I feel all the bases have been covered. Sounds stupid but I keep getting raises.
It just reeks of a not very well thought out plan put together quickly with no one asking "what could possibly go wrong?" NCAA!
While we're going down memory lane, does anyone remember Euclid Beach amusement park?
Mom gave me 2 rolls of nickels and I rode all day.
How about the Barrel ride where the floor drops out and your stuck to the wall? Don't see those anymore!
Great story!
Was just there a few weeks ago, awesome as always and reasonable compared to parks down here.
If going during weekend, definitely get Fast Pass Plus, totally worth it. BUT, be ready for the snarky looks from those in line for hours. If your a coaster fan, this is THE Roller Coast.
DV Discaimer: this is just my opinion and nothing else.
My heartfelt condolences! To some, our furry family members are our children. I don't have any children (that I know of) and my brother doesn't either. Unfortunately all my dads brothers had girls, hence the family name comes to an end upon our death.
Some think it's silly to be so attached to our furry family members. I can tell you I spent hours bawling like a baby after our last loss. Mourn for awhile, after that it's time for the next family member to arrive.
Sorry got off topic. BOOM!
Ditto!
However, I do believe this will take some time and very careful strategy with recruits on the D side of the ball. I'm in the opinion this will be a strong finish after the upcoming visits. I would put it at the let's wait and see sentiment, with concerned and alarmed the next two stops if things don't pick up by late July when high schools start opening camps in mid August.
i just think there are still high quality pieces on the board who are playing the lets see who else comes game. Just my opinion, which doesn't mean much.
I could see if we are not prepared offensively, the Luke could cause some problems.
Ok I'll be the one!
Can anyone please inform me of the last TE from tOSU that went in the first round? I'm an old WH's guy who's speed 4.45, 6:3, excellent hands and a shitload of tds in HS made WH throw me off the field when I tried to walk on, ended up at Kent. I digress, Iowa had TWO TE go in first round this year. Point is why would a highly rated TE come to buckeye nation if we don't use them? We had some of the best offense in Buckeye history last year, but other than pass blocking or taking a defender out for a ride it's my opinion our TEs have been woefully underutilized since,,,,,, I don't know.
I totally get how valuable TEs are in the overall gameplan, BUT, Bellicheck (sp) has/was making defenses account and take at least one defender out of the game regardless of what play was called. I'm not an expert by any stretch of anyone's mind about this game, but taking one defender out of every single 1-3 down comes down to numbers on defense. No one can tell me or anyone else that opens up huge options for Brady when it comes to play calling. Move away from the strong side on defense and they will make you pay.
Maybe I'm ignorant of college offense of late, but Iowa proved they can gash potent defenses with solid TE or two play.
Just my two cents, which really doesn't matter at all.
cant wait for August!
Is it August yet?
In no way shape or form is this comment directed to any of the coaching or recruiting staff. I totally get why our defensive staff is having a hard time with all the staff turnover? My comment is this, this sure seems like something that went on in Norman Oklahoma. Unable to produce high caliber defenses, but dam we will run up the scoreboard and in most cases will survive. It's probably a product of last year, but until I see huge improvements on defense and not getting gashed by the likes of Maryland, Purdue and other lower tier teams, I remain unconvinced. Silver Bullets it's not that I don't think it can happen, it's a case of prove me wrong.
Very, very nice job Coach day and Hartline on offense.
Good luck Mike!
I wish you well sir, but not sure why Cowboys took this pick? Maybe someone knows more than I, which can't be that absurd? Is there issues with Zeke? I know shelf life is very short with RBS, Don't know for sure but I assume after this year Zeke is nearing end of rookie contract, maybe this is plan B for boys? I don't follow them that closely and maybe someone in D town has some input.
Please do not get this wrong, Web is very talented BUT. Is it just me or was he many times just a shoe lace, juke or cut from breaking loose? Zeke seemed to have the proverbial eyes behind him, instinct of knowing where defenders were not only in front, but behind as well. Arron Rodgers and Tom Brady especially seem to have this gift of total field vision. This is a gift that IMHO that cannot be taught. Just saying MW seems to be caught from behind and doesn't have the whole field vision that Zeke brought. Again not a knock on MW, just want other opinions.
I Truely expected NYG or Bungles to pick him. Without any doubt in my military mind will both these teams regret this decision. In both cases he had a chance to learn under a future HOF qb and in Cincis case Dalton is a ho hummer, but in both cases it would have given him time to learn playbook and speed of the game. DC, you could see the disappointment on his face. He's being thrown to the wolves with (imho) a shitty oline and a crappy management.
This is just my opinion which doesn't mean much, but however I do know the business side of this game. Which is another discussion for another day. It saddens me this game we love so much has become just about dollars and sense(yes I meant that).
I wish I had enough helmet stickers to start a thread which is really chapping my chaps, about entering portal that has essentially created free agency. There is only one thing that the NCAA wanted when this got out of hand, and I suspect it's this. Every year there is really only 6-10 teams that have a shot, Bama, Clemson, OSU, Sooners, Georgia, TTUN, ND, USC, Texas, all others are shooting for that one year where stars align. Second tier teams LSU, FSU, Oregon, MSU, Wisconsin, PSU and the likes might get a shot once every decade. My point is NCAA is trying to level the competition, and I don't blame them. I read somewhere where all the teams in the playoffs were 9 teams. ND, Georgia, Bama, Oregon, FSU, Oklahoma, OSU, Clemson and MSU. While we as an upper level school think this is great, the other 135 teams )?) think this is a sham, looking at you UCF 2017. I've rambled on long enough, just wanted to open some eyes on the state of college football.
Wishing you the best Dwayne, you deserve it!
There is an excellent article on USA Today sports page about the pre draft misinformation and mind games played by NFL draft teams. The jist is don't believe anything you read pre draft coming from them as they jostle for any advantage they can find.
Wish I knew how to paste link, but it's a good insightful look into the games and downplay of draftees.
How long before every second stringer in the nation want to go into protocol?
I did not read all of the posts above so please forgive any double thoughts and posts. However, if you read my post history I predicted this and the problems it would bring. Anyway, unless the NCAA stops this nonsense look for more free agency. This is really bad for our sport and it's going to get worse before it gets better.
We are in trouble at QB.
Thank you sir, as many know it takes work, compromise and someone who knows I'm checking out on fall Saturdays.
Congratulations Drue!
Whenever I see one of these, I cringe just for a millisecond, remembering that poor schmuck when she said no, after he paid to have it on the Jumbotron. I might be wrong but I think it was a prime time baseball game, only to see it splattered all over ESPiN the next day.
Poor guy had to know it wasn't a sure thing but went ahead anyway.
I digress, wishing you both well. I made it 35 years so far.
Goodness! How are we going to get all those speedsters on the field? Great problem to have.
Just this morning I was jonesing, so watched some post ttun game ESPiN roundtables with Chris Carter saying 2019 OSU receivers will be just as fast and maybe even better than the speed demons who just left to play on Sundays.
whew, is September yet?
Great play and off to a good start!
BUT, couldn't tell who the defender was?
Back to the ball again, I do realize it's spring ball and he was beat, but it seems I've seen this happen before?
It was number 42, I believe. There's two 42s listed on the roster.