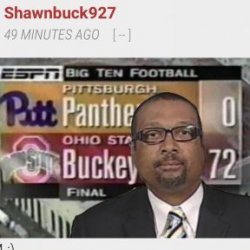 Palm beach Ohio
---
Palm Beach Florida (via Wickliffe Ohio)
MEMBER SINCE November 20, 2018
Favorites
SPORTS MOMENT: Scoring against Lake Catholic
NFL TEAM: Browns Palm
NBA TEAM: Cavs
MLB TEAM: Indians
Recent Activity
"Dobbins a disappointing 4.6 yards per carry". How many teams would take that!
Go bucks, nice to see some fire!
I have a question, the refs they use in practice, who do they work for?
I would imagine they are hired directly for confidentiality reasons.
Has there ever been a case of practice refs divulging what would be very valuable information to opponents?
Im in no way suggesting this is happening with us, but knowing human greed I was just wondering.
Was also thunking about rogue peeps with a camera in the bushes or trees, see Patriots. Team Buckeye most surely employs security details to rove the practice site?
Might get a DV, but who really cares what UT has to say? Yes, was a bummer to lose him but s others said, train will roll on. Good luck to the kid and we shall see how it plays out. Even during UFM era we lost recruits that seemed devastating at the time, I think by all accounts we survived quite well. In Day I trust until proven otherwise!
He has to be just absolutely exhausted. Preparing for Clemson, putting out fires after Hafley decided his exit. Trying to hold together the DBacks coming in. On phone shoring up those that verbally committed. All the award ceremonies. Arranging flights and hotels and rental cars and meetings with prospects. All the while I'm sure he was in film study every spare minute. Boosters demanding time along with pre fiesta bowl video conferences. Dealing with transfers who left and on and on. I'm not sure most of us really get what Coach Day has to endure. Yes he's paid well and will definitely get a raise. What a brutal three weeks! Don't know all the results yet, but GD.
I'm not really sure why but I sincerely despise this man. Much of it has to do with his postgame interviews, where he never ever just gives credit where credit is due. On top of that I have heard from VERY reliable sources he just out and out lies during in home recruiting visits, to the point he has has been literally kicked out of recruits homes after they stopped laughing. I have to admit in the beginning I found him engaging, personable and at times quick witted and down to earth.
Humbly stand corrected given my handle! Ouch, thanks
Can't wait for Saturday!
Please hear me out. I get all the star rankings and HS Coaches talking up their guys. The ridiculous fast times, high and long jumps, recruits saying all the right things? However, there is the unknown of family, grades, drive to succeed ( remember HS guys are always the big man on campus, how do they handle being guy on low on totem pole?) And let's not forget, yes I will say it, in a lot of communities how to avoid the corner and quick buck?
With mostly college and football players paying for every other sanctioned college sport, the NCAA has opened a huge can of shit without thinking of the particulars. Can you have an agent? If so what role does he play? Do the Chase Young's, JK Dobbins and Justin Fields drive around in Bentleys and not draw ire of the FG holder who just bailed them out? I said many years ago college football players who make the cash register ring should get something over and above the walk on. Where is that line? They should definitely get some reward for their likeness and profitability of what they bring in. How in the world do you divide it up? The NCAA has not even begun to address all the problems this will bring. Just as an example, who and how should athletes hire an agent? That alone right now is a huge issue. Does an agent front money to an athlete against future earnings? And if so what is fair for the agent and what is fair for the athletes? Then insurance against injury, where is that line drawn? It won't be long before athletes want out after their Sophomore season to cash in. What happens when a coach wants to redshirt to save a year of eligibility, hello lawsuit.
Ive been thinking about this for years and I have no doubt players should profit from their likeness. I just don't think it's been very well thought out. This is just my opinion and only that, the difference between those who have and the have nots are going to widen by a huge margin. Year in and year out the field of CFP teams are growing smaller and smaller. You think it's bad now, wait until the agents, spiffs, Bentleys and everything else that will fall out from this will only make the halves from the have nots even bigger.
I didn't mean to create a huge mountain out of a molehill, but that's exactly what's coming.
One thing is clear, Urban was and is a legend. However, while no one is perfect me included, he often took his eye off the ball. Favoritisms, whether staff or players limited his ceiling. Yes, he's a HOFMR, but what if he cast that one flaw aside? To me, and I'm grateful as all get out, pack your bags and move on to your next gig, whatever that is. The BIG championship tears from Shelly told me everything I needed to know. I do believe he has medical issues but I sincerely think he will coach again, my guess is Cowboys. I live in deep UF country and I defended him until just recently, no concrete reason, just a feeling the good ole boys were right about him. Again, extremely proud of what he did for Buckeye nation and grateful for everything he did. Just don't trust him at his word as many before him.
Sabin, love it here at OSU
Love it here at MSU
Love it here at MSU Again
love it here at LSU
Love it here in Miami, never want to leave
Satin, well I guess Alabama is my new home.
never say never.
As A follow up, why is Kirk such a SEC homer? I get it, we know who writes his checks. He just continually takes the SEC high road until proven otherwise. Homer!
Much respect to Gene and Chase for being forthright and hopping on the brakes on this matter. Forgive my ignorance, were we in any danger of forfeiting games by playing an ineligible player? No disrespect and kudos to staff for nipping this quickly.
As much as I love #2, his Heisman hopes are over after the loan thing. I don't think I've ever seen a disruptive dlineman in my lifetime. Sucks
With Bama going down, me self wonders how the CFC views that loss? With #2 on suspension until their ruling this week, how does that affect rankings? How does NCAA come up with a ruling that seems fair? Kirk was opining for a four game suspension. As Buckeye he clearly is leaning SEC punishment. LSU clearly deserves number one seed, but how does chases pending ruling affect seeding? Buckeyes clrearly lead in most statistical outcomes in both offense and defense statistics. However LSU has more quality wins over ranked opponents, however SOS is overshadowed by Buckeyes margin of victory considering our seconds and thirds have played more time than our ones. Difficult to compare apples and apples, but my assessment is we are heads above.

Gus is awesome and I always love him calling our games.
"12 gauge baby"
Not trying to be Debbie downer, I do think we are among the Elite. BUT, as we learned last two years, it's never a given until that Dr Pepper trophy goes up. That being said, I don't think I have ever in my 50 years remember a more well rounded, talented, well coached or just plain nasty team. Does anyone else hope Alabama runs the table so we can once more watch the evil Satin cry and bit.ch again? To me that was orgasmic 85 yards through the heart of the SEC!
Very weak on the DV for this. I think it was clever MOD!
JK is a beast, that being said the slobs have proven time and time again, after adjustments they are by far what makes this O tick. Chase Young, what do you say after a performance like what we saw today? Please don't take this wrong, but he's making the Bosa clan look like second teamers. I've been around longer than I'd like to admit, but I have never ever seen a game changing dominating performance like Chase delivered today. Just jaw dropping, they double, triple teamed him, if anyone was really paying attention, they literally spent the whole second quarter running plays away from his side. Didn't matter, he's so fast he outran weak side plays and more than once caught their plays from the backside, almost unheard of what he dialed up today. I might be wrong but this is what I counted. 4 sacks, which should put him in lead in the country. 3.5 tackles, might be wrong on this one. Two strip sacks? Six QB hurries? Just an unbelievable performance!
Off topic a bit, just watched King Saban walk out of interview. In short I respect the man for how he has raised the bar, it will take decades to overcome his impact on college football. However to me he's still a d:ck, maybe that's what it takes for a run this long. It's hard to argue his success! He has recruited at levels never seen before, he's plugged and played staff at a level never seen before. Things I have heard from former players, they can't stand him but if playing on Sundays is your goal, he's your guy.
Anyway can't wait for game, I've been worried but I've calmed down some and think talent will takeover late.
Go to IHOP for the Jonesy pancake!
I will always regard Urban as one of the best ever!
Two comments, what would have been the outcome if he wasn't so loyal to coaches and to some extent players? An already gaudy coaching record, what could have been? Great coach, great recruiter, great game manager, But, he sucked at making timely coaching and player changes due to loyalty. I personally know an Alabama recruit who hated Saban, but hated UFM worse. Reason he chose Alabama, bagman. I don't want our program anywhere near any of this, I'm just saying the rich are getting richer, there is now really about 6-8 programs that now have a chance. Add in bagmen dollars and were down to two or three teams, do you really think Alabama, Georgia, Clemson and Oklahoma just get all their talent from recruiting outright? Maybe, but the Grand Canyon is gettin much, much wider between the rest of the field. As much as I want to see Buckeye nation roll year after year, as always it comes down to money, tv contracts and now players profiting, facilities, perks. or whatever. Notre Dame has made me want to take a dump on myself! I played against Mike and Bob Golic, but ND does not get a pass, join a league. Clemson, whew their league absolutely sucks, but they compete in final four. The NCAA has lost all control between transfer protocol and players income. How is the NCAA going to level the playing field in regards to who gets what percentage? My prediction is lower tier teams will now all of a sudden become powerhouses. Why, offer them more$$$ on Jersey, likeness, signatures or whatever. Now we have an arms race which doesn't take much initial investment. On top of that now what does recruit letters of intent look like? Might need 4-10 sports and investment lawyers just to sign a letter of intent, since we are now dealing with minors, mothers sign, fathers? What if they disagree and are just looking out for themselves, now what? Nobody has thought this
You have to be very careful about getting your team to"High" before games. You cannot keep going to the well and getting your team amped up. It will bite you, see MSU and PSU and what happens the following week. As a coach, you can't reach the summit to quickly. Coach Day saw this unfold and hopefully he learned a valuable coaching pitfall to avoid.
In the tun vs other tun, could this be possibly a coach elimination season I think they are both on thin ice, MSU brass (boosters) is on the edge, not reported much but take a quick look at 24/7 recruiting. Yikes. Hairball is already planning his exit IMO. Watch him on the sidelines, better yet rewatch his postgame interviews. After a close win he says "were hitting our stride!" WHAT! I had to guess he's on Xanax or some other mind altering prescriptions. MGoblog has been relentless calling for his head. Personally I'd like him to stick around for obvious reasons. When do You keep going banking and when do you say it's not worth it? His contract is favorable to be fired financially wise. In Dantonios case he's on the down slide and doesn't have it in him for another gig, NFL or otherwise. Hairball maybe in same boat, take a look at 2020 recruiting, it's almost like they are not trying. Conversely, take a look at Wisky recruiting, don't know numbers off top of head but I recall maybe 3-4 4 stars? Difference here is we have pretty much locked down Ohio, second, I don't believe anyone in the country does more with low star recruits than they do. Be interested to see some kind of analysis of who does more with less and who does less with more recruiting wise.I suspect it would take a hell of a lot of research and time. BUT I still think beavers do a lot with two hands tied behind their back(recruits and academics).
I'm in the Borland camp, I think he's not getting his stickers. Sometime tackles forced, hurried QB throws. and other such stats do not show up on stat sheet. Consider blocking hole gaps, dropping back in mid level zone, covering pitch back on option, covering pitch QB, covering strong side flat, covering strong side TE on crossing route, containing lane gaps two through five holes while covering back out of backfield. This is an incredible hard position to play and is much more mental than physical. Yes there has been ISLB that has played better, but I think given his assignments, he's being shortchanged. That being said, I don't think he's the most talented LB we have on the roster. Injuries have hobbled us in this position and I think we are incredibly thin here. We have talented I/O Backers in waiting but they are getting very little game experience. I can't make this more stressing point, this will be where we win or lose LOS when Beavers are on offense. They know our Secondary and DL are NFL, they will attack the edge and short crossing routes. See Purdue's three NFL TEs.
Go gettum Buckeyes, we are proud of all of you.
I'm not either. I have few questions for those much smarter than I in this game we love.
1. Is there a way to quantify JK carries versus garbage time and splits with the Master? Taylor is running up numbers playing 4 quarters and here is the wild card, pass blocking and receiving yards. They typically take him out on third and long, this is just my observation but he sucks at pass blocking and has stone hands. Point is when comparing apples to apples, I don't think that's happening when comparing the whole package?
2. I am a pretty good student of the game and actually tried to walk on at tOSU, bottom line is went to go on to play D1 at Kent State. Question is, how has technology affected the game in real time? We now have IPads on the sideline with real time info for adjustments. In the old days a guy in the booth would keep notes on a piece of paper and come up with adjustments. Now we have high powered computers on the sideline giving almost instantaneous probabilities of(fill in the blank). It's almost become a game of information and I realize it's still won by athletes and preparation, but I argue that that gap can be closed by technology.
3. I also think the loss by the beavers has made a huge difference on how we approach this game. Not physically but mentally. I think now the gloves are off as far as they are concerned and will now play loose with, hey we have nothing to lose? My opinion their defense will stack in and make us go outside the edge. I mentioned this earlier in the week, we need to go 2-3 or even 3-2 to bring more in the box offensively meaning more tight ends and short game over middle or to outside.
4. This is my huge concern rest of year. Every time Justine runs, my heart just flips out. I understand we need to keep them honest, but dammit, what happens if he goes down? There is going to be a time where we need to just let it all hang out, hopefully we can make it to playoffs before we need to go all out. My point is I just don't want to see him hurt on a play that just doesn't matter in the grand scheme.
5. Holy Fn Buckeye, that Jones is a freaking beast, I truely believe Coach knows what he's doing. I love he's giving him time and given how thin we are on oline, play the guy when you can.
6. What does Buckeye nation think of the criticism both locally and nationally of keeping starters in to long? Here in West Palm I'm getting crap for keeping them in to long. My argument is they need the experience because they have not played long together and need the time to gel. My friends say everyone is leaving and you need to get underclassmen valuable experience.
Looking forward to Saturday and can't wait. My beloved GF is from Madison so looks like sleeping on the couch again!
I saw this live and couldn't believe what I was seeing, DVRd rewind, wow!
Great effort on both sides of the ball. Have a question for those much more in tune on the program than I. Dobbins is gone after this year and the Master is next man up. Chambers is getting rave reviews from coaches and team mates alike. I know we have at least two more RB that are in the pipeline that havnt seen much playing time. Regarding recruiting, is embarrassment of riches hurting our failure to sign 2020 and 2021 at this position. WR and Dbs do not seem a problem as we are currently signing lights out with the assumption it's a clear path to Sunday's. The other issue is portal, I didn't like this from day one. Now throw in players getting paid while technically still amateurs. I think the NCAA didn't think this out well nor the collateral impacts. While I do think this brings some parity, much like the NFL has been legislating for years, I think the overall impact will hurt the sport. Now the possibility of players not seeing the field and their egos are a recipie for chaos. Back to original point, all above points considered, with recruits facing possibility of years behind starters, how do you convince top talent? Do you take riding bench for two years and have a chance to win championships. Or go to lower tier team, start right away and take the money from endorsements and hope it leads to Sunday's? I know as an 18 year old I didn't possess the long term decision making mentally. I lived for the moment and can't help but think I'm not alone.