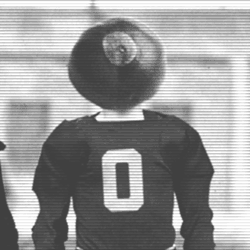 Pahimar
---
MEMBER SINCE September 25, 2015
Recent Activity
Didn't make it to the game but cool to hear my fellow alums represented. Cedarville also does not have a football team which is ideal for buckeye fans who happen to go elsewhere for undergrad... ;)
I don't think we'll lose either but penn state is the one game remaining on the schedule we absolutely can't afford to lose. Every other game leaves a 1 loss path to the cfp at least theoretically open but if we lose to own state we'll be on the outside looking in.
I am looking forward to a metaphorical repeat of the osu vs florida bcs title game only this time it will be the sec team who rolls in with the hot heisman winner thinking they're unbeatable when in reality their entire schedule was massively overrated and their opponent severely underrated.
Wisconsin and Penn State showed some flaws. Michigan showed some grit (along with the flaws we already knew about). The buckeyes will have to play well but these feel like winnable games if they do.
It was a quality loss. These only exist in the SEC where losses just mean more. /s
If their offensive line plays the way they did against Iowa against us the dogs gonna eat...
You hire Bob Stoops as your HR director? /s
I agree. I don't think they'll be able to score a ton of points on us and I think we can limit Taylor, but Coan and their WRs seem good enough to find some seams in our zone and keep drives alive. If we get ahead early they'll have trouble keeping up with our offense. They way we lose is if we get limited offensive possessions either by getting behind letting them play ball control or due to penalties and turnovers killing drives. Their defense shows alot of confusing looks and made Lewerke look awful after he had a pretty decent game against us. This game will be a real test of how far fields has come in his ability to read defenses.
Seemed like one of the 2nd qtr adjustments may have been to tell him to run more. He busted sooner decent runs when the coverage was all down field.
Agreed. I was 12 years old at that game. I can't remember if it was raining in the real world or just in my soul afterward. I've never heard the home crowd exhibit such stunned silence.
What was that quote... "I knew it I'm surrounded by Michigan Men! Keep firing Michigan Men!"
Being angry at Doug Lesmerises is more of a state of being than an emotion. It is hard to turn it up and down.
I disagree. Those rankings (including UGA being 5th) were composed based on what actually happened: us losing badly to purdue in a game which finally exposed what had been an obvious weakness in all of our preceding wins (defense). Do I think the committee's reasoning made sense given how bad statistically Oklahoma's defense was? No. But I do think that if we had had a close, fluky loss to purdue that could be blamed on something like momentum, turnovers, and weather and had the defense looked better in some of our wins, the rankings very well could have been different.
With stops in Atlanta and Columbia along the way...
Yep. I hear Lawrence is big into tennis now. ;)
There was also that one sack where the Nebraska d-lineman initially wrapped Fields' entire lower body but was left barely gripping Fields' shoe when Fields finally went down. It was still a sack but everyone has been talking since the preseason about his lower body strength and I think that showed it off.
These are fun to read, thanks for doing them!
Absolutely right. I've wracked my brain for years trying to come up with a way to make up the financial loss of the extra season game and I can't come up with anything workable.
This is a very thoughtful idea and would give you some good games but to be honest I couldn't disagree more.
I think the biggest issue with the CFP is the obsession with getting the four best teams (6, 8, fill in whatever number). While any objective playoff system is always designed to try to get the best matchups possible, the fundamental guiding principle in most other sports is that you lay out the rules of what must be done in order to make the playoffs before the season and then you let the chips fall where they may. Sometimes the best teams meet in the semi-final. Sometimes the "best" team gets left out (or loses in the first round - looking at you Tampa Bay Lightning), but there is just as often compensating good drama like underdogs making a run.
So I would strongly prefer any future playoff system to absolutely minimize to the greatest degree possible the use of subjective rankings.
The second thing is that one of the unique aspects of college football is it's regional nature. We don't need another perfectly rounded and squared off national football playoff. We have that, it is called the NFL.
Letting the conferences determine their champs however they see fit highlights the regional nature of the sport.
I don't care if the second best team is the SEC runner up and the Pac-12 champ has 3-losses. I want to see the best teams from the regions square off in a playoff, not a replay one or two conference's regular season and/or conference championship games.
And, at the end of the day, everyone knows what they have to do to get to the playoff: win your conference.
Really enjoying this new podcast. One ask: soundcloud? It's where I listen to the dubcast and the 11w radio hour. Would be nice to have all my 11w audio content in the same place.
TL;DR:
"I disagree."
The exist for the sole purpose of creating something for people to talk about. Some of us like to talk. For me that is different than taking them seriously.
If not three. Come to think of it, this would be a good strategy for picking the playoff. Three spots for the best teams in the SEC, one for Clemson and no need for a committee to meet for the purpose of stitching together fig leaves. /s
Hate to say it, but Alabama and Clemson have earned their special treatment by winning the last 4 CFP in dominant fashion. Until they lay an egg (or two or three) they'll continue to get it. LSU jumping us is fair given who they've now played so far.
OU and Georgia staying above us is just inertia and why preseason polls are dumb.