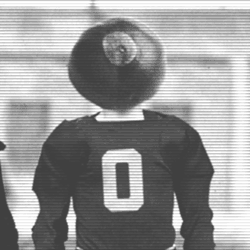 pace.185
---
from Cardington
MEMBER SINCE August 29, 2016
Loyal fan since birth. Grew up in central Ohio. Enjoyed many games in my short 19 years. (2014 National Championship included) Now attending Ohio State as a full time student.
Favorites
SPORTS MOMENT: Beating Michigan in 2OT (2016); 2017 Penn State game is a close second
COLLEGE FOOTBALL PLAYER: Ted Ginn Jr./ Orlando Pace
COLLEGE BASKETBALL PLAYER: Aaron Craft
NFL TEAM: Las Vegas Raiders
NHL TEAM: Blue Jackets
NBA TEAM: Pacers
MLB TEAM: Indians
SOCCER TEAM: What's soccer?
Recent Activity
Anybody ever heard of Demario McCall?
As of 10:21 yesterday morning, I believe coach Coombs was approximately 2 1/2 coffeepots deep and just finishing up his 500th up-down to get his blood flowing before his brunch workout
"In 2011, the Buckeyes converted in the red zone around 77% of the time, whereas in 2011 they converted almost 9 times out of 10."
Huh?
334 Yards
Court 5 looked the best in my opinion. Court 3 was a close second.
Lamar Jackson didn't run his 40, so lets agree Barrett was 3rd at best.
Tell us, and don't leave anything out. - devils advocate
I'm wondering if Woodbey stays closer to home, do we go hard after Cook from Texas? I know he was high on our boards previously and I know we are taking limited numbers at db, he would seemingly be a perfect replacement as Johnson is scouted as a college safety.
It's been 15 years, I'm sure the recovery time has greatly decreased.
Agreed, he's had no more than 14 carries in all but his very first game. He'll break out this Saturday.
I'd like to see him show emotion like that on the field/sideline. He always seems to be in a trance.
Do it. I'm willing to bet he doesn't care.
I wish I shared your optimism
I think most fans would say that stat line is acceptable, but only if the team wins.
I don't think he's honestly on the short list (just yet). The second half of the season is where Heismans are won.
5 really good match-ups at the 3:30 time slot. Its too bad I can only watch one at a time.
I think he'll get 331 in the next two games
Florida has a full house of quarterbacks none of which seem competent enough to lead their offense, not to mention a few star players facing suspension. LSU was overrated to begin with, but their defense is pitiful and their offense is as one dimensional. as it has been for the last 4 years.
They've fallen off the map after losing their starting qb to injury (for the season) during the season opener against Alabama. Currently a true freshman is starting for their team and he looks lost on the field
...and a year later than most
late reply... 3rd round Jaguars
late reply... 3rd round Jaguars