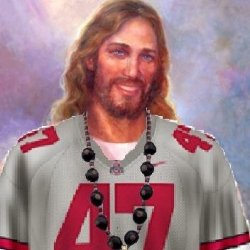 pabuckeye17
---
MEMBER SINCE December 22, 2011
Recent Activity
Let the ex have the house and the dog for a week
The real problem is MAC schools scheduling these SEC cupcake games.
I'm guessing at least 13 other B1G coaches.
I don't know about everyone else, but I find it hard to hate these guys. Reminds me of when we played Texas. A lot of respect for both teams. Still want to hang 90 on them.
I've watched this play hundreds of times and Evan Spencer's block is truly a thing of beauty
Fat Jack's pizza and Kewpee hamburger. I will make the 9 hr drive every few months just for those 2 meals
How many have you sold up to this point?
Received mine yesterday and proudly wore it to work today. Granted I'm not in Alabama, but the joy of explaining the meaning to Penn State fans sure shuts them up.
618, trust me, it does get better. Please check in and I will send you my 85 yards tee that I was lucky enough to purchase yesterday. The 11 warriors family are all thinking about you. Let us help.
In my best Chris Carter voice "come on man, make more"
on the 7th day, I made Ohio State and _ichigan still sucks
Thanks for all the hard work you and the staff do. I've always wondered how you initially reach out and introduce yourself to a student athlete. How is your relationship much different than what a coach has with the recruit?
Long time fan, first time poster. Not having a great deal of knowledge of X's and O's, is it just me or did the offense seem to click on the up tempo plays in the first half?
Gives me a good feeling for the rest of the year