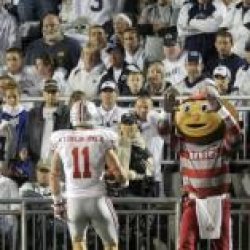 PA Buckeye
---
Member since 26 February 2013 | Blog
Recent Activity
#Gobucks and (temporarily) #Titanup.
I'll be high off that victory for the next year. Can't wait to get to work today for once.
I hate them worse than Michigan, but then again, I have to live with them.
Penn State lost to the bye week in 2011. Crushed by it.
Ask our next opponent about losing against the bye. It's been done (2011).
Here's likely a dumb question from the out of state guy... is Cincinnati not in the Rust Belt? Wikipedia, FWIW, puts both Cincinnati and Columbus in there.
Again I am just an out-of-stater who was fortunate enough to attend the finest land grant university in America and then went back home. I thought that the most unique food I had during my time in Ohio was Skyline. The last time I was in Columbus, I took my kids to a Skyline in some god awful plaza northwest of campus, since the High Street location was gone. They loved it. I'll take Cincinnati style chili over our overrated cheesesteaks and Primantis any day.
Very cool write up. As an out of stater fortunate enough to graduate from America's finest land grant university, I like these little portraits of communities in Ohio, a state I barely know outside of the University District & Short North. I've never been anywhere near Dayton, but now I want to go. The Air Force museum alone would seem to make the 7 hour roadie worthwhile, let alone the rest of this. I assume they have Skylines, though? Laugh all you want, I miss the Skylines in Columbus (I've never been to Cincinnati either, but I love their chili).
If that were the case, most of the locals wouldn't be dreading this movie as much as they are. Check out PennLive. See for yourself.
What an embarrassment to all of us Pennsylvanians. Fortunately, some of us chose to pay the out of state tuition and became Buckeyes.
Yeah, I'm a little conflicted on Mark May. But he was so obviously trolling Ohio State on purpose for ratings that I never took him too seriously. I lived through Trev Alberts too. It's an act.
In 1993, I was an undergrad at Pitt cursing the scarlet horde that invaded Oakland with big RVs that had no business driving, let alone parking, in narrow Pittsburgh streets. And they completely took over Pitt Stadium. One year later, I was a first year grad student at Ohio State watching the beatdown in the Shoe, now part of the scarlet horde. Painful. But really, OSU fans should love Pitt. PSU's loss to Pitt last year put OSU in the playoffs.
But again, looking for common ground among fanbases here, seriously, Penn State sucks.
As an alumnus and fan of both Pitt and Ohio State, damn straight on the uniforms, I hope the two schools never play again, and Penn State sucks.
And it is completely different when Ohio State and (to a lesser extent) TSUN aren't in town. We are their archrival, even if the reverse will never be true.
Beaver Stadium looks like a kid built it with an Erector Set. It doesn't have a unified architectural form, but is really just a series of different structures and additions built around and cantilevered over each other over and over again since 1960. It was never planned to be as big as it is today. The pedestrian ingress and egress is extremely complex and confused, with major pedestrian paths crossing over each other at grade and little ramps rising up to the upper decks seemingly randomly. There is a huge number of gates, and it isn't always possible to get to your seats from the wrong gate. And then they store junk and materials around the bottom of the stadium in plain view. It looks trashy when it doesn't need to. It cannot be winterized, as much of the utilities are exposed.
Ohio Stadium has additions too, but it was planned from 1922 to be big. So it looks like one building. And it is a lot easier to navigate.
And I haven't even got into the vehicular access yet, which is possibly the worst in American sports. They've done a lot to fix this over the years by expanding Park Avenue. But part of the reason why their tailgating is so good is that getting to and leaving the stadium is such a nightmare that nobody even tries hours after the game is over. This is the downside to putting your major land grant university out in the middle of nowhere, instead of in Harrisburg where it should have been.
Finally, the fans are assholes.
Even when I was 18, young, and stupid, I had enough sense not to joke about the Holocaust. But to be fair to you point, plenty of grown adults haven't gotten the message yet.
Still, this is embarrassing. Come on. You got in to Ohio State and made TBDBITL. You're supposed to be smarter than that.
I drove my family five hours to sit in the stands. Being an out-of-state, non-native Buckeye, I had no idea who any of the dignitaries were other than Coleman -- and that was only because he was plainly labeled on his scoreboard video. My wife asked if one was the governor, and I had to admit that I didn't know who the Governor of Ohio was anymore. So the dignitaries were wasted on us. We can't legally vote for them anyway.
Of course, it was a great ceremony and easily worth the gas and hotel room. I only wish that they had stuffed a sock in the dignitaries and let more of the players talk. Or at least, have somebody read the names of all the guys in gray suits down on the field who didn't get mike time. We were there to thank them too.
U.S. News and World Reports ranks Wisconsin-Madison at #47 and Ohio State at #52. Why isn't this causing Urban to quit? Why isn't this as much of a problem for Illinois (#42)? Or PSU (#48)? Why did he have to drop all the way down to Oregon State (#138)?
Other than the few years I was fortunate enough to attend Ohio State, I've spent my entire life in Pennsylvania. And for such a diverse and beautiful state, Harrisburg is an abortion of a capital city. When I was at OSU, I remember wondering why Harrisburg could be that nice.
I used to say that they should have put PSU in Harrisburg because University Park is isolated. Perhaps I got that backwards.
I've never been to Trenton, but dang it must suck to be ranked lower than Harrisburg.
Now all of this being said, the Pennsylvania Capitol building itself kicks ass. Nicer than the national capitol.
Hovenaut is right. Central PA simply isn't men's basketball territory -- wrestling is as big or bigger. So PSU is forced to go into Pittsburgh and recruit against Pitt or into Philadelphia and recruit against the Big Five, all of which are far more established in hoops than PSU. So I'm not sure comparing PSU to OSU or TSUN is fair. PSU has more competition in state, and is far more removed from Pennsylvania's main population centers than either OSU or TSUN. So I tend to think PSU basketball is simply hopeless, and that PSU's fans and administration simply accept this.
I was Bryce Jordan on January 26th, and the place was probably half full and one-sixth Ohio State fans. I sat by a family of Buckeyes from New Jersey who had never been to Bryce Jordan before (they came because State College was as close as the Buckeyes came to their home this year). Upon learning that I lived locally, the lady said, "This is a really nice building..."
...and then quickly added, "Do they know they have it?"