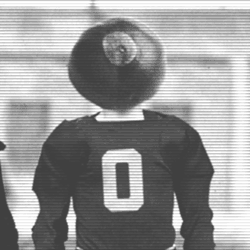 oztintacius
---
MEMBER SINCE August 12, 2014
Recent Activity
Okudah not in the top 100 players... dude will be a top 10 pick.
Weird though how winners like Urban Meyer still manage to win the "meaningless" games while losers do not. It's as if something stays constant....
I'll agree they have better linebackers than what we had out there last year - I don't think they're better on the DLine or secondary. In fact, DLine production is UGA's primary concern coming in this year.
Who has the best "roster" clearly doesn't translate to best team: https://247sports.com/Season/2018-Football/CollegeTeamTalentComposite/ USC.....
The way players are transferring now, if OSU has a legitimate open starting spot at RB, one of the high 4*/5* guys from somewhere will transfer in for playing time. Not worried that OSU won't have options.
Mahomes is the cover athlete. Texas Tech makes sense.
FWIW Tyquan Lewis has more career sacks for OSU than Will Smith. He is maybe what... Meyer's 6th or 7th best Dlineman at OSU?
Ignoring Dre'mont? Noah Spence? Tyquan Lewis and Sam Hubbard? DEPTH.
And, Chase Young might be better than all of them. It isn't close no matter how many characters you put into a post.
The wide receiver position is stacked for years and we are struggling with RB recruiting. Strange times.
Exactly.. the MLB move seemed more desperation with Borland being gimpy and clearly not up to par.
I had to click to see this comment. ¯\_(ツ)_/¯
We're going to need him at OLB against teams like Wisconsin.
The all-cooper team might be able to hold up against the double-Bosa.
Blocking two Bosa's at the same time? Nah. There's depth as well - that's where OSU's talent level has gotten much, much higher than years past. When the Bosa's aren't chasing you, you have Chase Young and Noah Spence and Sam Hubbard. The 06 team had a walk-on starting cornerback.... Meyer had 3 first rounders on the same field at CB and four when you count Hooker... it's just not even close. Tressel lost Ted Ginn and had no one else with enough speed to back off Florida - Meyer had Campbell & McLaurin & Dixon all as some of the fastest players in the nation last year.
Meyer's team has arguably the best RB, DE (maybe two), WR, CB (maybe two) in the NFL currently.
Ryan Day appears to be continuing if not elevating the recruiting. Clemson and Bama are recruiting out of their minds and OSU is right there with them.
Njigba had a HUGE rise in the Rivals 250, and Scott Jr is rising everywhere. Brian Hartline is not only doing a great job recruiting them, he is ahead of the evaluation curve.
It's probably outsourced and shoddy, to be fair.
I'd take a government run dental plan over what's in the market.. it *might* pay for something.
Wouldn't there likely more more AGGIE fans with guns ready to protec?
The people that wag their fingers at SJW's sure do get worked up and act just like them over the silliest of things.
The 007 "rank" is going to a different spy once Bond retires. So what?
Games in Ann Arbor are never easy, even when OSU was clearly better in the late 2000s. I think it will come down to whether or not Fields has the composure to make plays in that game; I expect Patterson will.
We aren't going to be quite as "fast" on the perimeter with Paris, Terry, and Dixon all gone, and I'm interested to see how that changes the dynamics of the offense.

Exactly, Dany's core desire was to be loved/adored - she resorted to rule via fear when she felt no one, Jon (also her only last living relative), the people, etc loved/adored her. Aemon's speech about a Targaryen being alone in the world as a "terrible thing" was the most blatant foreshadowing the show ever did.
Things would have gone a whole lot differently if Jon had a little bit more of that Ned blood in him and could keep a secret. Jon really does "know nothing" and should never have told Dany "hey actually that throne that you've brought 3 dragons to take is actually mine, but like, I don't want it - OK?".
This will probably be a very good section of the books if they ever come out with all the internal voice and thoughts. I really don't remember Jon in the books being so unable to read the room.
I'm ready for "Ice fishin' with Jon and Tormund"
Drogon "discerned" the real reason Dany died was her lust for the throne - not Jon. Actually one of the better moments of the episode.
That's the symbolism anyway.
Folks in the south refer to OSU as "the place 5* linebackers go to disappear"; it is definitely used against OSU in recruiting.
Then you will have a team that is more like Kentucky than Alabama/Clemson.