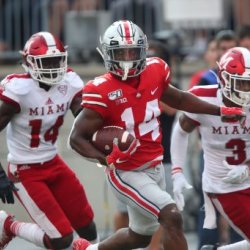 OxfordRaisedBuckeyeBred
---
Indianapolis (via Oxford, Ohio)
MEMBER SINCE March 18, 2020
OxfordRaisedBuckeyeBred
I'm from Oxford Ohio and I like Ohio State
Favorites
SPORTS MOMENT: 85 Yards through the heart of the South
COLLEGE FOOTBALL PLAYER: Justin Fields
NFL TEAM: Cincinnati Bengals
NHL TEAM: Columbus Blue Jackets
MLB TEAM: Cincinnati Reds
SOCCER TEAM: Cincinnati F.C.
Recent Activity
No. The Big Ten is gonna listen to Ohio State if they want to listen to any particular school.
Michigan is about to lose their (WARNING: VERY STRONG) foothold in Massachusetts. Apparently one of their infamous Massachusetts 3-stars has flipped to BC (Casey Phinney, Drew Kendall's teammate) and is receiving crystal balls to the Eagles right now. Don Brown is pissed.
0 interceptions is actually really impressive if you've thrown the ball 61 times
Mike Brown, new cosch and right tackle please
Plan what we had and put Illinois in Week 1. Or Rutgers.
Imagine if we replaced the X in Penix with an S i think that would be funny i think hahahahahaha
2. Morgan 3. Penix 4. Clifford
Drop a game to the tech team that beat Houston Baptist 35-33? Bailey Zappe is good but let's be real HBU sucks and Tech ain't winning any conference games, MAYBE Kansas.
Then I break out into my happy dance
She must have woke up on the wrong side of the bed.
Wyatt Davis, Shaun Wade, you hear that?
Make a big deal outta this. 300 comments, part 2, go!
Especially Rutgers and Michigan.
I really don't know what this guy is gonna be. He can play anywhere besides RB or corner. He can grow a few inches. He's at an even odder scenario than Dasan McCullough, a 6'5" kid who is probably going to end up 230 and play defense.
If we want to keep Burrow healthy we need to take his biggest health risk out of the starting lineup. (Looking at you Bobby)
Hart is horrible. We are one Penei Sewell away from being a playoff team. Feel great about '21 but not about this year especially since we have Bobby Hart. Sua Filo is a good run blocker but not good pass blocker. Williams and Jordan can be developed. Hopkins is the strongest piece to our line and an all-around good center. Hart just sucks.
I have the Ravens, Chiefs, Bills, Titans, Steelers, Patriots, and Raiders making the playoffs. The AFC has a way larger talent disparity than the NFC. The wild card teams honestly barely stand a chance and the Broncos and Texans will be outside looking in at 9-7. Just a way-too-early prediction. However the top dogs in the AFC are great, especially Baltimore and KC. Despite playing Baltimore, the Browns looked like the Trevor Lawrence team. Honestly, I think they have a great chance to be. Baker Mayfield sucks. He has regressed again for you guys while I believe you'll be a win or two better than my Bengals, you'll still suck, the running back core y'all have is great but the offense still looks bad. And listen, I know y'all had Baltimore, but that kind of start is what sets the tone for the season. The Browns will be a losing team just like they always have been. 5-11.
Takeaways:
1. Burrow looked promising but still needs time to grow
2. We are one Penei Sewell away from being a playoff team and that starts with getting rid of Bobby Hart. If not Sewell then Wyatt Davis.
3. Signing Reader was crucial. Our run defense is so much better and our linebackers, especially Davis-Gaither, looked promising.
4. Losing Trae Waynes was a huge blow. Darius Phillips is not good.
5. Brandon Wilson is the best returner in the league.
6. Bullock has got to go
I would love Wade in Cincy but my Bengals desperately need Penei Sewell. If not him then Davis.
Great idea, Beserkr! Not as many people pay as much attention to OSU lacrosse. I like how you make these forums out of your passion and dedication to the game. It helps more people get into an underrated OSU sport. I would love to get deeper into other OSU sports like I do football and basketball, and things like this can spark my interest at any given moment. Thank you!