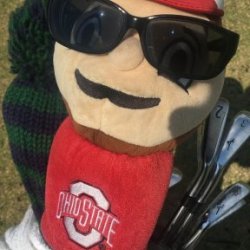 outnumberedSCBuckeye
Rock Hill, SC (via Kettering, OH)
MEMBER SINCE October 10, 2017
Favorites
COLLEGE FOOTBALL PLAYER: Craig Krenzel
NFL TEAM: Carolina Panthers
NBA TEAM: Charlotte Hornets
Recent Activity
in response to the legal footnote: It would be so much more fun if we really had that money...
I signed up last night but was unable to comment due to the increase in HS needed. I'm in and just to let you know... Im taking TJ Barnett with the number one draft pick. Never heard of him but I hear he is a new student at OSU and supposed to be a stud.
I second this statement. But any Tom Herman/stripper information that comes out is fair game?
Also Earle...how could you let this all happen???
This has to be passed around more than just on this thread. Great work KBonay!
I read it and unfortunately that's how I feel before every game! lol But I think that's why I love watching the games. Come to think of it something may be wrong with me
What about petting the pretty stuff?
I guess I am just tired of the preseason negative talk on OSU. This has been a bad offseason...ready for September 1 already!
NO WAY! Now I am really insulted...
I am not sure what you are selling but count me in after all that.
This hit me right in the feels...happy friday everyone.
I lived in Lebanon until the 4th grade, when we moved down south. Its still a fun town to drive through and visit, esp the village ice cream parlor(my mom worked there while we were there). Fortunately I was too young to notice that stuff back then(left 1999). Its a shame what is going on up there. I still have family in the area.
Just getting around to this thread...and after all that came to light this weekend, going to Houston would be a power move for them. ha
DONT DO IT. Btw I like your profile picture there. I can't really tell, is that a bumper sticker?
Rock Hill, SC. I have to put up with both SEC and ACC fans round here. It is brutal.
This video is a bit of comic relief in an otherwise very serious situation. Is this guy being serious right now? Has he ever watched a football game? Heck I push myself harder than any of these guys describe being "abused". And I might run a 6.0 40 yard dash... Just the other day I got a beer thrown at me just for the fun in it.
My parents moved down to south of Charlotte when I was 10. 18 years later I have never even thought about moving back. I go visit family in the winter sometimes, but otherwise don't go near there during the winter. Way better down this way...
Grits. As someone who has moved to the south, everyone here loves grits. There are not a lot of foods I despise more than grits. Just them being on my plate is grounds to take the food back. I have no shame.
Amazing to look at the Charlotte Chess Center and see Eddy Curry name on there. At one point he was supposed to be big stuff.
Only if you use the bright pink golf ball...
I am a huge golfer, but don't live in the DC area. I'm currently a scratch handicap. The best advice I could give for those girls is keep it fun. As long as they are having fun that's all that matters. US Kids golf stuff is awesome, definitely sign them up for the Drive, Chip and Putt qualifiers.
I absolutely agree golf is on the upswing. Lots of talent coming through the amateur circuits as well. It is about to get even more competitive, and if Tiger can get winning again(which I think he will) then the game is going to be very popular again.
Graduating from High school and living in Rock Hill, SC (Football City USA), I go to many HS football games. I have seen many incredible athletes and future college/NFL stars. Just in the last few years I have seen Stephon Gilmore, Cordarrelle Patterson, Jadeveon Clowney, Mason Rudolph, Jaleel Scott, and could name many more in college now that have a chance to be pros. Its also home to Benjamin Watson, Jonathon Joseph, Derek Ross and Jeff Burris. The talent is incredible and the atmosphere of these games is incredible. I have been to a couple of games that had 10,000 people there.