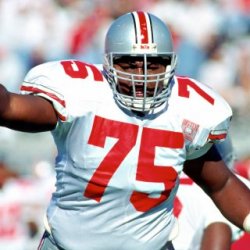 otrain2416
from Akron
MEMBER SINCE January 11, 2012
Favorites
SPORTS MOMENT: The Game
http://youtu.be/iwuXzK5Mehs
http://youtu.be/gUk7KbaiTPw
NFL TEAM: Cleveland Browns
NBA TEAM: Cleveland Cavs
MLB TEAM: Cleveland Indians
Recent Activity
Sorry Kentucky you will no longer be getting the 4 stars we can't sign.
O'Doyle rules!
Buckslans- as a Hoban Alum where they both are attending HS, I'm 99% sure Hoban won't let students graduate early.
Wow looks like a top notch class. Reenan would be the icing on the cake. Was shocked to not see any Ohio kids as well.
What position battle is most intriguing for Spring ball? Any word of guys making big strides/ (Darron Lee like transformations)?
Playmakers? Yes Please.
***Flag: Personal foul hands to the face.
I'd save this question for once spring ball gets rolling
Grand Cayman is wonderful for scuba diving and snorkeling. The night life is fun but your not going to get Cancun or Vegas size clubs there. Some of the clearest water you'll ever see
Costa Rica is amazing. Lots of different options there such as zip lining, jungle excursions, good fishing, Volcano hot springs, and the beach
He just won state championship at a school that's never had a state championship...
If we're taking a Juco OL in my mind A) Someone is leaving B) Our guys we've taken the last few years aren't developing well.
Trust Urban Meyer, we have an incredible class right now and anything else is icing on the cake.
Just keep pushing the knife in deeper
I don't see us landing Hamlin. The city of Pitt has not been kind to us recently and I don't see that changing.
Maybe they used that recruiting pitch: "If it wasn't for football he wouldn't be able to attend TSUN." again
Please invest money into good players not renovations
Not just a forcast a MAJOR crystal ball forcast whoa
M Man is back
Can anyone confirm if we're still gonna have room for Timmons?
It's not a bad idea, but I doubt Grimes is going to publically verbal anytime soon. Wouldn't surprise me if he wants to take some visits.
The last silly commitment video I saw was Ahmir Mitchell's video to TTUN. Is this video commitment a Jersey thing or what?
He just wanted all the Miami guy fans who will be disappointed with his announcement to OSU to quickly forget about it
In the mean time, while we're down south picking our nose swinging and missing, Dantonio is up here cleaning out house on DTs or guys that could be DTs. One guy who wanted to come to OSU Austin Robertson, and 3 others Josh King, Naquan Jones, and Mike Panasiuk who are all 4 star guys that will most likely have great careers at MSU.
Lazy isn't going to get you anywhere at OSU except a spot on the bench or transferring to the MAC or FCS
He's probably recruiting kids for his sleepover later