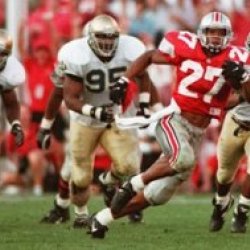 osusteveb5875
---
Member since 15 August 2011 | Blog
Favorites
SPORTS MOMENT: 02 Championship
COLLEGE FOOTBALL PLAYER: Eddie George, Mike Doss
COLLEGE BASKETBALL PLAYER: Jimmy Jackson
NFL TEAM: Cleveland Browns
NHL TEAM: Who cares
NBA TEAM: Cleveland Cavaliers
MLB TEAM: Cleveland Indians
Recent Activity
Tragic story. Nice to know he's still thinking clearly though.
Totally agree. I remember watching OSU basketball(!!!!) and falling in love with OSU right away with Jimmy Jackson, Jent, etc. I also remembered being wholly crushed when TTUN beat us to go to the final 4. So I then did what any reasonable young kid would do: my best friend and I "committed" to The Ohio State University in second grade.
Sure enough, when it came to visiting colleges, my parents were pushing hard for Miami University, but I wasn't having it. I applied to 1 school, and determined that if I didn't get in, I'd go to community college until they'd have me (Fortunately I was accepted).
Things came full circle as that same best friend that "committed" with me, transferred to OSU after his sophomore year, and we even had the good luck to graduate in the same quarter.
I may not understand the UA angle, but I totally agree... you cannot control where you're from, and even if I could, I wouldn't change a damn thing.
How Firm Thy Friendship...
Fantastic. I used this video to taunt several "friends" of mine that root for that TTUN to pet them know what my plans for their yard is when they go out of town.
Tim,
Would young need to sit a year before being eligible if he did come?
The guy performed at Butler. I'm guessing his resources will be slightly better. A lot of people probably weren't too excited about some guy named Thad Matta either a while back and it worked out pretty well.
Sorry. Fair or not the noon games has become the spot for games like Akron/Kent, Oklahoma/Tulsa. I do respect tradition, but a 3:30 game wouldn't hurt anything (and didn't before). The national reach is much better with a 3:30 kick. And while we may want to say "we don't care about the rest of the country!" Let's think about how Urb's recruiting has really gone national. That young 12 year old in California who will one day be a 5 star, may watch a 12:30 PST kick off but sleep past the first half for a 9:00 am kick.
Did 11W have to place the franchise tender?
I'd agree with you, but you just never know what is going on right now in their lives that's making them want to come out early (you could've made the same argument for Jalin Marshall last year).
And while the NBA is 1000% the goal, if you're not quite good enough, you can make a nice living overseas (something not really available for the football guys except for in Canada).
Not saying it's the right (or wrong) decision, but each person needs to do what (they think) is the right call for themselves.
While I'd agree, I think it's a much easier sell to say "let's turn it around" when the same coach hasn't been there for 15 years. I think Thad is a good/great coach, but it becomes a much tougher sell in my opinion
Total savagery. You know Mike had that one waiting for him
Deserved, but still hurts. That's the thing you need to overcome when you have a formerly thriving program and the same coach is still there. I've always been a Thad apologist, but it's going to be tough to overcome the perception.
It seems like there are too many examples for it to be a coincidence that Ohio kids generally work out better at OSU than non-Ohio kids
I do not disagree that we've had some talented Ohio born kids slip away, but that's a function of a basketball program and only being able to take 1-5 players per year. I also do like the focus on more Ohio kids, but you cannot discount the impact of the out of state kids (Oden, Conley, D Thomas, Turner, Dangelo Russell, etc).
My thoughts exactly. I'd be more concerned with a team that didn't have a qb room like ours
Please don't DV me, and while I have no ill-will to the CBJ, I just wish they had been around during my earlier years developing my fandom. As a native clevelander, I enjoyed hockey, and my only alternatives were Pitt or Det. I chose the one not more closely associated with TTUN,
Having attended tOSU during their first years in the NHL, I really tried to care, I just couldn't get those feelings going.
That said, I wish the CBJ the best and the new site. Maybe I can finally get around to loving the openly NHL team the OH
He's one of two Buckeyes I was realistically hoping the browns would get (Michael Thomas being the other, with Zeke and Bosa most likely being too high to draft at 2 with so many holes). Glad we could at least fix one of the two wrongs.
Always wondered about that. Do the coaches tell them they are "offered" but they can't commit yet? Seems like an awkward convo. Seems to me that you're either offered or you're not
EXACTLY my thoughts. Even for an adult, 2 minutes doesn't seem like a long time until you get news like that to change your life
I'd get it if it were all Buckeyes trained by Herman, or all UT.. the combination of both is a bit perplexing
I always loved Musberger, but it may have been more of a function of being someone in their mid-30's who grew up for a lot of my life as him calling some of the biggest games than him being a great play by play man. When he got moved to the $EC network, you could count me amongst those that weren't too happy about.
The call for "holy buckeye" is one that I can't get over watching, and so many other great OSU/TTUN games with his play by play.
Great, good, or bad though, he had a hand in watching some of my favorite games as a young adult.
Like most people, I don't know much about this guy, but reading between the lines, what this tells me is that Urban may have "encouraged" Beck to take the job at UT knowing full well he had a guy lined up to replace him that he preferred.
Also, it's not Chip Kelly (pipeline dream), but I'm sure Urb's got plenty of info as to what to expect from him from Chip.
DJ,
Did you ever release the video of you and savage tiger?
Hartline and Boone need to just get the hell over it.
i get he was arrogant (may still be), but sometimes you just need to let things go