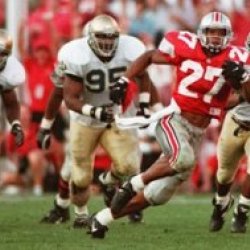 osusteveb5875
---
Member since 15 August 2011 | Blog
Favorites
SPORTS MOMENT: 02 Championship
COLLEGE FOOTBALL PLAYER: Eddie George, Mike Doss
COLLEGE BASKETBALL PLAYER: Jimmy Jackson
NFL TEAM: Cleveland Browns
NHL TEAM: Who cares
NBA TEAM: Cleveland Cavaliers
MLB TEAM: Cleveland Indians
Recent Activity
I guess urban knows how o recruit a little after all
As a browns fan, I'd love for them to take a flyer on him. But also, as a Browns fan, I know we (inexplicably) do not draft Buckeyes
Great piece, Ramzy. The imagination you described just made me revisit my younger impressionable teenage years when he was prominent.
The only person that I currently will be able to associate with that now is Musberger, even though he's also moved on from calling OSU games (and from college football as of 2017). His voice rings for me every time I hear "holy buckeye" or "let's party Columbus" (the final play of the OSU/TTUN game in 2002)
Brilliant. Go get it, big guy.. not being afraid to put yourself out there will hopefully get him the position he's looking for.
"Beat Michigan" is on his resume... fantastic.
Side note: Bollman as a reference???? I'd be leaving that one off unless it was to show his accomplishments despite being coached by him.
It's a compliment. Nobody talks sh#t about Illinois football, because they don't care. It's the same as the fans that chant "we want Bama"... nothing but a compliment.. also, welcome to the party Georgia... haven't really seen ya in a while!!
Nice to know we are always on your mind!!
All the confidence in the world he'll keep attacking this like he did my Browns... #Shalieve
I get the feeling Jones was the leader in this class, and when he waivered, they all began seriously considering other options. Unfortunate, but still a loaded class. Hopefully we can get another tackle and DE (or two) and I'll feel really good.
He's a kid. I would've LOVED for him to have joined the Buckeye family, but I'm not going to fault him for doing (or going) whenever him and his family think he will be most happy/successful.
Feel the same about E Jones. Wish he would have gone about it differently and not strung us along, or better yet, still signed, but we know we will be fine.
Its all unfortunate, but no one on here criticizes Dwayne Haskins for reopening his recruitment while committed to Maryland. Not to say he deserved criticism at all, just that these kids are making HUGE decisions that will impact them the rest of their lives.
Better for the kids to do it now, than to regret it later and it be unproductive for all. Maybe it's the right call for them, maybe not. But can you imagine the pressure of deciding your school while everyone online cheered/jeered your decision?
First, good luck to the kid.
Second, this day just needs to end for Buckeyes fans. I've never been so disappointed to have a top 3 class.
Crap. I just finished this article, and then realize Ramzy posted this. Now what the heck am I supposed to do at work tomorrow after lunch?!?!
With us not being able to recruit him, it seems like the right time for "Bag Man, DJ Byrnes" to step in.
Agree with your point as to why would we hire a first time coach, BUT, technically after Fickell was hired (very shortly after) they removed the interim tag. So he was technically a first time head coach.
Puts things in perspective. I was a kid who began my fandom precisely in line with the Cooper years. I've relished the last 17 years, and the reality is, it probably won't last forever. We NEED to enjoy this Buckeye fans. Although winning a few more national titles is always the goal, let's not forget how quickly we could fall (case studies: TTUN, Tenn, and Texas).
Look at the bright side UT fans, it keeps the door open for when Gruden wants to come
Finally something with bi-partisan support
In related news, the SEC has forfeited the 2021-2022 season so that none of their teams will be in danger of having to travel north of the Mason/Dixon line
I hear your point, I guess I'm just totally fine with them pushing the supply and demand aspect, especially with so many eligible faculty purchasing tickets for the sole purpose of selling them.
I agree that a down year will create potentially empty seats, but tickets are sold well before the season starts. I'd venture to say that if it was a down year and demand slowed, they'd adjust prices accordingly to ensure a full stadium.
By no means am I trying to be the "corporate guy", but if my choice is to make OSU money, or to make brokers/resellers money, I'd rather it go to them.
This may be the unpopular opinion, but I totally get it (besides the insane price of Nebraska unless tTommy Frazier and Lawrence Phillips arecoming back to play).
They saw many season ticket holders, who have them because they were grandfathered for the tickets in the 80's consistently make money by selling 1 (or more) games and basically having most if not all of their season paid for.
Lets face it, the average fan wasn't going to the Michigan game anyways (unless really lucky for a hookup or spending a ton of money) regardless of what the face value was. OSU simply decided that instead of making the brokers wealthy, they would be getting in on it.
As an alumni of the 2000's, it was really frustrating every year to be handed Indiana while people were able to get season tickets at way below value and having to pad their pockets.. maybe this will clear out some of the people that weren't really fans and purchased the tickets every year as an investment.
I do also agree though that something should be done on prices based on seat location. Never understood how B or C deck is the same price as A or AA
These are the types of people that make OSU fans look bad. I'm pissed. I wish things went differently. I wouldn't trade UFM for anyone alive
5 star character all the way. He's got maturity that many adults don't have
Nice pull! As a Clevelander I even forgot that... I'll cut him some slack based on the intern label though and the fact that I didn't even remember to think of that