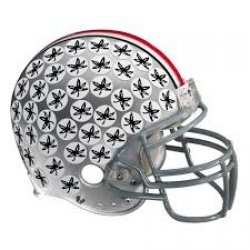 Osusam77
---
Live in Ct and NJ (via Cleveland)
MEMBER SINCE September 08, 2014
OSU Grad - lived in a number of places. Was there with Archie.
Recent Activity
Who is driving this? Maybe they need s new GC or new Marketing manager.
As Day said, performance is what matters. Alford has missed several top RBs in the last 5 years, so he deserves some heat. But I'm not sure his job should be questioned at this point.
I'm one of many OSU fans wishing him the best. Yes he could have left under better terms, but he never threw hate on OSU. Can't take the whole thing too personal. I won't throw any stones, lord knows I have made a few mistakes in my life too. We need to focus on winning a natty this year!!
Healthy is the million dollar question. His track record doesn't support this and with Teague out, we are very thin at RB.
This article needs to go on 247 or ESPN or another sports line. Send it to ESPNU.
Can someone send this article to the jerk who raised the Meyer issues last year. Can't remember his name. Maybe we can start a flicker of a flame with him or someone else looking for some press.
As it turns out, the two silent commits changing their minds at the last minute was a major screw job to us. The staff walked away from some recruits and told others there was no space left. Hard to reopen recruitment after you're told your are not a take. The staff will never let that happen again. We got screwed by these guys.
I get why people are disappointed. I'm disappointed, since we lost out on just about every top RB (those we wanted) in the last 5 years. Losing two silent pledges this year really hurts. Whether it's his fault or not, it's a bad look and he ultimately should take some heat. But anyone suggesting he gets fired for this is nuts. It's just one of many factors to consider in his performance.
Look at Woodstock - north
That's why Alford is getting some heat on this board- whether he deserves it or not. It's that the facts are hard to understand.
OSU will be fine with the current RBs and 2020 class (tbd). But that's not the issue. OSU wanted several 5 star kids and a few high 4 star kids and wiffed on them over the last 5 years. This current class was especially tough. The facts are the facts and Alford had to settle for second choices often, although these guys are talented and should be fine. I would give him a B or B + as a coach but a lower rating as a recruiter. Recruiting top RBs at OSU should not be that difficult so that's also part of the issue.
You are right, but how many 5 star backs have we whiffed on or not even been in the running for over the last 5 plus years? We will be fine, but it's disappointing. I'm guessing that Day is paying attention.
We have had some good backs but we should be in the running for the best backs with our history and reputation. The facts are that we haven't gotten a five star back in years. When your the position coach, it's your issue. Does a CEO get away with saying our bad sales are because the economy was bad, or an account manager say - it's not my fault I can't land a top account. The buck stops somewhere and he has whiffed on all the 5 stars over the last 3/4 years. Thats the fact. Do you really think Coach Day thinks it's OK? He keeps track. This is the real world.
Dobbins yes, the other guys are wait and see. And weren't those guys afterthoughts when we couldn't get/keep our first choices? They may end up being great RBs (they are talented kids) and I'm not saying that Alford is a bad coach, but we have had several years where we weren't able to get our top choices. Just the facts as I see them.
Not a good look for Alford to wiff on the several key 2020 RBs OSU wanted. No hate, but disappointing. The facts are the facts.
After just watching the Purdue game again on BTN, all I know is that our LB play needs a big upgrade from last year. Our DBs didn't look great either. With all this talent, it had to be the coaching and scheme. I think Borland is one of the first guys to be passed if he can't move better. I wish him the best, but we need better play at the Mike this year either with him or without him. Going to be interesting this fall.
I said it before and I'll say it again. Would you want to play for Day or Harbaugh? It's a no brainer!!
Who would you play for - Day or Harbaugh- Duh
What really confuses me is how he manages to bring in good recruits. Ttun has done nothing for years and has during his term not only not won the B10 East, but has gotten spanked in their bowl games on national tv. I know they have history, good academics, and good facilities - but it is not a school I would go to if my goal was to win a championship. They haven't done it in 20 years. Add that to their own set of controversies and craziness in the locker room and coaching staff - and why take the risk. But the media will still give them a top ten ranking.
I agree- sad how many people here don't know the Northberg. Buckets of 3.2 beer. Remember it well.
So glad to get another boom!
Well spent the last hour reading all 300 comments - great read. You guys are very entertaining and you got me feeling pretty good about our recruiting. Go Bucks!