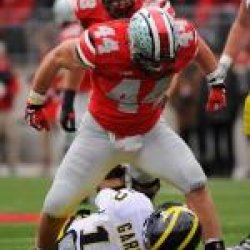 Osurrt
---
Avon, Ohio (via Painesville, Ohio)
Member since 29 December 2012 | Blog
Favorites
SPORTS MOMENT: 2002 & 2014 National Championships
COLLEGE FOOTBALL PLAYER: Chris Speilman
COLLEGE BASKETBALL PLAYER: Clark Kellogg
NFL TEAM: Browns
NBA TEAM: Cavs
MLB TEAM: Indians
Recent Activity
Great GIF. I will guess it is an "in game snack" for Crazy Jim.
Agree. And remember he was promoted as there were rumors of him being a candidate for other head coaching jobs (just like Withers). So the question becomes was he really ready for the role? Or qualified? Not discrediting his execellent work with the OL in that championship year as the got a largely unknown group to a high caliber during the season. It happens everywhere when there is a risk of losing excellent position coaches, but is it the right decision for a place like OSU where the expectations are through the roof every year.
Wait....trolling UFM and Saban. And he is the head coach where? Florida Atlantic University? Guess we will see them on the big stage soon!
Or conditional work-release sentencing
Wait.....other B1G notables......A Heisman invitee @ #33?
Probably knew he would be back in a few years coaching in the Big 10 at Maryland.
That was my favorite. I bet if the film kept running you would see the rest of the agents just walking through --LOL
Did he say..."Short of choking out an offensive lineman....". I had that thought several times during the Penn State and Clemson games. Does that make me a bad person too?
Now.....hold my beer and watch this!
This is one of the problems when you are consistently in the Top10 recruiting ratings every year. That talent creates a huge backlogged of players and eligibility. For example:
50 of the 70 guys (excluding 2017 class) have a redshirt. That is 71% of the roster and doesn't include those that have recently transferred
Many of these guys, don't see the field until year 3 (Lee, Hooker, etc...) and then the talent shows and blow to the NFL....So you get 1 full year and some special teams from these guys.
This past year fielded a team of 43 (50.5%) that had yet to step on the field and yet the talent got us to the BCS
While it gives us something to talk about during the end of another BCS run and Spring ball, it all works out in the end. People worry about kids being "forced out", yet we have not heard of this yet in Meyer's reign with the exception of one recruit that never received medical clearance (I know he went elsewhere, but never heard if he saw the field yet).
And prepare to go here again in early 2018 with only 13 Senior scholarships. And with other 15 third-year eligible guys next year, I don't see as big of an exodus on early entries as we have seen the past 2 years barring some major breakout years (which wouldn't hurt my feelings). So we will be looking at 15-16 "eligible spots" in January of 2018.
Not sure if he dressed or not (doubt it if he was out the entire fall semester due to grades because he cant practice if I remember correctly). That being said....he would have been Academically Ineligible after Summer Semester for Fall (hence he was out). But if he pulled the grades in Fall Semester that ended in December, he would have become eligible thereafter.
James Clark? Seems like he arrived on campus about the time that Obama assumed the presidency. Dude should have a undergrad and graduate degree by now.
Late night cocktails in the Menger Hotel are a must (and cheap).
Was wondering the same thing. Just look at the Scholarship Grid here on 11W (love that featured. It lists the following:
Confirmed Departures as of now -8
SRs- 16
Jrs - 18
Soph - 30!
Fr - 12
So when you add those up from Fr-Sr. You have 76 Scholarship players meaning we will have 9 slots for (17 as of now) maybe as many as another 20-22 recruits in the 2017 class. There are probably another 3-4 current players that will declare moving us to 12 departures. Which means another 10-12 guys will either become medical hardships and/or transfer after Spring ball. Looking at the roster, i can guess 4-6 of those candidates myself.
Well that was refreshing as I thought beck left at halftime of the PSU game and took Cutis Wilson with him
I think some of these wideouts will need to go. They are 2-3 years into the program and aren't close to seeing the field. And with 3 potential studs coming in2017 along with the development of Mack and Victor. We have way to may "wide receivers" on this roster that still needs about 3-5 people to go to get the 2017 recruiting class in completely if it reaches 20-22 new recruits.
So is it safe to say,"the oars are in the frozen waters again"?
Have to believe Wilson's time in the Big 12 also gives us a good recruiter in the Southwest and Texas with our two former recruiters there now at UT. We need to maintain some strong ties there with recruits.
Was just about to type the same thing. Embarrassingly out coached. This is the second time by Clemson staff.
No....JT doesn't run anymore. He dances
Time to get rid of Beck and Warriner
How does Weber have one freaking carry on this game that is almost at the half?