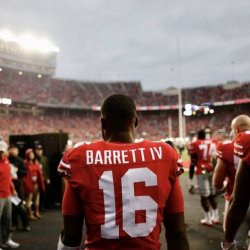 osunick1221
---
MEMBER SINCE October 28, 2019
Buckeyes > Everything.
Enough said.
Favorites
SPORTS MOMENT: "Barrett...looks...fires... TOUCHDOWN BUCKEYES! MARCUS BAUGH! J. T. BARRETT!"
COLLEGE FOOTBALL PLAYER: JT Barrett
COLLEGE BASKETBALL PLAYER: Aaron Craft
NFL TEAM: Nada
NHL TEAM: Nope
NBA TEAM: Still no
MLB TEAM: No
SOCCER TEAM: Only the Bucks
Recent Activity
He was talking about the 2016 game.
After watching his tape, I can't say I was overly impressed. He's a great tackler in space and has good speed when chasing down a scrambling QB/RB behind the line of scrimmage but nothing about that tape makes me think he's a 5 Star. Barely any pass coverage film and the majority of his plays are him rushing at the line of scrimmage or spying the QB and attack when the pocket breaks down. Sounds like an ILB to me and we already have that in Carrico. Some may disagree with me but I like Carter a lot more although that seems unrealistic now.
You do know that rankings aren't always correct right? The staff's priority board is made up of who THEY want. Not who's ranked higher.
There wouldn't be any one better in history for OSU. By far greatest of all time if it went through.
Are we planning on taking 3 or 4 guys this year?
Allen Trieu said in the summer
It was basically hinting that Ohio State wasn't too high on Troy's list and wasn't even sure if he would visit.
Second CB from Trieu in our favor!
EDIT: I now realized I was late lol
I think it's because the rankings aren't final yet and he may be moving some more.
Is anyone aware of what time the rankings will be released?
Evan Pryor will commit before April.
https://lettermenrow.com/ohio-state-football-recruiting/ohio-state-buckeyes-football-recruiting-evan-pryor-jager-burton-garrett-dellinger/
He cut out Notre Dame.... Hmmm
Bill Greene believes Washington leads for Emeka and UGA slightly leads for Pryor. Also thinks Demeioun Robinson stays in the south while Monkell Goodwine would not be a take for us as of now.
($) https://247sports.com/college/ohio-state/Board/120/Contents/CHAT-questions-for-February-6-143427058/
AE, what are the chances we only take 4 Offensive Lineman in 2021?
Correct. Demeioun Robinson.
Evan Pryor said on his Instagram Story a few days back that he will silently commit in the Summer and then announce it in the Fall.
Wasn't there a crystal ball for Pryor to Georgia too? Maybe it was AE's and he changed it.
https://247sports.com/Article/Ohio-State-Buckeyes-podcast-142104545/ (in the comment section)
Dave Biddle and Bill Greene just said OSU is "kicking the tires" with Zach Evans and to watch for a visit.
Did his plans change? On birminology he said he wanted to commit in spring at the latest.
Good to see he knows what truly happened that game. I like him already.
We would have the best OL class in the nation if we could snag him, Latham and Tristan Leigh.
Birm thinks we lead for all 3.
He can't say we didn't warn him
Probably similar to the Deamonte Trayanum scenario