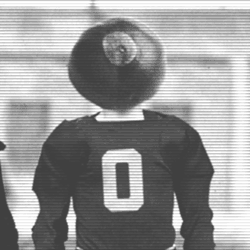 osu_nerd
---
MEMBER SINCE December 31, 2014
Recent Activity
Day's advice to Ogeron can be to pay the refs more than Dabo does. /s
In 30+ years of watching college football, that was one of the worst calls I've ever seen.
59-0
He's an ass on the field too. He's still fine as a player in that he can perform athletically.
It's not my fandom. He's fine as a player. He's also an insufferable douchebag no matter who you root for.
I'm excited to see all the new guys play. But something about Ballard's game is especially exciting.
From my student days (97 to 02) until about 2006 I used to go to several games a year on student or alumni packages. The hike in ticket costs, the advent of HD TV, cheaper beer in the fridge, a counch more comfortable than half a seat on a metal bleacher, and my increasing need for several bathroom breaks, have all led me to just stay home. My wife is still pissed I took my dad to the 2005 Texas game instead of selling the tickets to pay the mortgage.
So I guess Colorado State dodged a bullet.
It cuts both ways...if Tathan is still on the roster through spring you potentially have to split first team reps 3 ways instead of 2.
Where's Shane Falco when you need him?
Maybe we can get somebody from the club team or a rec league to try out.
Interesting timing to be suddenly homesick *after* spring practice is over.
Probiotics and so forth.
I'd love to blow the doors off Pitt a couple of times. Give Mark May another thing to bitch about.
Just put him on the Alex Boone diet.
Yeah it's not a good look for Mr. Sampson when one of the main sections on his Wikipedia page is "NCAA Violations".
I hate Saturday night games.
I hate Saturday night games.
I would love to get the best players at all positions regardless of where they are from. That said, I also think a lot of Ohio kids are underrated or take just a bit longer to develop due to the lack of spring football for Ohio high schools.
I love the header pic on this article. Not exactly sure what Fran is trying to do...
Wasn't Fick a ST coordinator before he started coaching linebackers?
But does he have a degree in psychology?
Shazier for my money.
Dave right, Dave left, 3rd and long.