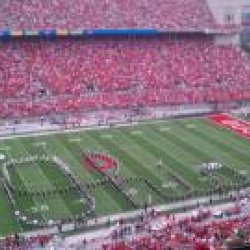 OSUNeedles
---
MEMBER SINCE June 25, 2011
Favorites
SPORTS MOMENT: 2002 National Title. 40 yard line upper deck.
COLLEGE FOOTBALL PLAYER: Eddie
NFL TEAM: Bengals
NBA TEAM: Used to be Bulls until they drafted Pube Head
MLB TEAM: Reds
Recent Activity
379
I read any article about addiction, especially in anesthesia providers, that pops up. As a Nurse Anesthetist (who sometimes works in a facility where I am the lone anesthesia provider) it is terrifying to think what one really bad day could do to your life. I have never been tempted, but neither had she, and that is a reminder to stay constantly vigilant in finding healthy outlets for stress. So far exercise, video games, and food have worked out just fine.
Need enough to pay my insurance Out-of-Pocket max for the year and Dr. Kaeding (team MD and fine ortho surgeon) on standby.
Sixth Offensive Player of the Year Award in a single season!?! I dare say, that would have to be a record!
My brother and I were texting all day about how much we love New Bobby Olive... think we could get him to switch to #8 next year?
I feel like there were a fair amount of Berry lined up in the backfield and either it went away or I stopped paying attention.
Made Liber-Tea that year and every year since for the 4th... It will forever be a staple and a tribute to the greatness of both America and 11W!
Michigan seems to be stacking up coaches from Uranus.
Ah yes... Bill Cosby and a gorgeous day on The Oval (because the stadium was being renovated) for a graduation... and of course a wicked hang over. I remember that day well. The night before is a little hazy.
I am curious of other people's opinions of Vortex if in my height range (6'4")... it is completely painful! Still ride it everytime... but it hurts like hell!
Michigan State played tough, but that game was more poorly coached than any of the Cooper atrocities.
I agree, and I have said all year that it is not his play calling that is missed, but rather his ability to prepare and coach QBs. It seemed like the QBs were always very confident in their decisions and made them quickly under Herman. Not sure what he did differently, but I doubt I would understand it anyway... you know... with his Mensa-ness and everything.
I always claimed that I should get free Michigan tickets because I was with my Dad at both of Cooper's non-losses to Michigan in the Shoe and none of his defeats... both those games also had halftime streakers. One did a cartwheel at the 50 yard line and the other struck the heisman pose at the Michigan bench. So, maybe it wasn't entirely mine and my Dad's magic.
Template.... there was once a Skully posted entirely as the template. It lead to one of the greatest comment threads of all time, but I believe it disappeared once the real Skully posted.
Ha! I was reading through comments and my add at the bottom had a headline of "Suffering ankle pain?" Very apropos!
To be fair... I do about the same thing to any OSU fan who says, Meatchicken, Brady Choke, Horribaugh, or anything of the sort.
Nope
I heard a 16ish year old girl tell her friend, "here, take my phone and take a selfie of me!" I told her that, generally, we refer to that as taking a picture... I don't think she understood...
I remember a basketball game where the opposing point guard was Alibaba Odd (at least that is what it sounded like on the radio) and you could tell that Keels was enjoying saying it just a bit too much.
This years winner of the Bam Childress/Taurian Washington Award for Spring Game MVP!
That's a pretty good choice... I might die of old age by the time I get all the meat from the crabs!
My brother and I never understood why there was such a big backlash about the pass interference call at the end of OT. Everybody in that stadium seemed okay with the call... Then... we got our DVD of the game a few months later. Fouts was the one who made that the shit-show that it became.
Hey... I graduated with that guy! Perhaps a congratulations text is in order!
Stay strong. What you are doing is not easy. I have no idea who you are in the real world, but I am insanely proud of you.
Married in Vegas... Came home to Columbus and had a reception in the back yard. Bonfire, burgers, hotdogs, and the 2006 OSU vs Texas game projected. Whole reception cost about $350... Loved every second of the day and every second of my life with my wife since.