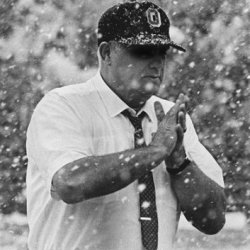 osu_killernuts
Member since 30 September 2013 | Blog
Favorites
SPORTS MOMENT: 2003 BCS championship game
COLLEGE FOOTBALL PLAYER: Sam Hubbard and Malik Hooker
NFL TEAM: Chicago Bears
NHL TEAM: Chicago Blackhawks
NBA TEAM: Cleveland Cavaliers
MLB TEAM: Cleveland Indians
SOCCER TEAM: God intended for us to play football
Recent Activity
And joins Ohio State after Schiano gets a head coaching job??
Who is more talented....the starters or the backups?
Aka good problems.....rather Ohio State problems
I forgot to call my shots.....
1) Offense is the highest scoring per game average in Ohio State football history
2) TTUN goes 5-7 this year and doesn't go bowling
The Illini are going to be better than stated above. If Dudek returns to form and Crouch stays healthy, they have plenty of weapons on offense between those two and Turner at WR along with Foster at RB. Most bottom of the barrel teams don't have a quality dual threat at QB and quality talent at the playmaker positions.
That being said, they may still finish 3-9 but I could see them striking fear in teams and forcing opponents to win in a shootout.
I'm glad the Bucks play them the week before THE GAME, opposed to TTUN facing Wisconsin (yikes!)
Lies, all lies.....there were not 4 passing plays that went 40+ yards, I need proof /s
I still believe that Parris Campbell will have a break out year like Samuel did last year. Samuel showed some flashes here and there before last year. Urban stated he was there best playmaker in camp and then - boom, boom - Samuel starts blowing it up on a regular basis. This year, Urban made some similar statements about Campbell, maybe to a little bit lesser degree. Regardless, I expect Campbell to have 500 rushing, 700 receiving and 8 TDs this year. I also think Baugh, Dixon and Weber have big year and some flashes here and there from Mack and Grimes.
JT Barrett.....great QB, better teammate, incredible leader but an even better man (who will someday make one hell of a football coach)
Fan Duel, along with Draft Kings have both canceled college fantasy football prior to the beginning of the 2016 football season.
If you want to play, Fantrax (fantrax.com), has the most comprehensive and thorough site. You can also customize the league settings to have only certain conference players available, which makes it much more interesting. My buddies and I do a big ten only league, it is a great time. One of the best things about the league, is when Ohio State plays at 8 pm and you are left watching Minnesota vs. Illinois or Purdue vs. Maryland - you will more than likely have someone to cheer for or against every game. Plus, it makes you want to watch football from noon until midnight for 13 straight Saturdays and that's never a bad thing.
I highly suggest you join a league or set one up on your own.
Ummmm......scUM isn't releasing a depth chart, it is double top secret classified information. How dare you conspire to determine who scUM trots out onto the field and what their running back rotation looks like?
In all seriousness though, I think Akrum Wadley should be in the top 10 on this list, ahead of Evans...and Scott should be ahead of Evans also.
what the f*** is a Hoosier? /s
Still have 28 more long days.....I'm ready for August 31st
5) Gary (DL depth is a killer; he drops this low only because the Buckeyes already have a decent rotation)
You forgot the italics .... already have a decent rotation
Does that mean I know more about golf and the Masters than OSU sports? Haha!
Fun tourney and drama to the end....just as it should be at the Masters,
DJ, Pieters, Fowler, McIlroy, Casey, Sergio....will all be in contention
3rd place: DJ
2nd place: Fowler
1st place: Sergio (I just have a weird hunch about him this week)
Brendon White....just another true freshman with size and wheels!
Jameis let him know the crab legs are plentiful and free at FSU too. /s
So where is the other 1%? 3 teams at 33% is 99%....hmmmm /s
Myers power snatched 155 lbs and flipped a 1000 lb tire with relative ease. I'll take those physical attributes and college level coaching to become a solid OL at OSU. I mean, how many technically sound OL come out of high school and don't have a learning curve for the college game? Few, very very few. I'll take a 4* OL like Myers every year without a doubt.
Boise State, Clemson, Stanford, Florida State....and everyone from the SEC
Don't want to sound like the "grumpy old man" here, but....
...STAY OFF MY LAWN!!!!
Samuel, Lewis, Lattimore....stay, go, go
My 20 yard dash time will look awesome as 40 yard time. I will murder the cone stacking drill. I can bag groceries in 4-6 seconds with maximum effort. I can bench press a pound 225 times. I had a 3.8 GPA. I think I got this....ummm what's a BuckID?