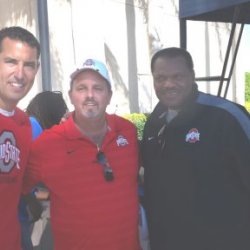 osuisnumber1
---
Member since 06 December 2013 | Blog
Recent Activity
https://www.youtube.com/results?search_query=robert+landers+committment
Check this out.. You can tell he wanted nothing other than to play at TOSU
I want to know how many more forum topics on Sam Bruce
Don't know if it means anything but here it is.. In Mississippi
http://miami.247sports.com/Bolt/Mark-Richt-Visiting-Big-Wide-Receiver-Target-43130675
It's because it's a big deal to get picked to play for the Buckeyes.. He's just doing a little strutting..
Full of jokes tonight Bucknut??
I was on phone, definitely auto correct. placing topic from phone is a pain
Lol
I'm thinking he is better dealing everyone!! I feel for these kids
That's how I see it
Bruce does have an Official to Miami the 29th. What gives?
That's weird, but soooo funny!!
Junk this thread and start over...
Didn't have them engraved.. Had a nice OSU logo put on them.. Trying to upload pic but can't figure it out on phone. My apologies..
Just had two delivered today. Look on etsy. Com you will have to buy more but every store is sold out so sell the ones you have. You can probably get more for them on ebay/amazon
Excellent!!!! So who is the new Offensive Coordinator/ QB's coach going to be?
Pay more and they won't leave at least until they are offered a good gig. I.e. Houston and Rutgers don't qualify as a top gig.