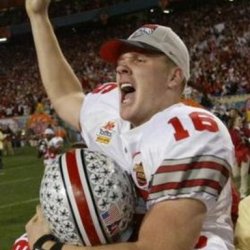 OSUinVESTed
---
Baltimore area (via Toledo, Ohio)
MEMBER SINCE December 23, 2016
Favorites
SPORTS MOMENT: 2003 Fiesta Bowl & 2014 National Championship
NFL TEAM: Dallas Cowboys
Recent Activity
Lol dude I'm just making light of a situation unlike everyother negative comment on here.
Tressell ball lmao....2002 wasnt pretty
Is it me or does Brendon White look like a baller
Haskins looks hurt from that hit. At this point just give Tate some PT and see what happens
Ahhhh I just started tearing up and gave a maniac giggle at my desk....My co-workers think i'm nuts. LMAO
If a B1G champ comes out at 12-1 then they are in the playoff. period.
Im currently rockin the #10 Scarlett alternate with gray numbers and black stripes...I bought it for Shazier at the time but now the #10 stands for our current ranking in my mind lol.
Man if something by chance does come out of this crap then I might just lose my damn mind.
YEAHHHHHHH BUDDDYYYYY!!!!!!! C'mon Saturday!!!!!!
Man noon Saturday cannot get here fast enough! November football is the best time of the year...Yes that ugly loss to Purdue stings and was unfortunate but times like this are what really ramps up college football in my opinion. I can remember countless Novembers in the BCS era where I would sit and root against any team ahead of Ohio State like I was rooting for the Buckeyes themselves...If Ohio State gets their shit together by noon Saturday then watch out...This November is going to be full of chaos and excitement for the good guys.
Lol if this dont put a chip on their shoulder then idk what will.
Huh?
Idk why I get 2 down votes for that lol
Calm down, they start horizontally to attack vertically
Man rondale moore is quick out of his break lol
Here's to purdue hitting the concession stands early
Lmao right
Purdue effed up trying to scuffle....blow out. Buckeyes. Defense balls out.
You're right bro...Urban Meyer should be fired right this second. How dare he not win 70-0 everyweek.
So I rarely ever comment on anything here...But these last few weeks I've been seeing a bunch of fans bitch and complain about a team that is 7-0. Just sit back and enjoy the damn season. Some of you sound like complete dipshits.
Here at the RAC! Who's out here tailgating
OWEH MY GOD that kid is a freak of nature...shoot. looks like he could even be molded into a tight end.
lol I was thinking that too...Maybe even Notre Dame if Brian Kelly is fired.