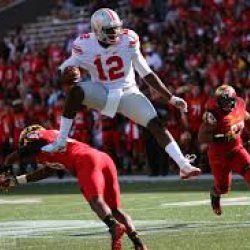 OSU_Hammy
---
MEMBER SINCE February 18, 2016
Favorites
COLLEGE FOOTBALL PLAYER: Braxton Miller
COLLEGE BASKETBALL PLAYER: William Buford
NFL TEAM: Cleveland Browns
NHL TEAM: Columbus Blue Jackets
NBA TEAM: Cleveland Cavaliers
Recent Activity
Everything Triv said is correct. If we are going strictly off of high school tape McCord will be the starter next year. But the question is how much better will the other two get after a year of college.
I will still bet on McCord but Stroud is a close second. Miller is the guy I would least expect to start but that's just from high school tape.
You are smoking something if you think are defensive tackles are going to be better this year. Davon Hamilton was the second best D lineman last year. Garrett and Jackson are a far cry from BB Landers and Hamilton
If I am wrong I apologize but most of the guys I pay attention to have him going late second or third.
Day 3? You must not be keeping up with the mock drafts and experts. Hamilton is going day 2
Yea I think I am going to spend the extra money to get a good quality accurate heater for it. The system I am looking at already has a pretty good lighting system that comes with it.
I will check out instant ocean as I have never heard of it.
I will look into it. Thanks!
I would love to land Edwards and Kiner at RB. I watched tape on all the RB's in the mix and those two were the ones that stuck out to me.
Braxton Miller by quite a bit
One of the guys I was most excited about in this entire class. Hopefully he stays with the good guys
You can hope. I think Kyle McCord from the 2021 class is an absolute stud so I think 1 or both of these guys could end up transferring. I would like to keep them all for depth reasons obviously. Stroud, Miller, McCord is going to be a real battle
Don't get me wrong I think Wade is great and would be fine in the NFL but the mock drafts are wrong about 90% of the time. I don't see him going in the first after being a slot corner. He could come back play outside And become a top 10 pick
Vitamin. You are right that Clemson will stack the box but I don't think it will stop us. The Clemson d line is fairly small and will get mauled by our O-line. Your LB's are good not great (besides Simmons), and your safeties struggle in pass coverage from the games I have watched which may be the biggest issue. Your one safety is more of a linebacker.
I bet Wade stays and they move him outside.
New CBA after next season would likely eliminate the fifth year on rookie deals meaning if he comes back he reduces the amount of NFL wear and tear on his body before he gets a massive second deal
Utah is the tougher game but also the more exciting game. Utah has a legit defense with a big fast d line and a corner who is going to be a first round pick. On offense Huntley is a winner, Zach Moss is one of the best RB's in the country, and Covey is one of the most electric WR's you have never heard of.
The president of the university has less impact on the success of the university than you think. Some of you above act like the medical revenue would have been different under someone else and you couldn't be more wrong. As a student when Drake took over I can tell you everything went to hell on campus in my opinion. Not to mention he encouraged all the safe space little baby bullshit that is running rampant around the university now. People hate him for more than the Urban Meyer thing.
As a graduate of Marysville high school I approve of the offer!
I would be very surprised if LSU won this game. I think Bama takes it and covers. Tua doesn't have to be 100% to get the ball to those electric wide outs and LSU defense is just not that good. Delpit has played really bad compared to last year. Location, coaching, and bye all favor Bama.
My takeaway is Carton should be the starting PG. shooters need to shoot like where is Washington and his instant offense?