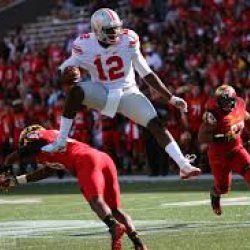 OSU_Hammy
---
MEMBER SINCE February 18, 2016
Favorites
COLLEGE FOOTBALL PLAYER: Braxton Miller
COLLEGE BASKETBALL PLAYER: William Buford
NFL TEAM: Cleveland Browns
NHL TEAM: Columbus Blue Jackets
NBA TEAM: Cleveland Cavaliers
Recent Activity
The president of the university has less impact on the success of the university than you think. Some of you above act like the medical revenue would have been different under someone else and you couldn't be more wrong. As a student when Drake took over I can tell you everything went to hell on campus in my opinion. Not to mention he encouraged all the safe space little baby bullshit that is running rampant around the university now. People hate him for more than the Urban Meyer thing.
As a graduate of Marysville high school I approve of the offer!
I would be very surprised if LSU won this game. I think Bama takes it and covers. Tua doesn't have to be 100% to get the ball to those electric wide outs and LSU defense is just not that good. Delpit has played really bad compared to last year. Location, coaching, and bye all favor Bama.
My takeaway is Carton should be the starting PG. shooters need to shoot like where is Washington and his instant offense?
Lamar Jackson- I'm taking the guy who can win games with like zero talent around him.
If I were James Franklin I would go to FSU strictly for eye candy around campus.
Bijan has been my top back this recruiting cycle. I'm burnt out on talking about RB's but I would be ecstatic if we landed Bijan.
His brothers names are Dewarmest, Dehottest, Detepidest, and Deblazingest.
I found it pretty boring. There were a few mind blowing facts but if you took even one high school or college astronomy class the book won't do much for you.
STFU about running backs! You sound like a bunch of whiny girls. It is not difficult to find good backs. Literally half the FBS teams have backs that would be great if they have Ohio State talent around them. There are plenty of RB's every year that are 2 or 3 stars that end up being good college backs. We will be fine RELAX. Whoever they sign will do great.
Darnay Holmes is the best Player on UCLA. Maybe one of the best in the entire PAC 12. OSU would be crazy to not reach out.
1.McCord
2. Stroud
3. Miller
CJ Stroud officially offered. Just posted it on his twitter.
Neither will start because Kyle McCord is a stud. McCord is going to be special I am telling you right now.
Honestly the article said exactly what I was thinking after watching his tape. Not a bad player but not one I would expect to be the next impact guy. Slow get off and almost looks lazy at the start of plays. But then somehow his motor kicks on and he chases down the ball. He looks very strong and I think the Cornell comparison is fair though I would say Cornell was a little more impressive on his high school tape.
It is getting painfully slow around here...
https://twitter.com/fatherofballers/status/1178466111706152960?s=21
sorry I'm not sure how to embed the tweet from my phone. It is interesting that Kendall Milton's Dad is tweeting about Ohio State players.
1. Ohio State
2. Alabama
3. Oklahoma
4. LSU
5. Georgia
6. Clemson
7. Wisconsin
8. Penn state
9. Auburn
10. Oregon
It looks like crap but somehow this will end up on my Xbox.
I believe he was asked to get in better shape and has failed to do so. Rumor was he would be pushed out or asked to greyshirt.