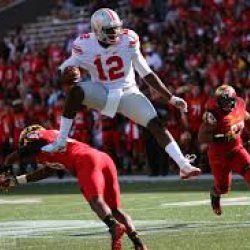 OSU_Hammy
---
MEMBER SINCE February 18, 2016
Favorites
COLLEGE FOOTBALL PLAYER: Braxton Miller
COLLEGE BASKETBALL PLAYER: William Buford
NFL TEAM: Cleveland Browns
NHL TEAM: Columbus Blue Jackets
NBA TEAM: Cleveland Cavaliers
Recent Activity
1.McCord
2. Stroud
3. Miller
CJ Stroud officially offered. Just posted it on his twitter.
Neither will start because Kyle McCord is a stud. McCord is going to be special I am telling you right now.
Honestly the article said exactly what I was thinking after watching his tape. Not a bad player but not one I would expect to be the next impact guy. Slow get off and almost looks lazy at the start of plays. But then somehow his motor kicks on and he chases down the ball. He looks very strong and I think the Cornell comparison is fair though I would say Cornell was a little more impressive on his high school tape.
It is getting painfully slow around here...
https://twitter.com/fatherofballers/status/1178466111706152960?s=21
sorry I'm not sure how to embed the tweet from my phone. It is interesting that Kendall Milton's Dad is tweeting about Ohio State players.
1. Ohio State
2. Alabama
3. Oklahoma
4. LSU
5. Georgia
6. Clemson
7. Wisconsin
8. Penn state
9. Auburn
10. Oregon
It looks like crap but somehow this will end up on my Xbox.
I believe he was asked to get in better shape and has failed to do so. Rumor was he would be pushed out or asked to greyshirt.
Maybe it is the joker dressed up as Pennywise?
Unfortunately I had to play against the 2010 Groveport team. Leveon Bell.....
You must be watching different games than me. JB has looked average at best to me. Smith and Harrison have flashed and we have seen Friday make big plays in the past. JJB just seems to stand up right and lock up with the tackle, arms extended staring at each other.
It look likes his only official so far was Gonzaga. That fact we are getting a visit is huge. If his dad played at Minnesota they have the edge but I believe in the Holtman.
Wisconsin will win by at least two TD's.
Damn Dill you are one of those people? If you served you served regardless of if you got shot at or not. That comment is pretty disrespectful. You probably owe your life to a bunch of "non-combatant veterans" and don't even realize it.
Spartan you stated both teams (Texas A&M, Clemson) are better than they were a year ago. I disagree big time. I think Texas A&M is better on both sides of the ball. Clemson on the other hand is probably a little better on offense but there is no way they are better on defense. In fact I would argue they are way worse. I think A&M has a legit shot to win this straight up. I wouldn't bet my life on it but they have a fair shot.
Possibly the best game poster ever.
The have Ohio State tickets all the time
Anybody seen Tyreke Johnson?
Action I agree with you on most things but ithink you are off on this at least for this year. I expect McCall and Teague to both be better this year.
I will take
Utah
oregon
Northwestern
I like Utah to cover. They have a good roster and this is not anywhere near BYU's best roster. The Utah hype is real