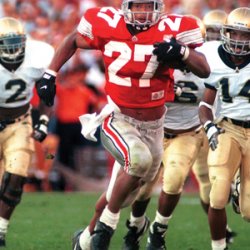 osuguy2008
---
MEMBER SINCE July 17, 2012
Favorites
SPORTS MOMENT: 1997 Rose Bowl
2002 National Championship Game
COLLEGE FOOTBALL PLAYER: Eddie George
COLLEGE BASKETBALL PLAYER: Scoonie Penn ( with Evan Turner a very close 2nd)
MLB TEAM: Reds
Recent Activity
I believe the network info is wrong, the game is on CBS
12:12 Polls! Someone needs to start kicking the SEC's ass for scheduling the worst of the absolute worst teams possible. Oh, and playing players! It's coming. Kinda.
ummm, haven't they been playing players since forever ?
maybe I missed something but what does "BIA" stand for ?
This season has felt lost approximately 17 times since November. There were multiple times I thought the absolute was an NIT berth and wished for a "simulate season" button to push.
Absolute what ?
What was the point of mentioning Joshua Langford when he's been out of the year since January ?
Come on guys, you can do better
<cough>travel<cough> D'Angelo Russell
Marcus Hartman should be embarrassed for leaving Robert Smith off his list of impact freshman (1990 was Smith's freshman year).
"The Bluejays lost Khyri Thomas and Marcus Foster, a pair of talented guards. Thomas, a second round pick by the Detroit Pistons, was named Big Ten Defensive Player of the Year while averaging 15.1 points, 4.4 rebounds and 2.8 assists per game. Foster averaged 19.8 points per game last season and earned first-team All-Big Ten honors the past two seasons."
1) twice you referenced the players as Big Ten players- I think you meant Big East
2)Thomas was actually drafted by Philadelphia but is currently playing for Detroit
I don't think you can say anything is obvious
If it's true that the compliance offer (who also dubbed as the Title X officer which doesn't necessarily mean any thing since it seems Title X didn't apply to this situation) was the first to find out about October 2015 via the OSU Police via the Powell Police Dept then doesn't it stand to reason that the departments above her ( the compliance/Title X officer) and there were "others" (quote from the committee report) then all the higher ups knew about it because they were the ones that told Gene who told Urban. Should they ( Gene and Urban) filled out the redundant paper work to the very people who informed them? I mean , I guess but isn't it reasonable that they felt they didn't need to because the appropriate people already knew? And if you can't say that's *plausible* then I don't think you're being entirely honest
I also don't see where he was turning his head away when Courtney didn't let any one know about instances of physical abuse until 2015 and by all accounts the only one that reached the edges of Urban's radar is the Oct 2015 incident and via this first paragraph he heard it through a channel that originated from the offices he'd have to report to.
When you say he wasn't equipped to handle these allegations, I agree no coach is in a position to handle allegations which is why they're required to go to the appropriate offices, but in this case he heard it from the appropriate offices themselves (through Gene). If you can prove to me that Urban knew days before Gene informed him then I can entertain your argument but I think it's obvious it doesn't fit that nicely in this situation
I might have gone with Stanley Jackson... granted there aren't a lot of great #8s and midway through the '96 season Cooper should've just given the ball to Germaine for the rest of the season and leading into the 1997 season; however, Jackson was technically the starting quarterback for the 1996 team that won the Rose Bowl**
** that Joe Germaine won on the final drive
How about an honorable mention for Chad Cacchio
Saying that Snook is serving as a mouth piece doesn't enirely fly with me because he's only responding to McMurphy's initial report. If you were the people in Snook's report and you felt that McMurphy was entirely one sided, didn't reach out to you for comment, printed information that was damaging to a person who is no longer alive to respond , and (possibly) embellished his contact with you wouldn't you want someone to get your side out ?
I'm not saying Snook is entirely altruistic in his motives for reporting what he's reported (I don't know) but when has reporting been entirely pure as the undriven snow all the time?
McMurphy started this whole mess when he decided to go about his business they way he did; I see Snook just providing the other side since McMurphy was going to be sloppy
Finally, I think we can agree that Kyle Lamb and the unnamed Reddit attorney have done a great job of providing legal facts and insight outside of the Smith / Carano / Bruce saga
You cannot compare Snook with McMurphy... one of them has had to regularly edit and re-edit his stories and apparently felt he never had to interview other than Courtney and we all know which of the two that is. If McMurphy had actually done real journalism instead of being in a rush to be first with a story (any story) Snook probably doesn't need to get the other side of the story so people can get a broader picture
What has Paris Campbell done so far to merit the praise?
Rob Kelly deserved more love in this forum... he should've been profiled
Ummm 1997 wasn't the Rose Bowl championship year (that was the 1996 season/ game played on 1/1/1997). Even if that's what you meant, by the bio he'd had been a freshman on a stacked oline that year, and I don't recall him being an AA as a freshman in 1996
11W Administrators could ditch DJ and make Kevin full time Skull Session writer as far as I'm concerned
You two never had an uncle like Herm Edwards who would just poke you in the ribs with stuff like that; or at the worst just had a minor slip? Good grief, this is why the internet sucks because of the need to be non-stop negative and go out of one's way to blow up slips/flaws
DJ- you seriously think Herm Edwards doesn't know what the ASU mascot is or knew the Devil Digest is likely to be a paper associated with Tempe or for fans of ASU? Come on, that's a moronic take Id expect from a UM fan. He was obviously playing around
Stop with the Herbie hating... of course Saban could call in because his team wasn't playing today so he's not traveling home from Atlanta; meanwhile Urban has just finished a game and has other duties. I know we all like to hate on ESPN but not everything is some deep,dark conspiracy against Ohio St. In all fairness, our team has had wild swings in play; Alabama may not be the Alabama of 2009,2012, or 2015 but they've been consistent even if that consistency isn't up to those years.
Was there ever a chance this game would be on at 7 or 8 pm?
Also, hope the game is on Fox. I've been enjoying the games on Fox more than ESPN/ABC- they don't over do it with graphics on the field
1) It's not as if college kids have great fashion taste and 2) what would you expect those who think they're stupid to say in public "no mr. reporter I think they're lame"