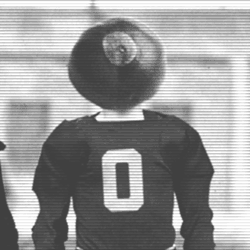 OSUFlash
---
MEMBER SINCE September 13, 2013
Favorites
SPORTS MOMENT: Watching the Holy Buckeye play against Purdue with my then 10 year old son and us rolling around on the floor together when Jenkins scored.
Then watching that same Son win his high school conference 100m dash title his junior and senior year.
COLLEGE FOOTBALL PLAYER: Troy Smith
COLLEGE BASKETBALL PLAYER: Aaron Craft
NFL TEAM: Pittsburgh Steelers
NHL TEAM: n/a
NBA TEAM: any team that has a current Buckeye
MLB TEAM: Reds
SOCCER TEAM: n/a
Recent Activity
Hopefully BTN starts showing football classics soon. Tired of basketball reruns.
I may as well join my wife's book reading club.
I hope all the evidence is reviewed the truth prevails and justice is served.
The lock them up and throw away the key talk is just plain ignorant. The me too movement has enabled a lot of good things to be heard and seen for victims of domestic violence and sexual assault but if anyone thinks every me too accusation is truthful and valid they have their head in the sand. There's his story, her story and the truth.
Looks like the victory bell from Rydell High.
Gill has been MIA since he arrived in Columbus and yesterday at practice so I don't like that plan. McCall is a scat back worth maybe a half dozen carries a game. Crowley and Chambers need to shine starting now.
Gotta be honest, I'm excited to see Wilson where ever he lines up. He is a true WR with unlimited skills. Defenses simply will not be able to stop him, Olave, Flemming, Williamson and the list just keeps growing.
There's 3 sides to every case like this. Hers, his and the truth. If the facts clearly show guilt then they will pay dearly. If the facts clearly show otherwise justice needs to be served there too.
JK definitely goes under 4.49. There's a difference being track timed where the clock starts on the B of the bang of the gun and laser timed where I believe the clock start at movement.
Laser timed JK under 4.49. Track timed over 4.49.
A very difficult story to read. How will ESPN pin this on URban Meyer too?
I was watching the game live when he made that speech and when he made that statement I turned to my young son and I said the days of us moving losing to Michigan are officially over.
Nothing but love and respect for Tress!!! Would love to see him be the next University Prediction.
I'm still bitter........lol.
Defense wins championships
All the defense needed to do was step up get a stop with 3 minutes to go and they allowed a TD in 4 plays. TheN again the defense got gashed all night. Bad time for the 2018 defense to show up.
I plan on staying curled up in the fetal position until the spring game.
Football this year is JK all day.
In all honesty I have no problem with Kirk Herbstreit, us Buckeye fans we are passionate, crazy, loyal, disloyal, unhinged, spoiled and the best fans in the world. Kirk herbstreit has a job to do and is to call it the way he sees it even though deep down inside he is a buckeye homer even if he denies it. Banning somebody from a university or state is plain crazy. Kirk Herbstreit topics are as annoying as the fire fickle topics were.
Not intending to hijack the topic regard Brian Sneads university issue but any sexual misconduct issues that happen on campus it is severely stacked against the accused. I have been directly involved in this with a young man falsely accused who had 1st hand supporting witnesses and electronic proof and the university followed title 9 to the letter and an innocent young man was devastated.
And that's all I have to say about that.

I am very excited to see what Crowley can do and if Teague tunes his body, speed and foot work this off season.
I won't be watching because I just don't like the way this one is being handled Whether he stays or leaves
Buckeyes will not win the Big 10 East or make it back to the playoffs because the running game and defense takes a step back to 2018. That's my opinion as of today. And yes I still have pissy pants and prefer to stay in the fetal position a few more days.
Would like to see Teague lose some body fat and improve his explosiveness getting through the hole. And if it's not there then make one.
For a couple agonizing minutes I didn't think I knew what nepotism meant. Lol
Hoping Shawn Wade does his best Mike Doss impersonation. He would be the glue the secondary desperately needs.