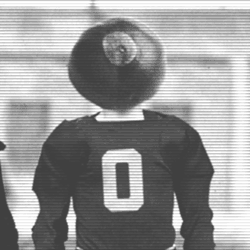 OSUFlash
---
Member since 13 September 2013 | Blog
Favorites
SPORTS MOMENT: Watching the Holy Buckeye play against Purdue with my then 10 year old son and us rolling around on the floor together when Jenkins scored.
Then watching that same Son win his high school conference 100m dash title his junior and senior year.
COLLEGE FOOTBALL PLAYER: Troy Smith
COLLEGE BASKETBALL PLAYER: Aaron Craft
NFL TEAM: Pittsburgh Steelers
NHL TEAM: n/a
NBA TEAM: any team that has a current Buckeye
MLB TEAM: Reds
SOCCER TEAM: n/a
Recent Activity
Puke....that's a funny word.
We have too much talent for a couple guys to not seize the opportunity at WR. Personally I think Parris Campbell is going to catch everyone's attention early. He's a dynamic football player with track speed. At 6'1" and 205 he's very tough and has all the tangibles to be homerun threat.
Some people say where there's smoke there's fire. I tend to think that sometimes the smoke is the fire. I wish him well and hope he realizes what's at stake being in the spotlight 24/7. You need to play defense at all times.
Now I miss those guys more than ever. Love seeing AC, Lighty, Deibler and Mama's boy again.
LOL.....can't believe that's a story. Watching it live I knew immediately they were reacting to a possible infraction that was thrown for someone grabbing Cardells facemask. That's why Cardell was gesturing that way immediately after the play to confirm the flag was on the defense.
I'll give anything a chance. Buckeye basketball has been damn near unwatchable since Aaron Craft left. We need to get our toughness back first; once that happens the shots will fall.
Well there goes the neighborhood. Absolutely horrible! That national search Gene spoke of took all of 45 minutes.
Parris Campbell
Justin Hilliard
Never really got to see and appreciate his speed. Get your degree and run fast young man.
Please Mr. Rooney take Hooker, Lattimore, Conley or McMillan if any of them are available. A few more Buckeyes and you'll be in Super Bowl 52 next year guaranteed.
Nobody makes Zeke bleed his own blood.
I like Artie Burns and Sean Davis but Mike Mitchell, William Gay and Russ Cockrell are horrible.I don't see Hooker or Lattimore being available but possibly Conley.
Selfishly I want to say not going undefeated and no championship. Reality I have to say losing to UM and losing our bowl game no matter how shitty of a bowl it may be.
Love watching Shazier and Heyward lead my Steelers on defense. Unfortunately they have serious issues in the secondary. I'm keeping my fingers crossed they get Hooker, Lattimore or Conley in the draft. Long shot but stranger things have happened.

I'd rather see Parris at H-Back than WR. This young man is a natural athlete with speed to take it at any time. And at only 19 I would'nt be surprised to see him playing at 210-215 range.
Aaron Craft where are you!!???
Open competition for all spots. I'm going with Ward, Okudah, Fuller and Smith. With Wade and Webb getting many reps too.
There's no substitution for a big fast powerful RB like Bama has and we had the past few years. We need another CHris Wells / Eddie George.
Say what you want about Bama but they are what every other team is chasing every year. Sabin is a machine and his defense would've destroyed us.
I still have pissy pants about last week and may just lose it if we lay another egg in 2017.
Great for Curtis and great opportunity the young guys behind him. I'd like to see Campbell get a few touches from that position.
Preseason #1. Write it down.
Only 102 days until the spring game. Trust me it'll go fast. It's already been 107 days since the Oklahoma game.
Who would've thought our best chance to win anything in that game was the coin toss.....and we lost that too.