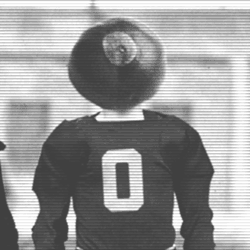 osuflacco
---
MEMBER SINCE July 31, 2015
Recent Activity
Lol, it's been one game and he played a lot and played well.
Fickel is gonna have the guys ready and a scheme designed to force Fields to throw the ball to beat them. I expect our defense to be stout against what looked like a pretty average offense. Fields is going to have to make some plays with his arm to move the ball. I think we win pulling away in the second half pretty easily if we don't blow ourselves up. Probably 31-17 or so.
Clemson has had virtually no coaching turnover (absurd), if we were still trotting out Herman and Fickell as O/D coordinators respectively I certainly agree we would have won one more natty during Urban's tenure, at a minimum. Heck, if we would have just hired 75% of those guys we probably get at least one more.
His biggest weakness as a coach is second wave coaching hires. Great at building initial staff...cost us at at least two nattys with bad replacement hires on offense (Beck/Warriner promotion 2015/6) and defense (Davis, Grinch, Schiano promotion 17/18).
I mean...wasn't this basically being caught on tape?
Ever since they stopped closing the roads near the stadium on gameday and cracked down on open containers it has been terrible.
I think the surprise will be the O-line will be better this year than last year, think our interior play was pretty bad in the run game last year and should be improved with guys actually playing their position (not tackle bodies on the interior) creating better leverage and push.
The defense can't be worse (fingers crossed), Schiano was a seemingly good guy and recruiter but brutal in Xs and Os last two years against any offensive mind who could exploit the middle of the field.
Could not agree more that Day needs to deliver this year to keep the ball rolling. This is probably the most important year to make the playoff for this program. We should see another solid draft day next year, being relevant in the playoff and the NFL draft are the fuel for the program and both need to happen to sustain or improve upon what we have been doing.
Main two things that all five winners have in common are having a QB who can pass effectively first and a great D-Line. Those are really the most important two, we haven't had both since 2014. Last year we would have with Nick Bosa and competent coaching, maybe. This year concerns me on the QB front...although can't wait to watch Fields in action.
That NW game being on Fri night def makes me worry, although it is coming off a bye week so that helps a lot. Nebraska has a good coach and QB so they could be trouble, but think with that being the first big conference game (sorry Indiana) that one is less likely to sneak up on us.
Somewhere between 2750-3250 passing and 600-1000 yards rushing...hopefully like 35-40TDs combined. Probably 10-15 INTs and some inconsistency (hopefully less as the year goes on). I also expect a better running game overall and a better defense meaning, with this schedule, Fields can actually sit in some games rather than having to score 40-50 to beat low level B1G schools.
Agree, never been big about following recruiting outside of right around signing day, but now (since the 2017 thread) usually check in on this a few times a week and it is very helpful, thank you for the effort.
Think the line is actually going to be better this year, Munford surprised me at his competence last year and either Bowen or NPF will be fine at RT. I think the interior will be much improved as Pridgeon and Knox were mostly average and Jordan was playing out of position. Sounds like Myers is ready and I expect Jackson/Davis to be significant upgrades.
Was pretty clear the last defensive staff was not willing to change their minds once made up despite on-field performance...hopefully this staff will be more flexible. Hard to believe there was not better performers on the bench last year. Borland was obviously not 100% and should not have been playing IMO, excited to see what he looks like after more recovery time. Harrison was good in spots, great at a few moments, and sometimes bad...Werner was mostly average or below with a few bright spots.
1. Players should be paid a share of the revenue they generate instead of it going to subsidize schollies for sports no one cares about. Any sport that does not sustain itself financially should not have scholarship athletes (Title 9 is the problem obviously).
2. I think we would have won more titles (2015, 2017 and possibly 2018) if we did not win 2014....think Urban got soft after winning that year bc that was his primary goal when coming to OSU.
3. Due to the greed of NCUA and sky rocketing coaches salaries we will see in the next five years a team protest by sitting out a game causing significant changes to CFB as we know it today.
Cap One venture is great, 2% back on everything (no categories etc.) and low annual fee. Customer service is awesome too. This has been my main card for years. Real easy to use points, anything travel related (flights, hotels, uber,) you can use points to get a immediate credit. I usually have about $2500/mth on their so getting $600/year in rewards minimum for the $69 fee.
Watching JT try to throw passes in that wind with Braxton and Thomas running wide open the whole game was def my worst live watch for a Buckeye game. I mean, we definitely win if Cardale plays, all they needed to do was complete one pass and literally the WRs were wide open on every deep route or slant. What a quagmire of poor decisions that season was.
This is kinda what I think happened, he could not find someone he felt suitable and this is a lame duck season. I am sure there are going to be 500 threads on who the next OL coach will be.
It is all on the tee for Day, has a stacked roster, either a top tier QB or his hand picked recruit to lead team, easy schedule, and he hand picked the coaching staff under him. He needs to deliver in a big way (playoff appearance) this year to keep the ball rolling or I think there is a risk of falling out of the top tier quickly. I actually feel pretty strongly he will do well, but you have to make it happen fast to maintain expectations and national recruiting at the same or near same level.
Who cares, it won't be here and I am honestly glad my prediction he would never play here came true. Don't want to go back to the JT era offense ever again.
Wish this all would have shaken out prior to first signing day so we could have brought in a freshman...but I never thought Tate was going to play at OSU anyhow and cringed every time they pulled Haskins for him last year (except blowouts etc.). Start the Fields hype train.
Does one get a better scholarship than the other?
Feel like the equation isn't that hard...revenue generated from sport, less expenses for sport (schollies, coaches, facilities, etc.). What is left is distributed in some fashion to players who generated said revenue on the field rather than given to other sports no one cares about to subsidize schollies for wrestling, water polo, gymnastics, swimming etc. Each sport is a business unit...not football players literally paying for other kids to go to school for free.