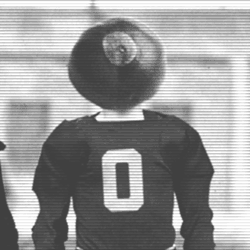 osufan2002
---
MEMBER SINCE September 19, 2017
Recent Activity
This team could ball out against a lot of NBA squads!! For for two Carmen's Crew!!!
Gosh I hope Cardale hits it big this time. The NFL does not have 64 better quarterbacks. Go Bucks and Go 12 Gauge!!
Great player, leader, and person - Go Bucks and Go Chris Olave!!
Was at the "world's largest" who shot JR Party at the old Ohio Union back in the day. Also was on a team that won the Strohs Beer case stacking challenge hosted by the old hole. Good times!!!
I think we can all stipulate that Wade in the slot made up for a lot of mediocre linebacker play this year.
I might add that ball was becoming loose implies ball was secured at some point. Ball secured means catch.
Lying awake in a Phoenix hotel room, I may not be fully observant, but in all of Ken's words the phrase "indisputable video evidence" is nowhere to be found. I will be forever salty on this call and this game...
If falling on the sword does not work this time, tOSU should take the stance of pound sand NCAA because of the lack of subpoena power. Then, close ranks because we are Big Ten Conference for athletics, SEC-style for compliance.
The talent level is above 1995, 1996, and 1998, which is amazing. This team is talented, hungry, focused and well coached. Go Bucks!!!
RIP to the great Hopalong, Buckeye immortal.
Expect some first road game adversity, but Bucks are talented, well coached, and best of all on point. OH!!!
I don't pretend to know much, but I am quite certain that the top Big teams (tOSU, Wisconsin, Penn State) would more than hold their own in home-and-homes with SEC powerhouses in a conference type format where there was at least a risk that the SEC would have to play in the north in November.
Shugarts had his share of false starts, but let's also give credit to the terrible twosome of false starts, Person and Rehring!! Nonetheless, glad to see the improved discipline across the offensive line. Go Bucks!!
Awesome choice!!! Go Bucks!!!!
Once again, the administration is missing the real game day opportunity. During the interminable TV timeouts, combine technology with football by video replaying the Big Ten officials' greatest hits, such as the Denzel getting tossed in the Maryland game, Urban getting an unsportsmanlike penalty when his sliding quarterback gets earholed by a no-call spear, whatever has happened in-game, etc. That will keep all of us fired up in The Shoe!!! Go Bucks!!
Not a Browns fan, but go Xbrax 360!!!
MT reminds me of Joe Montgomery, another #33 who was pretty good!!
Awesome - it is time!!!! Go Bucks!!!
The Portal + Just Because = Immediate Eligibility. Smh ....
Congrats to the Real Great Oden!!!
Shalieve in miracles!!! Blessings to RDS and his family.
Legend - life well lived. Heavenly rest Hondo.
Coach Holt like a boss!!!